Elderberry Benefits and your Insurance for Health
Did you know that elderberry is a very effective insurance for colds and flus? I knew it was "good for you" but prior to this month I hadn't read of the many benefits to be found in the simple elderberry.
Of course, if you hadn't figured it out already, this month's topic in the Natural Herbal Living Magazine was the elderberry. Again, I ordered both the e-magazine and the herbal box. I feel these work so well together that it's totally worth what I am paying.
The herbal box came with dried elderberries, elderberry flower, elderberry jam (yummy!!!),  immune boosting tea, and the ingredients to make my own elderberry syrup. I feel like I got quite the haul this month! 🙂
In the past, the teas were one of my favorite parts of the herb box. This time my box came just as I was leaving for my mom's, I grabbed it and tossed in the car to take down with me. We opened the box down there and my little brothers promptly begged for some tea. (they had also tasted the other teas) So of course I made big thing of tea and it was quickly gone! Slightly spicy and Christmasy tasting, and when you add raw honey…. Yummy 🙂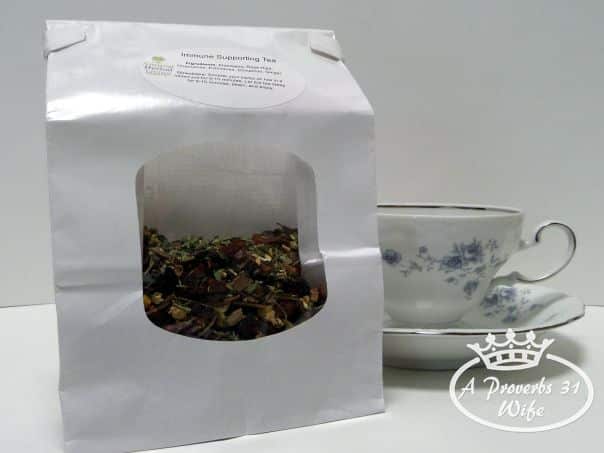 I was also really thrilled that there were all the ingredients in the box to make Elderberry Syrup. I have been wanting to try it for some time anyway, so how exciting to have all the stuff right there for me! Actually, as I'm typing this I have a pan on the stove with the syrup started in it. Such a yummy smell. 🙂
In reading through the Elderberry issue of the Natural Herbal Living magazine, I again was in love with how much I'm learning. Elderberry has so many benefits and uses. I also learned something interesting about harvesting them and how some are actually toxic! Good info to know in case I ever had a chance to harvest my own elderberries.
The January issue of Natural Herbal Living magazine is available until the end of this month. (sadly the herb box must be ordered before the 15th of the previous month)
If you are looking for elderflower and elderberry recipes, this magazine is clear full of them.
Elder recipes and your insurance for healthy living:
How to Make Elderflower Essense
Elderflower Tea Recipe
Elderberry Tea Recipe
How to make Elderflower Tincture
Recipe for Elderflower Skin Toner
Aromatic bath bags with Elderflower and Rose
Elderflower Skin Salve Recipe
How to make Elderberry Thyme Oxymel (I had never heard of Oxymel before)
Elderberry Syrup and Cordial Recipe
Recipe for Immune Boosting Tea ~This one is amazing!
As you can see, this magazine is so full of useful information that it's hard to believe the magazine itself only costs $4!
You can get your issue until the end of the month, and pre-order your herb box if you would like to try it out. All the info and even some of the stuff that has shown up in the herb boxes can be found at Natural Herbal Living magazine. *affiliate link.
What do you think? Are Elderberry benefits a good insurance against colds and flus?