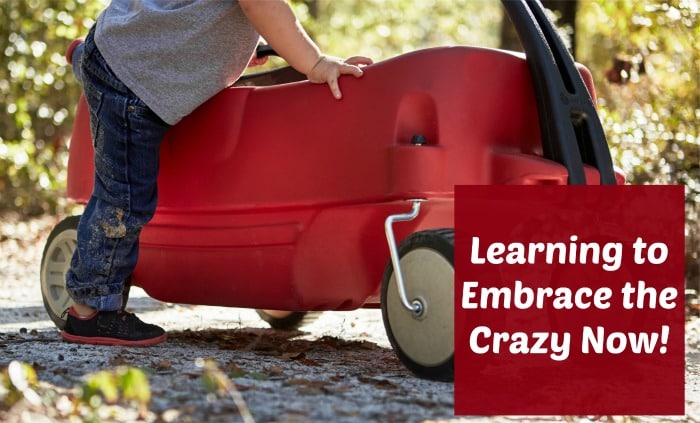 Ever looked around you and realized things were a bit crazy? Lately I've been thinking that it's time to begin embracing the crazy now!
You see, things aren't always going to be like this. In fact, it's likely things are going to become a lot MORE crazy before they start calming down. I have ONE kid right now and think it's crazy. You mammas with 5 and 6 kids are probably laughing and well you should!
I love my current crazy and totally enjoy my toddler. However, I have this habit. It's not an altogether bad habit, but at this time in my life it needs to go.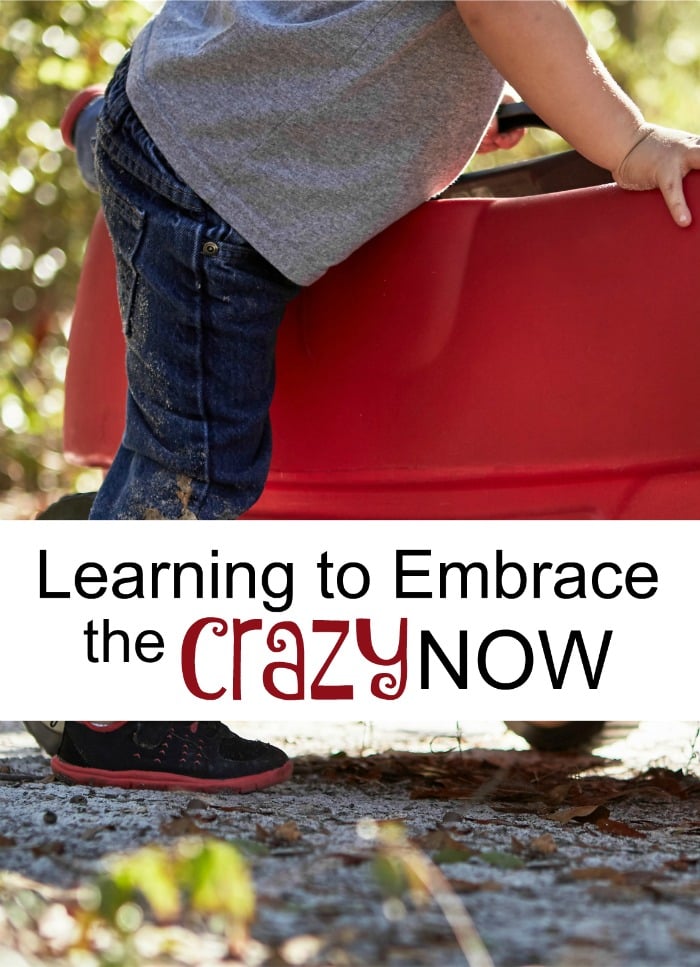 What habit is preventing me from embracing the crazy now?
I'm a dreamer. An idealist. Someone who has the perfect future in her head. The planner and goal setter for a better future.
All my life I've dreamed of being married and how I would be a good wife and homemaker. While still a teen at home my focus was on learning how to keep a home (when I wasn't lost in a book!).
I wanted to be a mommy. And not just a mommy, but a mommy who stayed home with her babies and raised them to fear the Lord. A mommy who taught her children at home, a mommy who understood natural remedies and healthy food so she could give them the best health possible.
And dear readers: I have been so blessed!
God has given me my dreams. There is a wonderful man that I call my husband, and a couple of babies that I call my sons. And to top off those blessings, I am blessed as well to stay at home with my babies and keep the house (acceptably) clean while feeding my family healthy and delicious meals.
I should be on cloud nine, and truly I am. Yet I'm still a dreamer. Instead of embracing the crazy now that is my wonderful life, I'm still dreaming.
Dreaming of when the kids are older and we start doing school together. Dreaming of moving to the country and giving my boys the country life I grew up with. Dreaming of being out of debt, and so much more.
Until one day it occurred to me. I can dream my life away or embrace the crazy now and love exactly where I'm at. 
[clickToTweet tweet=" I can dream my life away or embrace the crazy now and love exactly where I'm at. " quote="I can dream my life away or embrace the crazy now and love exactly where I'm at. "]
It changed my focus. Today, I am right where God wants me to be. Today he has given me what I need. Today, I will rejoice and be glad.
Tomorrow may bring more joy, or sorrow, or pain. Tomorrow may be bright or dark. But tomorrow is tomorrow.
Today I will rejoice and be glad in the crazy. I will laugh as I once again kick the toys away from the door as a visitor stops by. I will sit and rock my baby. I will laugh with my toddler as he makes new discoveries and new sounds.
This crazy? It's a blessing from above and it's mine.
Dear Mommas, will you join me in embracing the crazy now?
We don't have a promise of tomorrow. We only have now, let's embrace the stage of life we are in and be thankful!