Experiencing the Napa Valley Wine Train
My husband and I frequent the Napa Valley often. Something about the area is just so magical, no matter what time of the year. Living so close to Napa Valley I've been spoiled tasting at incredible wineries, soaring over the vineyards in a hot air balloon, and eating my way through the area at some incredible restaurants. However, one thing has always been at the top of my list – the Napa Valley Wine Train.
It's not uncommon to see the wine train pass by you while wine tasting or driving through the Napa Valley. Often times I would stop what I was doing at wineries just so I could watch the Napa Valley Wine Train go by, wondering what an experience on it would be like. Passengers on board wave as they pass you by, looking so incredibly happy. I mean, how could they not? They are drinking wine while taking in the Napa Valley scene.
Finally the day came where I got to cross an experience on the Napa Valley Wine Train off my bucket list.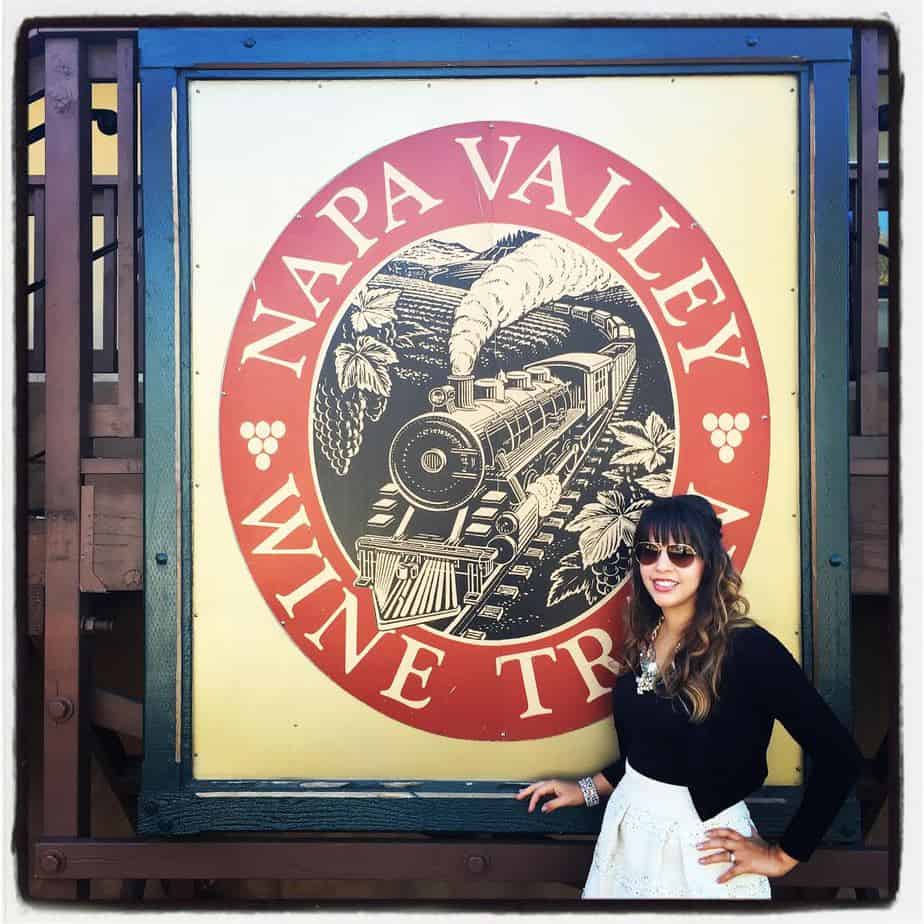 My husband and I arrived at the Napa Valley Wine Train station near downtown Napa around 10 a.m. We checked in very quickly with the friendly staff, got our boarding passes, and explored the station while waiting to board. The train station had two gift shops, a tasting bar (to get you started before departure), and even an employee waiting to take your picture with your own camera (free of charge, of course)!
While waiting we were also given a brief introduction to the history of the wine train, which was quite fascinating. Did you know the Napa Valley Wine Train is family owned and operated? It also began its gourmet-dining service on September 16, 1989. The railroad itself, however, was built and operated by Samuel Brannan in 1864 as a tourist railroad to take visiting San Franciscans as they arrived by ferry in south Napa to his resort town, 'Calistoga.'
When boarding the wine train you cross a very unique bridge dedicated to "love locks." Hopeless romantics and affectionistas of all types can symbolically – and physically – lock their love forever and throw away the key on the boarding platform of the Napa Valley Wine Train. What a wonderful thing to be able to do with your significant other. If you don't have your own lock, one of the gift shops inside not only sells different style locks, you can engrave it yourself as well! Don't worry, the prices are reasonable.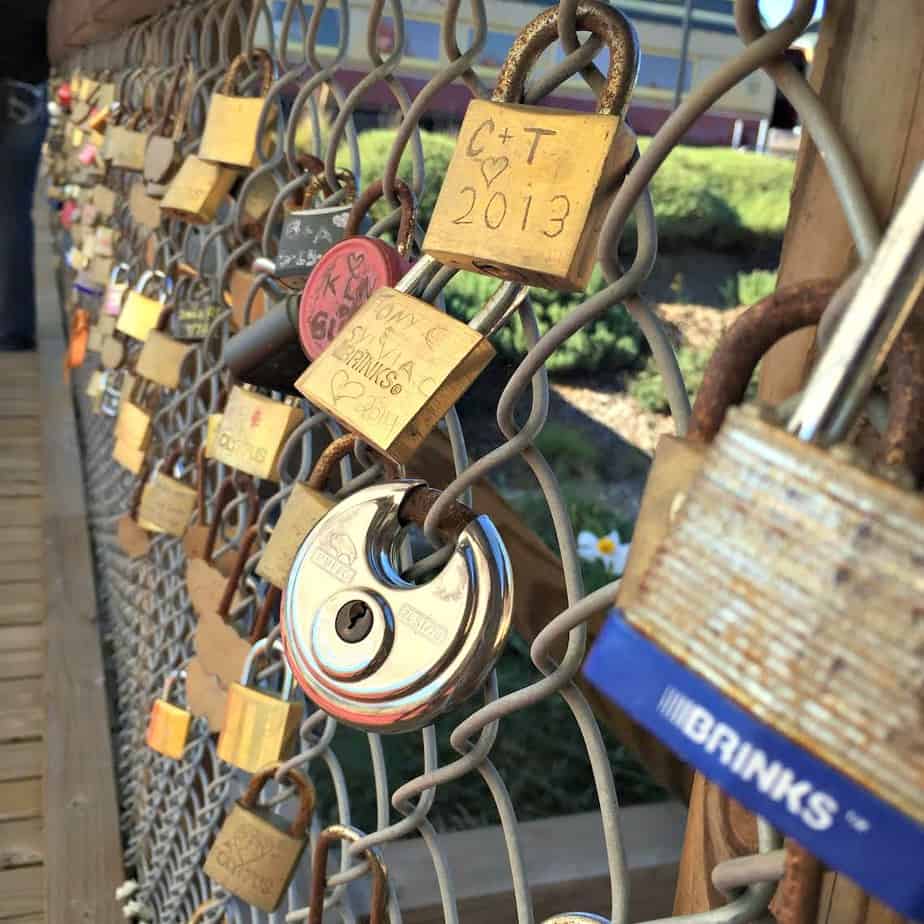 Once we were on the wine train we were shown our assigned seats. Since we visited during the day, our experience was during the Gourmet Express Lunch. We were a part of the "late lunch" group, which means while the first group was eating their lunch in the dining car, we were in our seats, overlooking beautiful wine country, and eating appetizers until it was our turn to switch with the "early lunch" group.
After the train took off, we were greeted with our complimentary wine pour. It was a great way to start our experience. Your first pour on the wine train is complimentary. However, any pour after is not. But don't worry, the prices are reasonable. You can even do sampler tastings, which is what I did for only $10.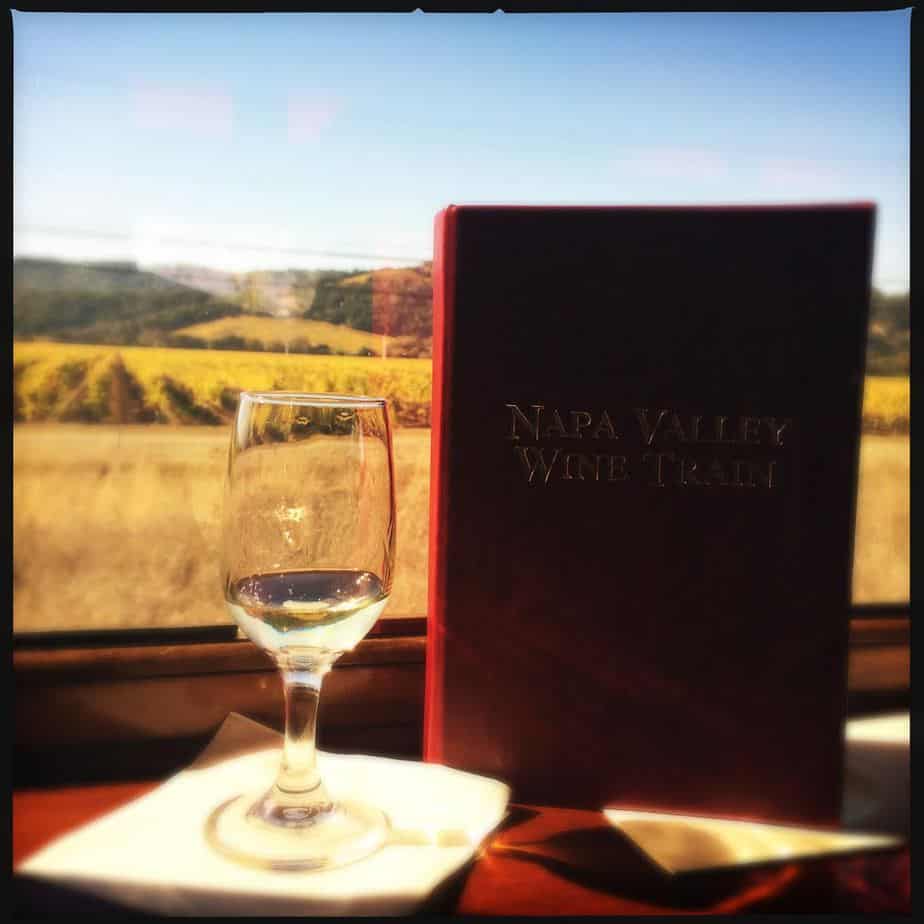 About 15 minutes into our travel, the appetizers arrived, one for each passenger. The appetizers were some of the best I have had in a while. Fresh cheeses, grapes, peppers, smoked salmon, stuffed olives, and more.
I can't begin to tell you how much I enjoyed being with my husband and taking in the picturesque views of Napa Valley. I may be biased, but I think we have some of the most beautiful views in all of California.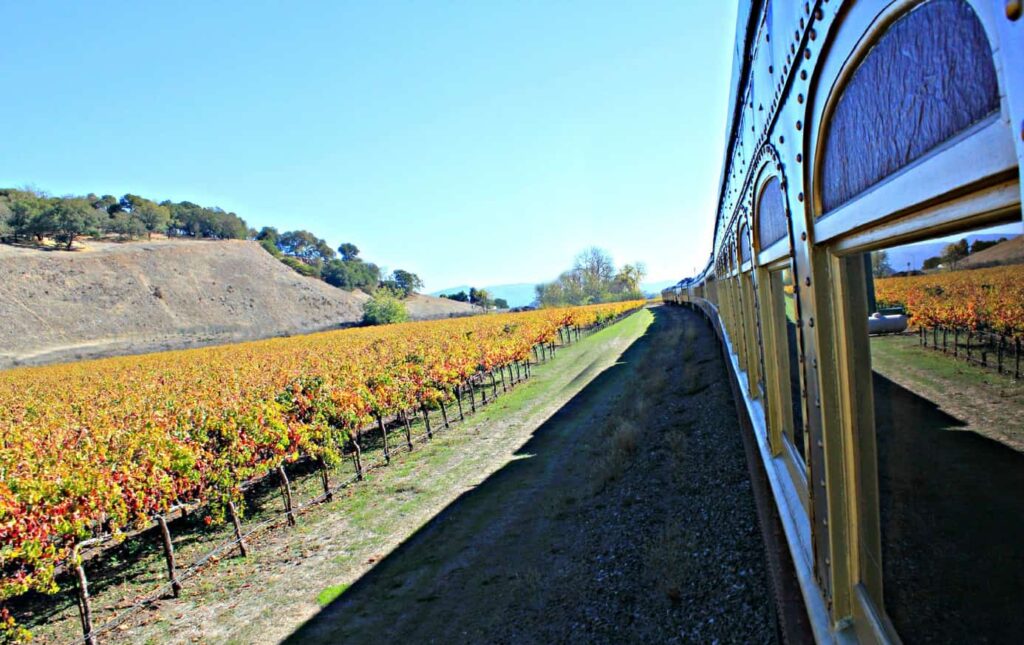 After we finished our appetizers we decided to get up and wander around the wine train. Our first stop was the kitchen car. Yes, you can walk right through as they are preparing meals. It was so neat to watch the chefs grilling up meats, fileting fish, and cutting up vegetables.
From the kitchen cars, we headed to the observation cars, where we took in the fresh Napa Valley air and passed some of our favorite places in Yountville.
We didn't make it to the very last car since we got a later start walking around the wine train, so we made our way back to the car we started at and enjoyed some refreshing cocktails before being called to our dining car. If wine isn't your thing, you will be happy to know that the Napa Valley Wine Train has a generous menu of cocktails and hard alcohol for purchase.
We were finally called back to our dining car and were ready to sit down for a romantic lunch.
We looked over the lunch menu for that day, and there were so many delicious food items to choose from!
My husband went with the Pan Seared Bacon Wrapped Pork Medallion that was served on black truffle hash browns with roasted vegetables in a chardonnay-mustard reduction.
I had the Fresh Fish of the Day, which was salmon topped with shrimp, sauteed spinach, mushrooms, and carrots.
After lunch came the dessert. They had two options: a Crème brûlée and this delicious chocolate masterpiece. I want to say it was a Tiramisu, but I never wrote it down, sorry! You are just going to have to experience the wine train and hope they have whatever this is on the menu that day!
Once our meal was done it was time to exit the train. I can honestly say the wait to experience the Napa Valley Wine Train was worth it. It was a wonderful experience. The entire staff was so friendly and knowledgeable, the food and wine were superb, and the views were breathtaking. It is definitely an experience I recommend for everyone, even children!
If you are wondering what to get a loved one for the holidays, tickets to the Napa Valley wine train make a wonderful gift! You can find more details and special wine train events by visiting: http://winetrain.com.
*Complementary tickets were provided to facilitate my review. All opinions are my own.