Faith ~30 Days of Thanksgiving day 17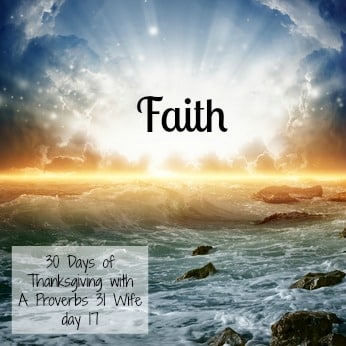 Faith is most likely the foundation of our relationship with God.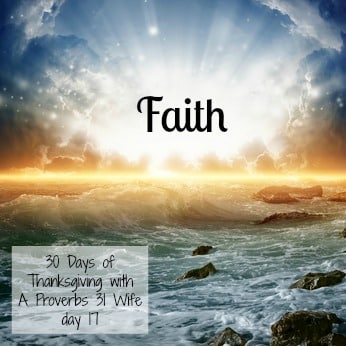 Luke 17:6 And the Lord said, If ye had faith as a grain of mustard seed, ye might say unto this sycamine tree, Be thou plucked up by the root, and be thou planted in the sea; and it should obey you.
Hebrews 11:6 But without faith it is impossible to please him: for he that cometh to God must believe that he is, and that he is a rewarder of them that diligently seek him.

God, the great creator, wants a relationship with his children. He is ever present, and always by our side, just waiting for us to call on his name. But before we can have any type of relationship with our father God, we must first have faith. We must believe in faith, that God wants us, that he is always with us.
Now here's the thing about faith. Faith is something we pick up from those around us; it is in essence, "caught and not taught". My family is far from perfect, but I would say my first experience in faith would be from my parents. Because of the faith they had in the Lord, I too began to trust in him.
A child's faith is simple. They see and hear others talking about God, they may ask questions or they may not. But it comes down to the simple fact that those they look up to, believe that God is there, so they do too.
As the child grows, life becomes more complicated and it's possible that their faith does too. They begin to question things and wonder what is real and what is not. Hopefully the mentors in the growing child's life will point them to the bible. From that point on, we can strengthen our faith by reading the word of God.
The entire bible speaks of faith. It tells of those who believed in, and trusted God no matter what. These stories, and our own experiences, grow our faith and God uses all of it to make us into who he created us to be.
If you want to read more on faith, why not read Hebrews 11? My favorite verse in that chapter, is verse 13: These all died in faith, not having received the promises, but having seen them afar off, and were persuaded of them, and embraced them, and confessed that they were strangers and pilgrims on the earth.
"Having seen them afar off and were persuaded of them" Isn't that us? Right now we "see as through a glass darkly" (1 Cor 13:12), but we know that some day all things will be answered.
Faith that God is in control, gives me peace in a world full of chaos.