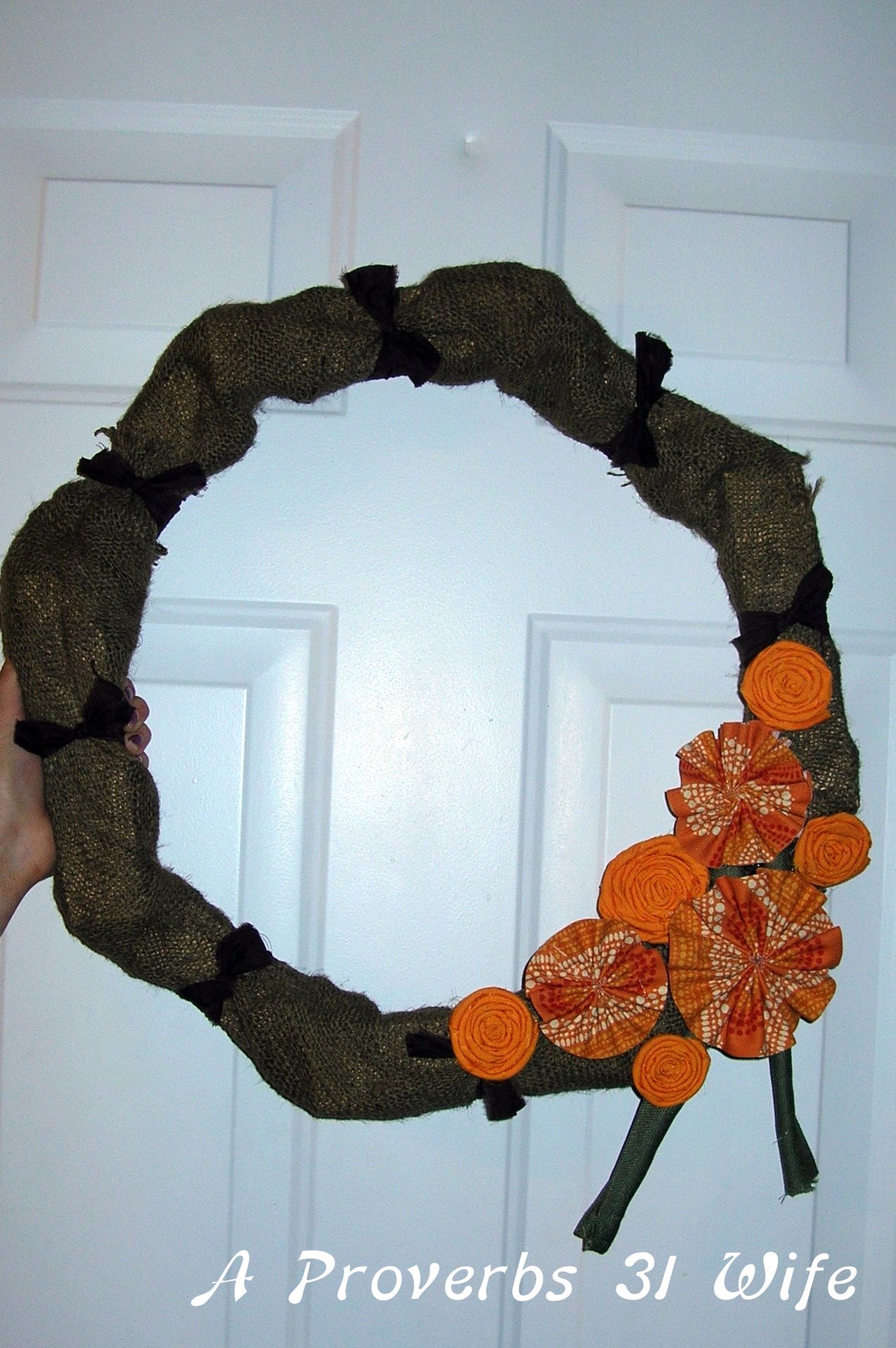 Due to some changes in spending the hubby and I are making, I decided I had no need to buy things for fall decor. In fact, I am not really one to decorate much anyway. Not that I don't enjoy it, but that I lack inspiration.
However when you are a blogger, or you read blogs, there is so much inspiration out there that you "just catch it".  So now, I have all these ideas for decorating and no budget. Hmmm. Time to really get creative! I have several projects underway now, and I plan to share them here. 🙂
The first project I want to share is my fall wreath on a budget. In fact this wasn't a budget thing at all, I didn't buy a thing to make it. I asked my landscaper hubby if he could get me some gently used burlap off of a tree ball. And… two days later he came home with the dirtiest, rattiest thing I had ever saw. I about gave up then and there, but decided to try washing it.
Well, at least it got clean. 🙂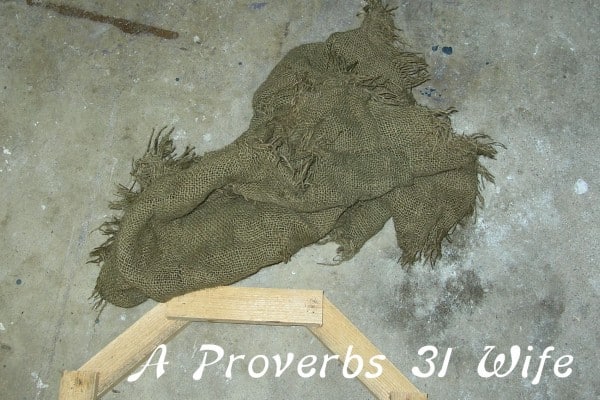 Pretty ratty, huh? 🙂
I asked Jason to make me a frame like the one I made for my spring wreath. He took a long piece of 1″x2″ cedar, and cut it in eight 8″ pieces.  He had nailed them together before I came out so it's a little crooked, but it got covered up so so you can't tell.
I next took the burlap and cut it into 8″ strips and laid them on the frame and tied strips of brown fabric around it.  I had some other photos but they got deleted. (oops)
Front.
Back.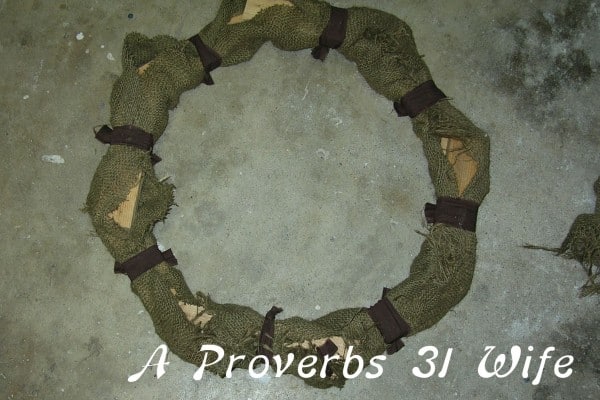 I used my hot glue gun to stick the edges together.  You can see the first section that I glued up at the top.  The problem with hot gluing burlap? The burlap has holes! I burnt my finger tips so many times…
Then I made some flowers using leftover fabric from this project.  And laid them out on the wreath to see how they would look.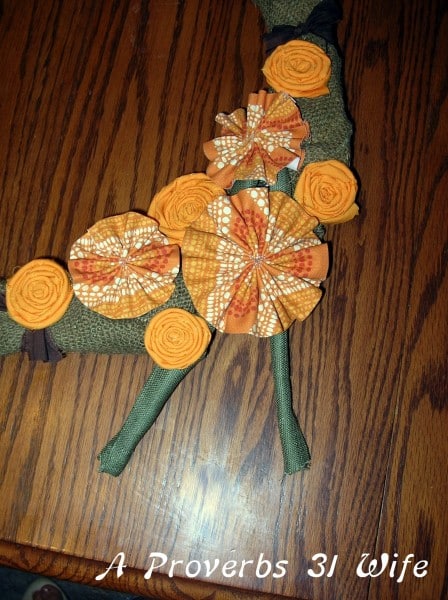 Oh, and I added a rolled up long strip of green fabric and put under the flowers.
Then I glued the flowers down. I love how those flowers turned out. If you look at the other project you will see that the dots were in large circles, but on these flowers they ended up looking different and really cool!
I am really happy with how it turned out.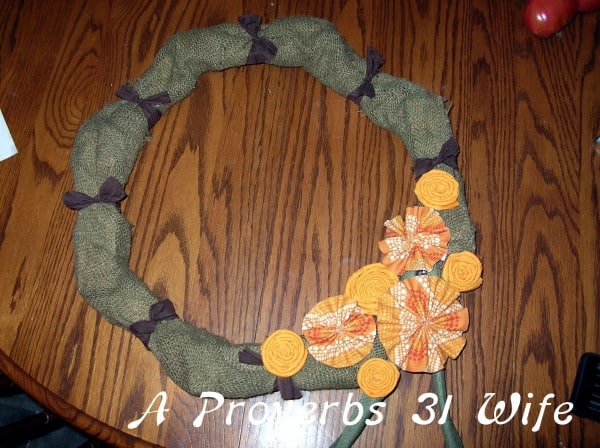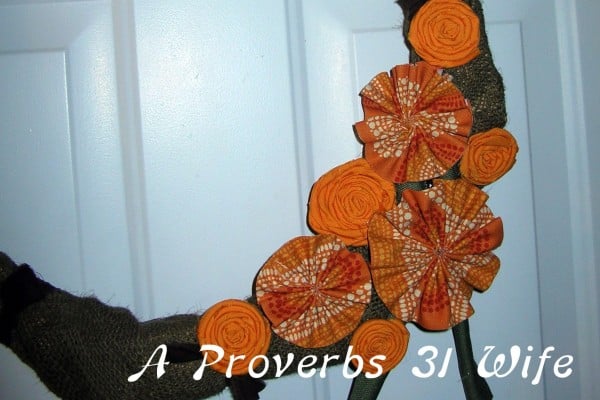 That is the true color of the flowers.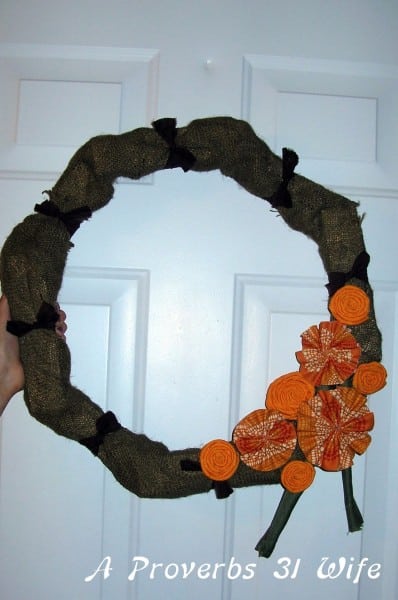 Oh, I did have to buy a wreath hanger. 🙂 I had been hanging them on a hook outside, but said hook, had a flower basket hanging on it.
I wasn't sure if I could make a fall wreath on a budget, I mean no budget, but I am pretty pleased with how it turned out! Stay tuned as I plan to share a bit more of my fall decor on a budget. (If it turns out that is, *evil laugh*)
On a side note, I still have 2 spots left for October if you are interested in sponsoring A Proverbs 31 Wife. The discount code is still good as well. 😉