Favorite Juicing Recipe. Week 3 of Juice Fast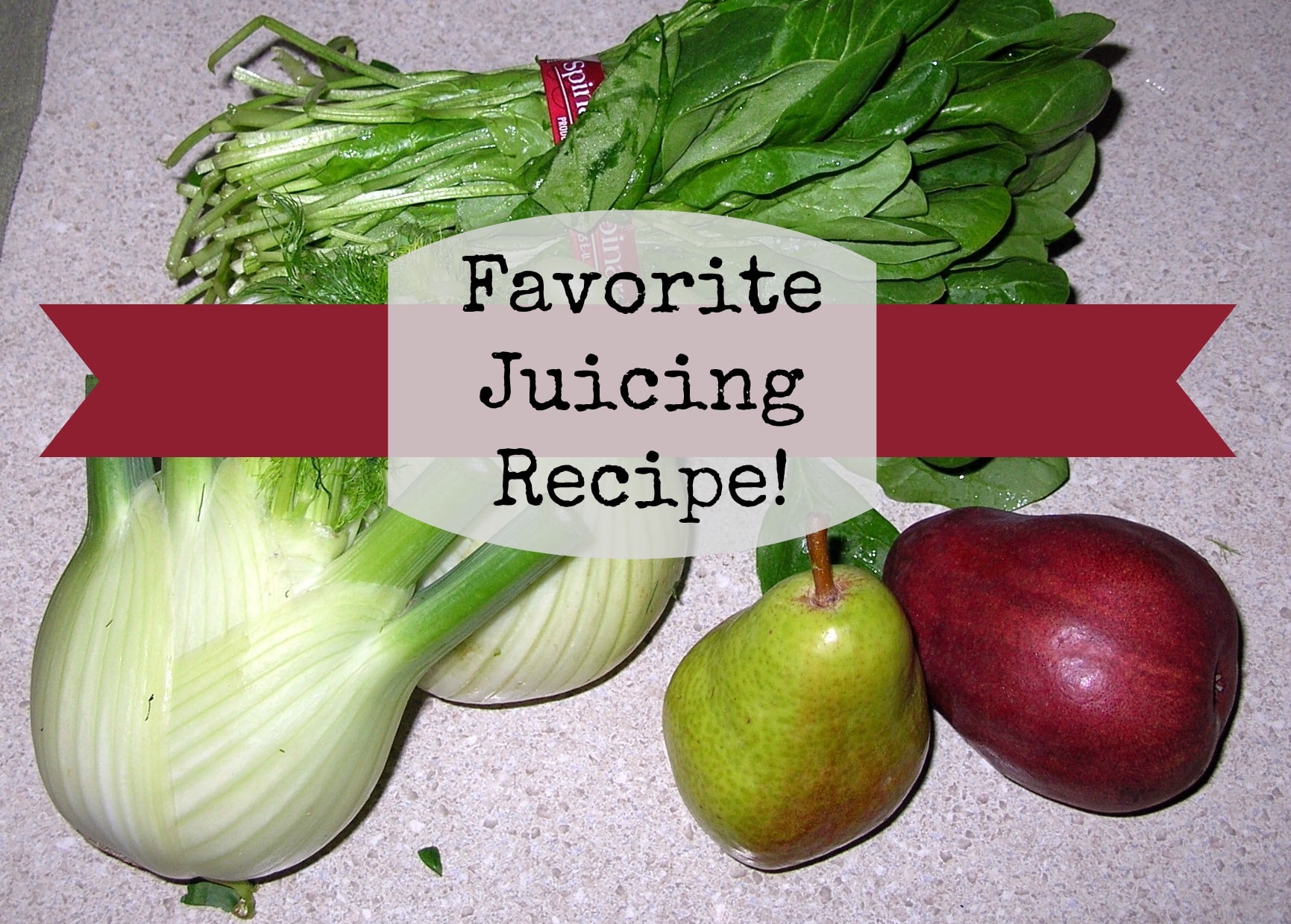 I've made it through 3 weeks of the juice fast! And I thought I would share my favorite juicing recipe with you all.
My favorite juicing recipe:
It's super easy to make, you will need:
(makes 2 servings)
2 pears
2 fennel bulbs
2-4 cups of spinach
The original recipe called for just the pear and fennel, but because you should have a 80-20 percent ratio of veggies to fruits, I decided to "hide" some spinach in it. The taste is just as great but you are getting a bit more veggies.
I don't buy organic, (can't) so I peel the pears and juice them whole. With my juicer, I found it works best to leave things like pears and apples whole, they just seem to juice better.
The fennel has a slight licorice taste, so if you dislike licorice, you better forgo this recipe. When preparing the fennel bulbs I do cut the green tops off. You can leave them on, but I found the taste to be very overpowering when I left the tops on.
The spinach is easy, break the ends off and wash the leaves.
I do not recommend making a smoothie with this recipe, juicing would be the best in this case. If you have a favorite juicing recipe, please share it in the comments below!
Week 3 updates:
I hit a plateau this week, and have lost only 3 pounds. However, that's not uncommon. Because I have less weight to lose to begin with, it will take me longer to lose it. As in, if I lost 30 pounds total. That would be the weight I was at when we got married. It would be a good thing, but if I lost much more than that I would be too skinny.
So when I lose 13 pounds, my body says, "Whoa! hold up a minute and let me adjust to this!" Do you know your bones gain and lose density to adjust for your weight? So I'm not too worried that I'm not losing weight at the moment. It will happen in its own time. 🙂
Inches, I have lost another inch from my belly. That's always a good thing considering I have the most poochy tummy ever. I should've said "had" I suppose, the pooch is nearly gone. Yay!
My face hasn't cleared up anymore. It looks better than it did, and I'm not as itchy as I used to be, but I'm still waiting on the face to completely clear up. Oh well. It too will happen in its own time.
Want to know what juicer I am using? You can find it here on Amazon. (ad)
Disclaimer: You are responsible for your own health choices, and this is not recommended for pregnant or nursing women.