Feeding Your Baby Formula
This post is brought to you by Caitlin as part of our "Feeding Your Baby" series.
I had never planned on formula feeding. From the beginning I didn't know much about breastfeeding other than you put the baby on the boob and that it was what I wanted to do. Even after an unplanned c-section breastfeeding started off really well for us. My daughter took to my breast like a long-lost friend and, even to this day, she'll gladly snuggle up next to them over a pillow or her favorite stuffed animal. For the first couple of months breastfeeding came with ease.
When my daughter was two months old, my husband had returned home from Tech School for the Air Force and it was time for our first move. What had been a case of postpartum depression that I had waved my hand at as baby blues worsened, and with it the difficulties with breastfeeding began. Unaware that I could reach out for help for both PPD and breastfeeding, I began to supplement with formula in bottles that had been purchased with pumped breast milk in mind.
Before I knew it I was a formula-feeding mom. At first I felt a huge weight lifted from my shoulders, but it was short lived. A few weeks later I realized that I missed nursing. I felt like a failure for giving up.
But no one, not one person, made me feel guilty other than myself. Over phone calls with my mother and my sister and through discussions with my husband I was given nothing but support. However, it wasn't until recently that I came to peace with my decision to formula feed my daughter. As mothers we are often our biggest and hardest critics. It took me far too long to realize I couldn't dwell on a decision I made when my daughter was so young. She was fed, well cared for, and loved every single day. In the grand scheme of things, that decision was tiny—nothing more than one of thousands of stars far off in the dark evening sky. Because you know what?
Formula feeding is OK!
Say it with me—formula feeding is a-ok.
My husband was my biggest support. He wasn't scared to dive in and wash a bottle for me or run out for a can of formula early one Saturday morning while my daughter and I caught an extra half hour of sleep. And he was even happy to be able to help feed our daughter.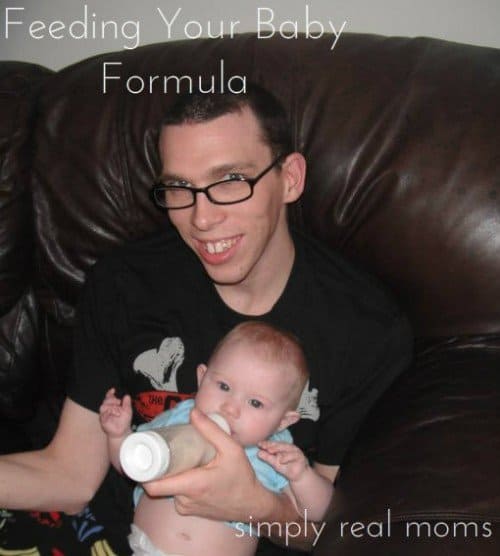 I'm perfectly alright with having fed my daughter formula, which is not something I could say until recently. If you're faced with the decision of breast or formula, or are looking back at the decision you made with quiet guilt, remember that we aren't perfect, we make the decisions that are the best for us with more factors than others understand.
About Cailtin:
Caitlin is a wife, a mom, and a lover of words living on an Air Force base in the middle of nowhere. In between chasing after her 20-month-old, Penny, folding laundry, and spending half the day in the kitchen, she tries to jot down a few words in her notebook and blogs over at All About Growing up and Becoming a Famous Author. She and her husband are expecting their second child in June.
This is personal advice and should not be substituted for advice from a medical professional.
Read other posts in this series:
Chriisy's story-Feeding Your Baby Exclusively Expressed Breast Milk
Jasmine's story-Feeding Your Baby: Supplementing Breast Milk with Formula