Final Fall Decor on a Budget Post
Earlier this month I was sharing my Fall Decor on a Budget and I said a had one more project and if it turned out I would show you.
I am not sure just how well it turned out to be honest, but since I have it on display I will show you here as well. 🙂
We've all seen the painted jars floating around on Pinterest. You are on Pinterest right? Hopefully, you are following me there as well.
So I thought I would do the same for my fall decor on a budget. I had some lemon-aid bottles that I pulled the labels off of and washed really well.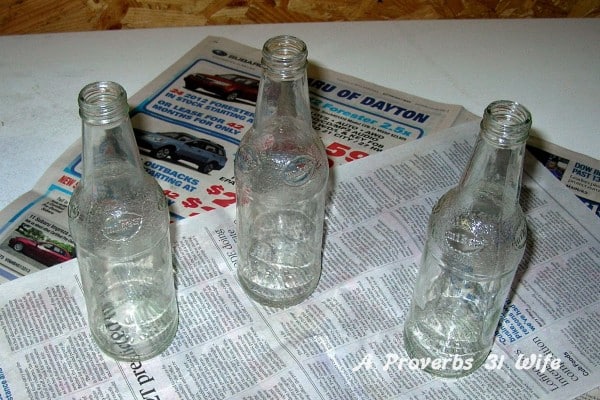 Since the whole purpose of fall decor on a budget was to buy as little as possible, I decided that the paint I had in the garage would work fine for this little project. There was a creamy yellow and green I decided to use.
Since the tops of my bottles were so small I needed a funnel to get the paint in, without spilling. A piece of cardstock made a nice disposable funnel.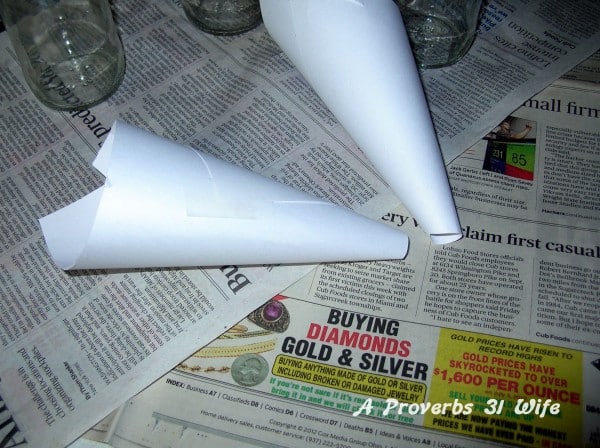 Very nice, 🙂 and I spread out newspapers so the top of my freezer didn't get painted. Am I the only one to use a chest freezer as extra crafting space?
I poured some paint into each bottle and turned them so the paint would evenly coat the inside, then I allowed the excess paint to drip back into the paint can.
  A little messy, yes?
Then I sat them upside down on the newspaper. Apparently I didn't drain "all" the excess paint out because when I went to move the jars, there were small puddles of paint underneath.
In these photos, they look really pretty. The paint seems to be nice and thick, and at that point I was thinking "Success!" However, once the paint in the jars dried, I was a bit disappointed. The paint thinned way out and cracked. That's what I get for using old paint I suppose.
I wrapped washi tape around the jars and went ahead and used them, but I'm not real happy with how they look. Oh-well, I can try again sometime. 🙂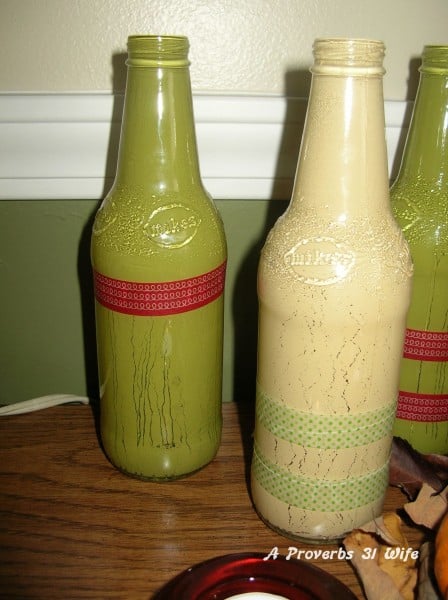 For the rest of the display on my side table.
Leaves ~ Free 😉
Votive holders ~ Thrift store a long time ago.
Basket ~ My gran gave it to me who-knows-how-long-ago.
Corn ~ Hubby found them in a field that had already been harvested.
Small gourds ~ $2.50 on sale at Meijers.
Candle ~ Clearance shelf somewhere.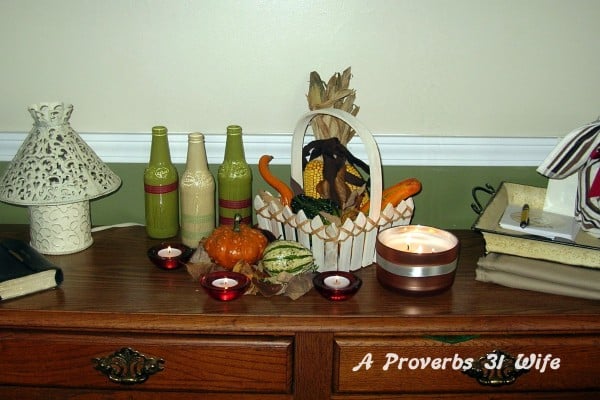 With the exception of the painted jars, I am thrilled with my fall decor on a budget.  In fact, my total cost for all of my fall decor was $4.50. Considering I made a wreath, decorated my bookcase, and my side table. I think I did really well!
And yes, I do know that it's a little late to still be working on fall decor, but guess what? I don't care! lol Besides I still have another whole month to enjoy it. My Christmas decor doesn't come out until after Thanksgiving. 😉
Who else leaves fall decor out until the end of November?