Fix your Marriage or Take Care of It?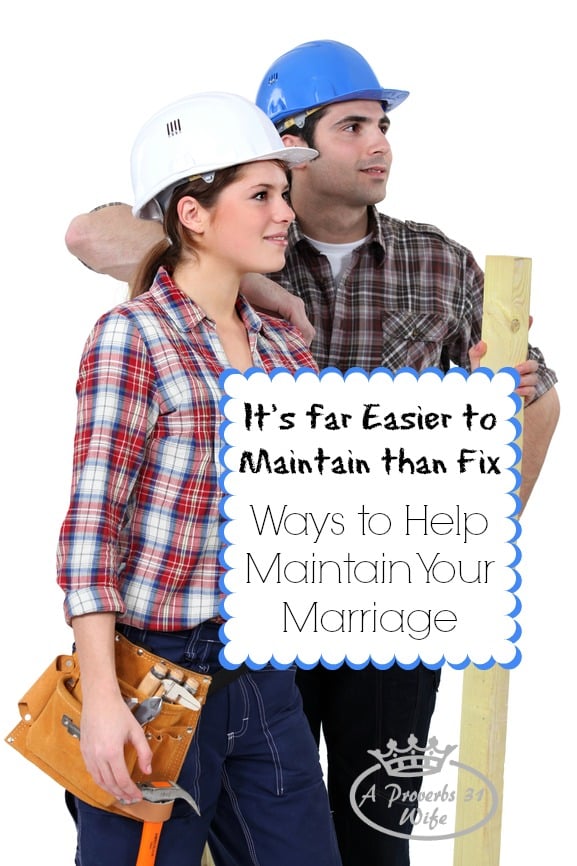 Is it easier to fix your marriage, or take care of it to prevent the need to fix?
When we bought our house it was newly remodeled for us. But we bought it with the understanding that we would still need to maintain it. We knew that walls would get marked up and the carpets would get dirty. We knew that the AC would need cleaned in the fall, and that pipes and wiring would need an occasional check up. We knew that we would have to take care of it.
What would happen if we didn't? Winter would come and pipes could freeze, the hot summer would come and our failure to care for the AC last fall could mean we would lose our cool. (pardon the pun) In time, if we don't care for the roof, it would begin to leak.
If we didn't take care of our house, eventually, it would no longer take care of us.
The same thing goes for your marriage; if you do not take care of your marriage, you will have to fix your marriage, and trust me, it's far easier to take care of, than it is to fix.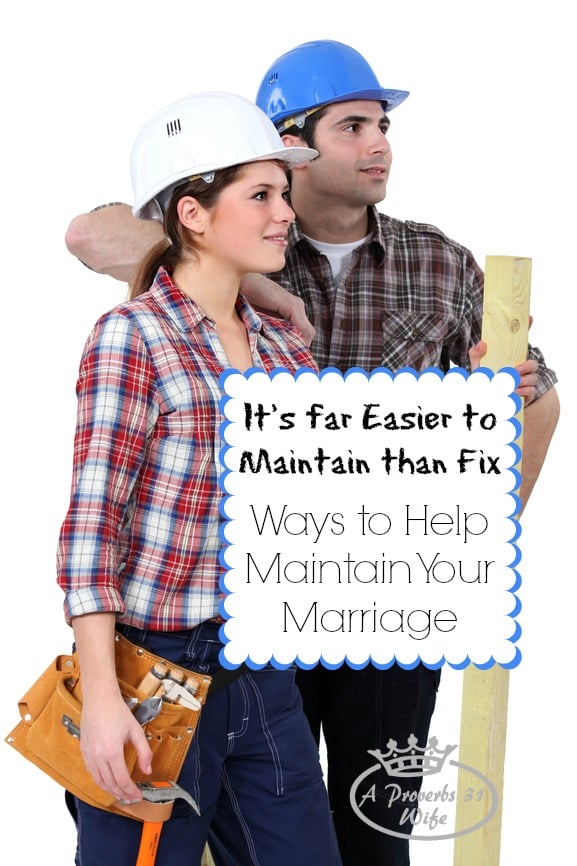 What are some ways to care for your marriage?
Be aware of your spouse
Find out their love language and work on keeping their "love tank" full
Just spend together time with your spouse
Have fun together
If date nights aren't your "thing" find something that is
Read, find Godly books that will encourage you in your marriage (here is a list for the ladies)
Leave each other love notes
Send funny loving texts or emails during the day
Backrubs
Snuggles
Proper communication
All of those things require one thing: That you stay in touch with each other. Are there hobbies and tv shows that separate you? Do you keep your life so filled with places to go and things to do, that you no longer know who you are married to?
Marriage is work, it is commitment, it is the waking up daily with a purpose to have a relationship with your spouse.
So stay connected and maintain your marriage to avoid the need to fix your marriage later on.
Has your marriage been neglected to the point that you need to fix your marriage? I'm not the expert on this, but here is a bit of encouragement. I know very well of a couple who had been married close to 20 years, but the marriage had been neglected and the husband left. I saw the prayers and the faith of a Godly wife bring them back together.
I do not believe it is ever too late to fix a marriage, and with God, all things are possible. But I know that the longer you neglect your marriage, the harder you will need to work to rebuild it.