Freezing Blueberries, A Simple Way to Save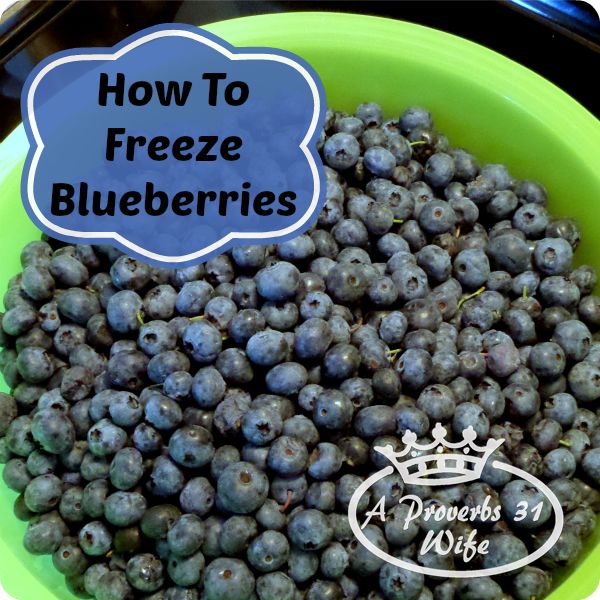 I love summertime. Like today, when I just spent the last hour freezing blueberries for this winter. 🙂  All these fresh fruits and veggies are just so awesome, and it's a great feeling to know that your freezer is stuffed with summer's bounty, in preparation for winter.

Freezing Blueberries for your winter enjoyment.
I poured all my blueberries into a large Tupper-Ware fix and mix bowl.
I have a double sink with a garbage disposer on one side. The bowl was set in the garbage disposer side and filled it with water.
The other sink was washed good and filled with water.  The stems were pulled off the blueberries, and the stems and bad/mushy blueberries were dropped beside the bowl into the sink.
The good berries were then tossed into the second sink. Once the bowl was empty, I moved to the second sink and double checked to make sure I got all the stems and rotten blueberries out.
This time the blueberries are spread on a towel to dry for awhile.
I use and recommend the Arrow Plastics freezer containers.(Affiliate link) They are sized and stack very nicely in your freezer and store great when you aren't using them.
If you don't have freezer containers, you can use Ziploc bags, but make sure you get the freezer bags.  However, if you plan on freezing a lot of stuff in the future, I definitely recommend that you invest in some nice freezer containers. They will quickly pay for themselves!
When you fill your containers, make sure you leave some room for them expand as they freeze.
Don't forget to mark your containers with the date, and you can also mark the contents if you like.  I use a piece of tape to write on, that way I don't ruin my containers.
By purchasing and freezing blueberries when they are on sale, I can save quite a lot by not needed to buy them in their off seasons.
Do you plan on freezing blueberries? You may also like these posts on Freezing Cherries, and Freezing Strawberries.