This guest post is brought to you by: Jackie
What is phonics exactly? And why does everyone keep telling me, as a mother, that it's one of the most important skills my child can gain?
From an educator's point of view, phonics is "The science of sound," and developing the skill of understanding and using phonics can be very important to your child's educational career. It can seem like a daunting task to work on any skill with your child. I've worked with many parents who have asked themselves, "Am I teaching them correctly? Are we practicing enough?" Progress can be very simple, especially when using some of the great tools that are available now. LeapFrog has had an amazing product for quite some time now, the LeapFrog Magnetic Alphabet, or Fridge Phonics. This tool can be placed on any refrigerator, at your child's level, and comes with all 26 letters of the alphabet. Easy-grip letters, when placed into magnetic letter reader will play the letter's name, sound and a short song. Not only will they practice their letter recognition, but grasping each letter will help them control their fine motor skills.
.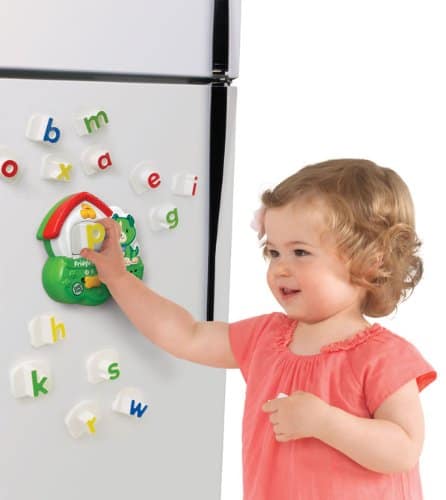 Starting as young as two years old, your babies can sit in your kitchen while you are preparing meals, washing dishes, or relaxing with friends and family, and practice their phonics. Don't worry, it comes with a volume control!
Jackie calls home the San Francisco Bay Area of Northern California. While attending Chico State, she earned her Bachelor of Arts in Liberal Studies and gained a passion for working with children and teaching. Chapman University was her next stop, where she graduated with a Multiple Subject Credential, a Special Education Credential, and a Masters in Education. Although not a mother just yet, her experience with kiddos include substitute teaching, working for families as a nanny, and a background in summer recreation programs. Family and friends mean the world to her, and when not teaching you can find her joining them for a great trip, a new restaurant, or a glass of wine!