Frozen the Movie: Or How Disney Pleasantly Surprised me
Growing up, my mother didn't let us watch Disney movies. The princess ones especially didn't come into our house, not even the story books.  Most of those movies have hidden messages that she didn't feel we needed to hear.
Consider how Arial defied her father and he paid the price, or all the innuendos of Tangled, how about the straight-up witchcraft of the Princess and the Frog? They all have little messages, most of them okay at best, but none of them good.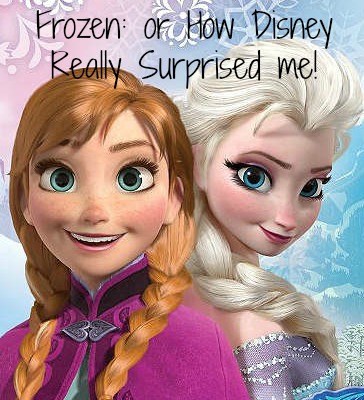 I recently watched Frozen with one of the kids I babysit and found myself totally surprised.  This is actually one Disney Princess movie I would like to buy on DVD. After watching it, there can be a really good discussion with the kids on the message found in that movie.
The oldest sister Elsa was born with a curse, there is a storm that rages inside her, and she turns things to snow and ice. Little sister Anna adores her big sister and cannot understand why Elsa began to shut her out after an accident where she nearly killed her little sister by ice.
After years of hiding her secret and trying not to feel anything, trying not to let the storm inside out where others can see it, it happens.  The whole village knows her secret and Elsa runs away. Alone in the forest, Elsa releases the storm inside and thinks she is far away from every-one, she can be herself and stop trying to control the storm. She thinks that away from every one, she will no longer hurt those she loves.
But she does hurt those she loves. Her sister wants her home, her sister still believes she is good and sets out to find her.  In trying to find Elsa and bring her home, an accident happens where Anna's heart is turned to ice, and only an act of true love will thaw her heart. If her heart is not thawed soon, Anna will die.
In seeking her true love for true love's kiss (isn't that what will thaw her heart?); Anna throws herself in front of the sword that would kill her sister, just as her frozen heart freezes completely and she turns to ice.  Dramatic scene here where the true love comes up too late, and Elsa drapes herself across her ice sister in tears.
But that act of true love performed by Anna in giving her life for her sister, thaws her own heart. And Elsa realizes that Love only was able to control the storm within her.
I was stunned after the movie ended. Did Disney realize how well they portrayed the basic gospel of Christ?
You and I are Elsa, we are cursed, we have a storm that rages inside of us. Try as we might, that storm cannot be controlled and we hurt those we love most.
Anna too represents us, with our frozen hearts. However she also represents Christ. She, like him gave her life for one she loved. Once we can see and accept the true love that Christ offers us, we realize that our frozen hearts are thawed, and love conquers the storm in us.
Frozen did contain the typical love story that you find in the princess movies, but it was not the focus of the movie, the focus really was on what true love is. Being able to give up one's desires for the good of another. In fact besides Anna's sacrifice, there was another example of true love. But I don't want to totally spoil the movie for anyone who hasn't seen it yet.
Have you ever been surprised by Disney like that?
This post wasn't sponsored by Disney, I'm simply sharing because I felt this to be a great movie for kids and a conversation starter for the gospel message.