Fun and Frugal Valentines ~ Valentine E-cards, Notes & More
Valentine's Day: from the fun little cards with candy in them as kids, to the chocolate and flowers as adults. You can go all out, or even send fun valentine e-cards.
Telling some-one you love them shouldn't just happen once a year; but it is fun to take a special day and show love as well. So, do you have to spend a lot to to impress the person you love? The answer is no. Of course jewelry companies might tell you differently, but then they want your money. 🙂
If you have the money, then by all means go all out, but if you don't, you can still "go all out" and yet not spend much at all.  If it's truly loving, then the thought goes a lot ways. 🙂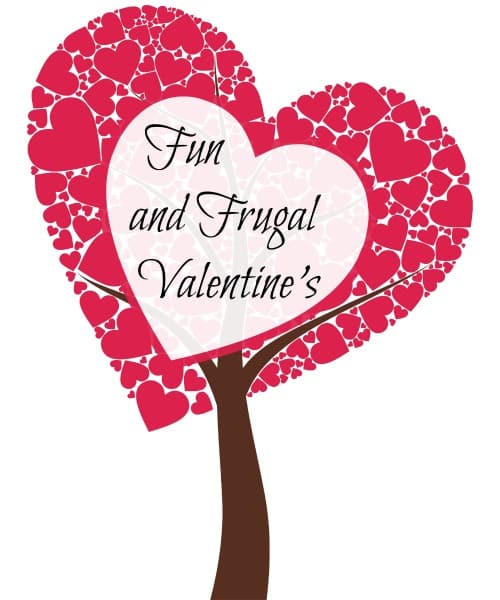 Leave Little Notes:
Jason recently left a whole bunch of fun little notes all over the house, telling me he loved me. You could do the same by sticking fun/loving notes where your spouse will find them. (Or make it really fun by hiding the adult conversation hearts!)
This would also be fun for kids. In their clothes drawer, lunch box (if they go to school), shoes, favorite toy, and other ideas. If the child is too young to read, but old enough to understand, little pictures would be fun.
For your mom or sister(s), you could do something fun like this.
Personalized Valentine's Gifts & Valentine E-Cards:
Buying personalized valentine's gifts can get expensive; but it's easy to make them.
For children, laminate a photo of the child and turn it into a heart shaped bookmark, or you can make one like these.
Decorate little gift boxes and put a few chocolates in them. If your man is a sports fan, consider one like this. Photos would work great here as well!
Making cards can take time, but they are lots of fun and kids like to get in on the action as well.  There is a tutorial at Martha Stewart for making the most adorable popup card where two people kiss when it opens!
How about 52 reasons I love you? These would be fun for your spouse or kids. Very meaningful, especially if words of affirmation is their love language.
E-cards can also be fun. You can find free Christian Valentine e-cards here; try sending them to your siblings and closest friends. There is a pretty good selection of e-cards, but if you don't find any you like, just Google "free valentine's e-cards".
Date Nights:
Yes, the date night… One thing for certain; you really do NOT want to go out to eat on Valentines day. Crowds, higher prices… you get the idea. So how about some fun valentine's day dates that do not involve going out?
If you and your spouse enjoy working in the kitchen, try doing a fondue night (if you ask around enough, you can like find a friend who will load you their set if you do not have one), decorate a small cake together (think crazy out of control fun with icing!), a sushi making night, or any other thing you enjoy eating that you could make together.
Look through your wedding photos together and/or watch your wedding video. If you share a favorite show, have a marathon and catch up on all your favorite parts.
Most importantly, do something you both enjoy and that will make you laugh. Having fun together is so good for your marriage.
For more frugal valentine's day gift ideas, check out last year's post.