Fun Family Crafts For St. Patrick's Day
Our friends from Family Fun magazine have shared some fun, festive crafts with us that you can do with your children to gear up for St. Patrick's Day!
Swinging Shamrocks
Materials
Cardboard tubes
Scissors
Glue
Green paint
Fishing line/string
Directions
1. Cut four half-inch rings from a flattened cardboard tube, then cut through one of the folds on each ring.
2. For three of the rings, bend and glue the two ends to form a heart-shaped leaf.
3. Fold the fourth ring into a triangular stem and glue the ends together.
4. Glue the stem between two leaves, then glue on the third.
5. Paint the shamrock green. When it's dry, hang it with fishing line or string.
Leprechaun Artist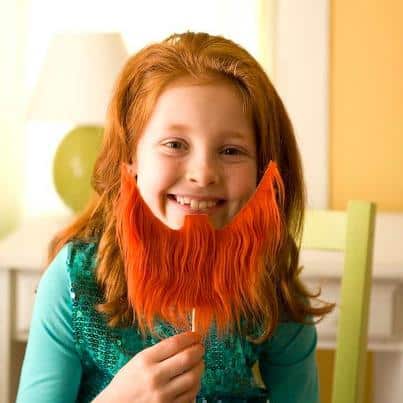 Materials
Printable beard template from familyfunmag.com
Faux fur
Corrugated cardboard
Glue
Bamboo skewer
Directions
1. Print out beard template from familyfunmag.com
2. Cut the shape from a piece of faux fur and a piece of corrugated cardboard (with the corrugations running vertically).
3. Glue the fur to the cardboard.
4. Place a bit of glue on the end of a bamboo skewer, then insert it into one of the center flutes of the cardboard.
5. Let the glue dry before employing the disguise.
Over the Veggie Rainbow
Ingredients
Small bowl
Dip of choice (we used guacamole)
Bell peppers – various colors
Cauliflower
Carrots
Directions
1. Fill a small bowl with dip.
2. Slice four long strips of bell peppers in various colors and arrange them as shown.
3. Cut two small cauliflower clouds, skewer each with a toothpick, then position one on each side of the peppers.
4. Place sliced carrot coins beside the bowl for the leprechaun's pot of gold.
Source for Article & Images: familyfunmag.com