Get Your Preschooler Moving with iBounce!
If you are looking for the perfect gift for your active preschooler this holiday season, don't look any further! The JumpSport iBounce is a trampoline designed for children ages 2-5 and is all about keeping kids active and learning. My 2 and 1/2 year old is extremely busy and I was anxious for something to keep his body moving during these cool, winter months. The JumpSport iBounce is perfect for him!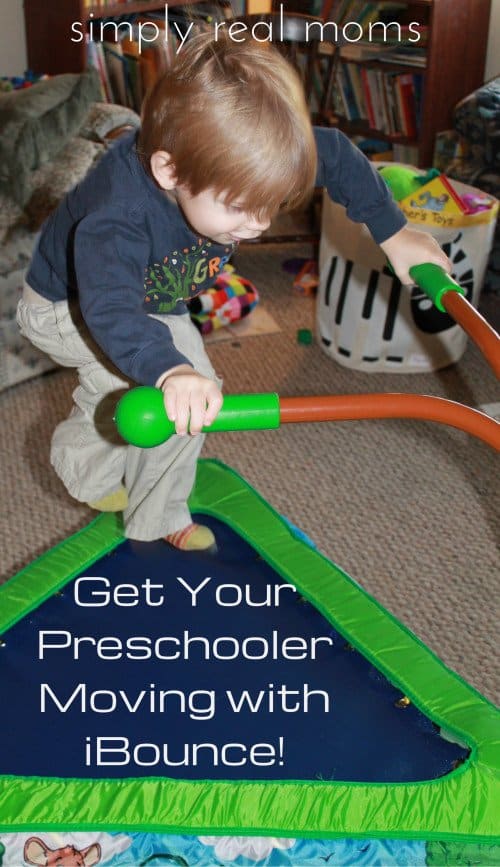 Let me start by saying the iBounce needs to be assembled when it arrives. So don't order it and expect that your preschooler can play with it immediately when the package arrives. I like that the iBounce comes with a cover to hide the springs and bolts. Another feature about the design of the trampoline that I appreciate is that it is a triangle. This makes it easier to tuck away, unlike a circular trampoline.
What's so different about this trampoline versus other trampolines you can use in the house?
The main thing that makes the iBounce stand out as a trampoline for young children is that it comes with educational fitness DVDs to watch. These DVDs tell your child different actions to do while on the trampoline and also teach your child skills such as counting and learning numbers or letters. Also, the handlebar on the trampoline really help your child to balance well and also to jump higher!
The iBounce teaches your child basic early learning skills, coordination and even how to follow directions–all while being active and fun!
Here you can see my son jumping with one of the iBounce DVDs:
If you own a tablet, you can easily mount the tablet onto the iBounce and stream the videos that way. Then, your JumpSport iBounce trampoline doesn't necessarily have to be in the same room as your TV.
The iBounce makes a great indoor activity. I am so glad to have it as an energy outlet for my son this winter. He jumps on it almost daily, whether he's watching the DVD or not. In this video, you can see he simply jumps and jumps!

JumpStart iBounce from Erin on Vimeo.
Here you can see how the triangular design makes it easy to tuck away into a corner when it's not being used.
The JumpSport iBounce is the winner of 8 industry awards!
Spring 2012 National Parenting Center  Seal of Approval
Spring 2012 Parents' Choice Foundation Award
2012 Mom's Choice Awards • Gold
2012 Creative Child • Kids Product Of The Year
2012 Dr. Toy's Best Vacation Children's Product
2012 Tillywig Toy Awards • Top Fun Award Winner
2012 Parent Tested Parent Approved
2012 Family Review Center Seal of Approval
The JumpSport iBounce would make the perfect gift for any preschooler this holiday season. Any toddler would jump for joy with a toy that will keep them busy for hours on end. And any parent will love that it is keeping their child busy while teaching fundamental early learning skills.
You can find out more about the iBounce and other great JumpSport products on their website or by following them on Facebook.
* I received this product to review, but all opinions are my own.