Give A Minute, Help Make-A-Wish!
The Make-A- Wish foundation holds a special place in my heart. They grant the wish of a child diagnosed with a life-threatening medical condition in the United States and its territories, on average, every 38 minutes. They believe that a wish experience can be a game-changer. This one belief guides them. It inspires them to grant wishes that change the lives of the kids they serve.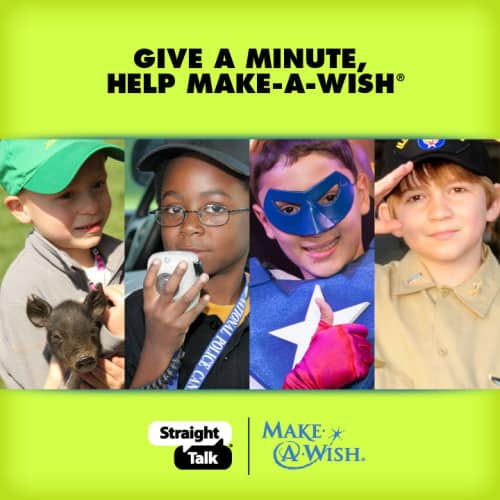 Have you ever wanted to help make a child's wish come true? Now here is your chance. For the second year in a row, Straight Talk has made it able to help donate to the Make-A-Wish foundation without any money coming out of your pocket. Every Saturday in September, Straight Talk Wireless will donate $1 to Make-A-Wish for each person that visits their participating local Walmart and takes a minute to learn more about Straight Talk. Yes, that is it folks. Straight Talk will donate a minimum of $500,000 to Make-A-Wish and up to $1,000,000.
If you do not live near a Walmart, you can still help. From now until September 28, when you share the video on straighttalkwish.com, Straight Talk will donate $1 to Make-A-Wish®, up to $100,000 (one donation per viewer, per day) towards their $1,000,000 goal. It's fast, easy and worth every second!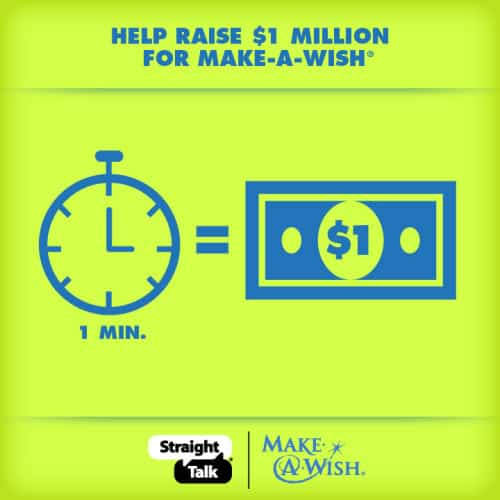 Curious what Straight Talk is?
They are a service provided by TracFone Wireless Inc., America's largest no-contract cell phone provider in the U.S. Straight Talk is available exclusively at Walmart (which is why you will need to visit your local Walmart for this campaign) and the cost savings of not having to maintain stores is passed directly on to customers.
Straight Talk has all of the same great phones as the contract carries, including name brands like Samsung, Apple, Windows and LG. They offer the same networks and the same phones at half the cost.
Example packages include:
The "ALL YOU NEED" plan for $30 a month to receive 1,000 minutes, 1,000 text or multimedia messages, 30 MB of data transfer for data phones and 411 calls at no additional charge.
The unlimited plan for $45 a month to receive unlimited talk, text and data Nationwide anytime with calls to 411 at no additional charge.
Straight Talk believes there is nothing greater than granting a sick child's wish. They are thrilled to be able to be part of making that happen again this year. So please give a minute and help make-a-wish! You can read more details at: bit.ly/Straighttalkwish 
 Disclosure: I participated in this sponsored campaign for One2One Network. All opinions stated are my own.