God doesn't Care if You Don't Vaccinate ~ True Health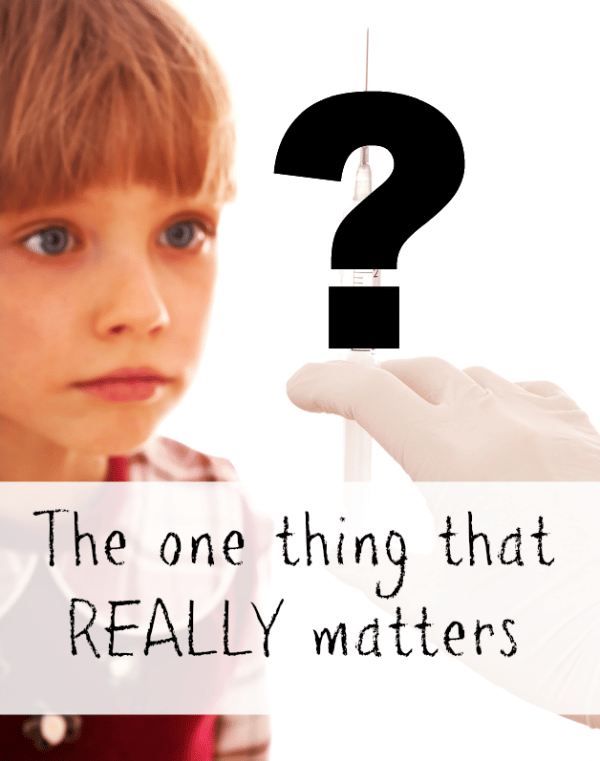 Social media and the media in general are all buzzing at the moment. People are terrified of the 120+ measles cases nationwide last month. The vaccine controversy has worn me out and I have a statement to make. Ultimately, God doesn't care if you don't vaccinate (or if you do to be honest).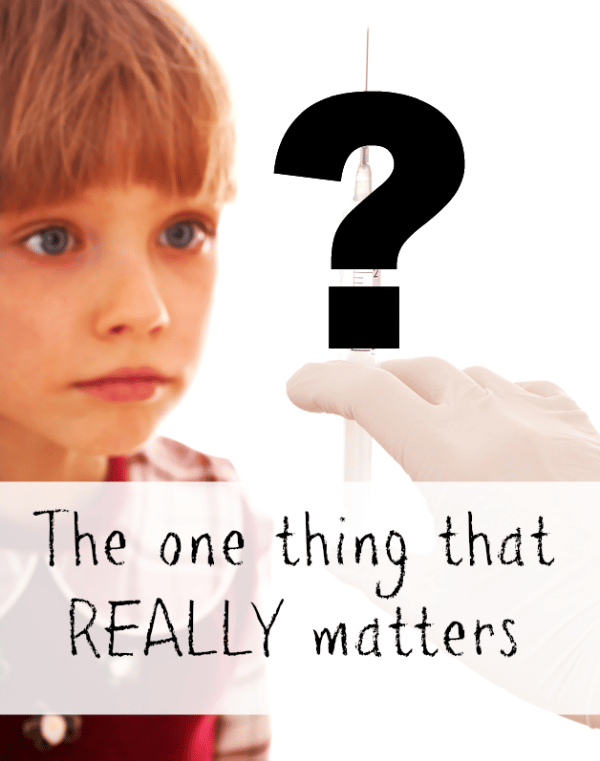 For that matter, I don't earn "brownie points" with God for feeding my family mostly organic. He's not going to love my cloth diapered child more than your disposable clad babies. Choosing to heal our bodies with herbs and oils and not medicine (when possible) isn't what really matters either.
Now, God does care about his children, and even the little things are important to him. He cares about our health and desires that we would seek his will in all matters.
But here's the deal. Good, God-fearing people are on both sides of this stupid debate. (Yes, I used the "s" word. It fits.)
You see, one side says "you aren't a christian if you don't vaccinate, because you are supposed to look out for the welfare of others". The other side says "you aren't a christian if you do vaccinate, because many vaccines contain fetal tissue".
And again: "don't bring your non-vaccinated children around mine because they could be sick"  The other side replies with " "don't bring your recently vaccinated children around mine, because they can shed the live virus you just stuck in them".
I'm here to say Stop! Ultimately NONE of this truly matters. They are short-term concerns yes, but in the eternal scope of things, none of the above matters.
What really matters?
Our Souls, and the Souls of our Children are What Matter.
We are to be good stewards of what we have received which also includes our bodies. But we are missing the point. Like Martha of old, we are so focused on caring for the physical needs that we forget the spiritual needs; both for ourselves and for our children.
I ask you mommies. Are we placing the same amount of importance on our children's spiritual health as we are on their physical health?
What if…
Our Facebook discussions centered around seeking prayer for our children's spiritual health.
Instead of destroying one another we prayed instead.
We recognized each other as the spiritual shepherds of our children's souls?
We took our children's spiritual health as seriously as we take their physical health?
What do you suppose the outcome would be?  I would like to suggest less violence, fewer broken families, and truly happier people.
Why not take 50% of the time we spend obsessively researching physical health, and search for spiritual health. Our bodies WILL die. The bodies of our children will perish as well. Their souls will live forever.
Yes, I want my son to experience good health while living in his mortal body. But my prayer is that the health of his soul will be eternal. I want to be a Mary, more interested in spiritual health than in physical welfare.
Choosing to seek spiritual health for our son, has a very practical face in our family. Kolton sits at the table with us and when we pray, his little hands are held also. In fact, he is so accustomed to this that many times he will actually stop jabbering/crying and "listen" while we pray. The minute I release his little hands though, the sounds return to normal. 🙂
Bible songs and hymns are liberally sprinkled in among the goofy/silly songs we sing. In talking to him, God and Jesus are commonly referenced.
Jason and I try to read the bible together every night possible, and Kolton sits on my lap. At his age, mommy's face, and his thumb are of greater interest to him than God's word, but our desire is that he will grow up surrounded by the love of God.
Most importantly for my son's spiritual health is the way I take care of my spiritual health. How I respond, is how my son will respond. What I say, he will say. My faith, lived out on a day-to-day basis, will also become his.
In this manner, I seek to build up my son's "immunity" to sin. Giving him "healthy foods" and a "germ free" environment to grow in.
Share it! God doesn't care if you don't vaccinate, there's something more important. Visit @aproverbs31wife to learn more.
What is something you do in your family for your children's spiritual health? I would love to hear and learn from YOU. 🙂