Grace ~30 Days of Thankfulness day 18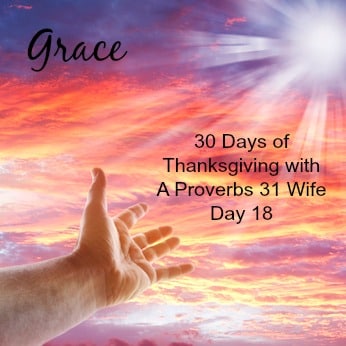 Grace: It is mercy given to those who don't deserve it.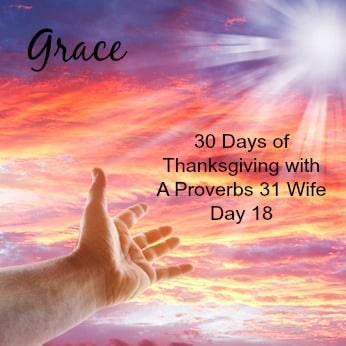 Romans 6:14 For sin shall not have dominion over you: for ye are not under the law, but under grace.
Our salvation is a direct result of God's good will and favor towards us. We don't deserve anything from him, but we have been given grace.
Titus 2:11 states that grace is available to all men. In spite of the fact that we do not deserve anything but eternal condemnation, we are given what we don't deserve.
However, grace is a bit conditional. While we can do nothing to earn it, we must to something to recieve it. To receive grace we must accept it. We must accept that we deserve nothing less than hell, but that God has offered his son for our sins and through grace we receive salvation.
Romans 8 is probably my favorite chapter on this subject.
My understanding of that chapter goes a bit like this:
When I became a Christian, that is, I accepted the gift of salvation; I became a new person in Jesus Christ. Now, as a new person, I am no longer a slave to the law (which taught me what sin is), but instead I am under grace.
Being under grace doesn't give me licence to sin though. Instead, as a new creation in Christ I have burried the old me and become as new. The new me will still have sinful urges and thoughts, but that is the stench of the old, dead man coming to the surface.
As a new creation, I am no longer a servant of sin. When the old stench rises, God gives me grace to overcome it, because I am now a servant to righteousness.
Verse 11 sums it up nicely; through grace I am dead to sin, and alive to God.
I am thankful for grace. It is an underserved gift from a holy God to a sinful being and through that gift, I am counted as one of his children.