Growing Raspberry Bushes ~Why they're the Perfect Fruit for Backyards.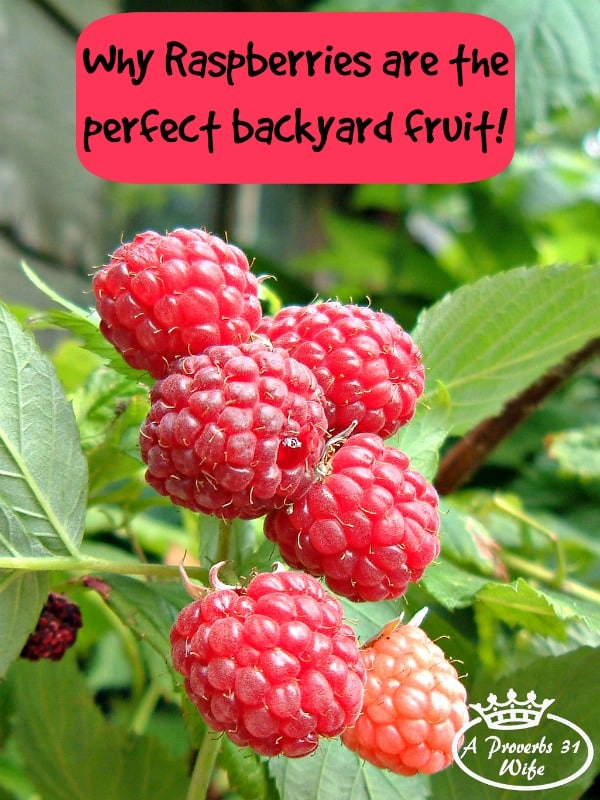 Disclaimer: Post contains sponsored or affiliate links which help support this site at no cost to you.
I love fruit. In fact to date there are only 2 different fruits that I dislike. So even though we have a small lot, you can be sure we are growing raspberry bushes, strawberries, and even a blueberry plant!
Strawberries are my favorite, but they take up a lot of ground space. However, growing raspberry bushes are perfect for a small back yard!  They grow up using more vertical space than horizontal and they are relatively easy to maintain.
Benefits of Growing Raspberry Bushes:
Takes up a small amount of ground space per bush.
Delicious fruit from late spring to fall.
Easy to maintain.
They come back year after year.
Besides the berries, you can also harvest the leaves for amazing summer teas!
Both of our bushes are red raspberries.
One bush was from my grandpa, he dug up a couple new canes for us to plant. His raspberries bloom in the spring and produce hundreds of berries during late spring and early summer. Once the canes produce fruit, they die off and send up new canes that will produce fruit the following year.
The next spring when you prune, you simply cut off the old dead canes that produced fruit last year, and tie up the new canes that will produce this year. (next years canes will start growing after the fruit is produced.
Our second bush is a cutting we found at Lowe's.
This bush is interesting. Like the one from my grandpa it too has two different aged canes on it at once, produces fruit from late spring through early summer. However, it each cane actually produces fruit twice.
A new cane will grow up in early spring, then from mid/late summer until the end of September it produces fruit, not huge amounts, but enough to eat on. The following year, it produces fruit at the same time as our other plant. Once it is down producing fruit, that cane will then die.
I wish I knew what kinds of bushes they are, but we do not. We do know however that they do excellent on the west side of our shed in western Ohio. 🙂
There are many different varieties of raspberry bushes; learn which ones will grow best in your area by visiting Monrovia.
The following two photos are of my little patch before we went out and did our spring pruning, you can see the dead canes have no leaves while the new ones are budding out.
The bush on the left came from grandpa, so I actually cut a lot of the old canes out last summer. But once I cut out the old canes, I generally go through and cut the new canes back a bit. Just cutting the long ones down to about 6-7 feet or so, and then I try to guide them between the support wires. This makes it a bit easier to pick the raspberries.
Jason and I eat a lot of fresh raspberries in the spring, but after awhile we get tired of them.  Our neighbors also love them so we share a lot too. But we also freeze them.  Using the same process as freezing blueberries I freeze our raspberries for yummy recipes like Red Raspberry Pie fruit, and other deliciousness!
And because I just noticed this and it made me do a happy dance….  (look at the blooms!)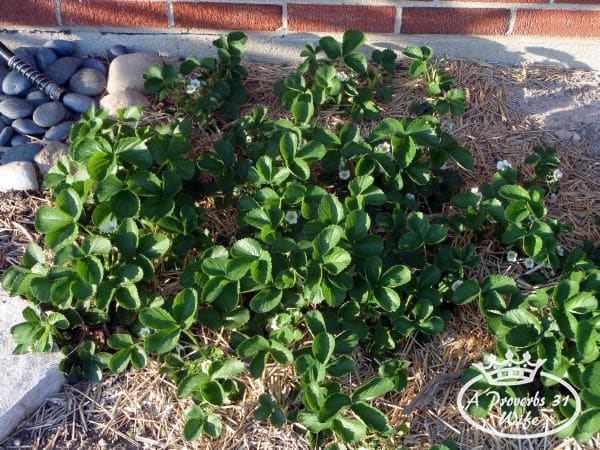 Maybe I'll even grow some strawberries like these this spring!