Hidden Dangers of Being a Woman
Disclaimer: Hidden Dangers of Being a Woman is sponsored by Sckooncup and contains referral links.
I'm not a part of the feminism act where women are out on the streets demanding their rights, nor do I scold men for being chivalrous. All the same, I recognize that women, even here in the states often draw the short end of the stick.
I don't need to get into all the stuff women need to deal with, mostly because you, the person reading this are a woman and you already know to walk with your keys in your hands. You probably have a can of pepper spray and maybe you've even taken a self-defense class.
That's not what this post is about.
Hidden Dangers of Being a Woman on a Personal Note:

Not every danger is the predator waiting in the bushes near your jogging route, or the cat-calling guy who obviously only wants one thing. No. Something equally dangerous can be clothed in a long slim tube sitting innocently enough in your bathroom cupboard.
I'm talking about tampons. Oh yes. I went there. Tampons, those chemically bleached, plastic encased things that we rely on to keep us clean during our cycle.
They aren't safe. I don't care how many commercials display women wearing tampons as these beautiful thin ladies who are still playing sports or dancing or whatever.
The commercials lie.
First of all, few of us want to do anything more than just life during that time.
Secondly, many, many, many tampons contain toxic chemicals which are known to cause cancer and disrupt the endocrine system. Meaning, these "beautiful," thin, dancing ladies are really putting their health at great risk and inciting us to do the same.
We won't even get into the risk of TSS that tampons carry.
Sorry girls. Beautiful to me, means healthy.
Want proof? Women's Voices recently did a study on the personal hygiene items that we women are told we must use to "stay fresh" be "sexy" blah, blah, blah.
The stuff they found is scary. Considered "medical devices" companies are not required to disclose the ingredients in pads and tampons. As well, the "personal care" descriptions companies do not need to disclose the fragrances used, even if they are toxic.
Your lady bits contain some of your most sensitive and absorbent skin which means anything you place near or in that area is absorbed into your body. That means one week a month, you are most likely loading your system with chemicals like formaldehyde, pesticides, chemical fragrances and more.
If you use feminine wipes or creams, the exposure rate is way worse.
Ways you can avoid these Hidden Dangers of Being a Woman:
Avoid items that made the Hall of Shame.
Download the Chem Fatal report and educate yourself… on yourself!
Use cloth pads or at the very least, organic cotton disposables.
THROW AWAY YOUR TAMPONS!
I can hear the gaps of horror. "Throw away my tampons?!?! How will I be able to go about life without wearing an ahem, diaper during that time of month? *sob"
Okay, so maybe you're not that dramatic. 😉 But tampons were pretty important to me and the first time I considered tossing them I wasn't real keen on the idea.
I did throw them out though. Instead, I now use a cup.
I currently use a Sckooncup (ad) during my cycle and I love it. (As much as one can love something used during that time of month I mean. 😉 )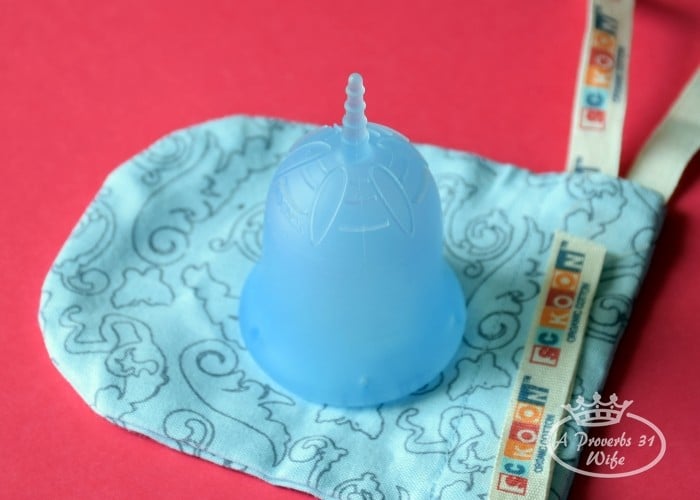 Why I love my Sckooncup:
It's made from medical-grade silicone, which means no synthetic fibers, bleaches or dioxin.
It does not absorb moisture, only containing it, which means no uncomfortable dryness or irritation.
It's made in one mold, smooth, and without ridges. Flexible and comfortable.
On very heavy days, it still lasts 3-4 hours, unlike tampons which would hit max absorbancy within 2 hours or less.
Past my first heavy day, I am able to comfortably wear it up to 12 hours.
I've went swimming and performed other activities with my cup and never needed to worry about leaks or strings peeking out.
No stink. Pads can really get to smelling, but there is no stink with a cup.
Fewer cramps. Honestly. I used to suffer horribly from cramps when using tampons and the cup has really lessened those.
Costing less than $40, a cup will pay for itself within 3-4 months easily. Not to mention how much better it is for our environment!
It can last up to 10 years!
I know, it sounds nasty at first and you may be wondering just how it works.
It's actually very simple. You fold the cup like so and insert it while sitting. Run your finger around the outside edge to ensure it has unfolded inside you and that's it.
It's equally easy to remove and dump. I rinse it in cool water and re-insert. When I wash my hands, I wash the sink as well.
You can learn more about Sckooncup here. And if you decide to make a purchase, that was my referral link which will give you a nice discount when you enter promo code 5ZBTZ5
If Aunt Flo must come, I'm really glad for my Sckooncup to make it a bit cleaner and my life a bit easier. Now if only Sckooncup would ship me a pint of ice cream each month, I may actually look forward to it. 🙂
Don't forget, your promo code for Sckooncup is 5ZBTZ5. Enter that code at checkout for 10% your purchase!
A special thanks to Sckooncup for providing me a sample of their product for review, and sponsoring this post: The Hidden Dangers of Being a Woman.