High Calling of Motherhood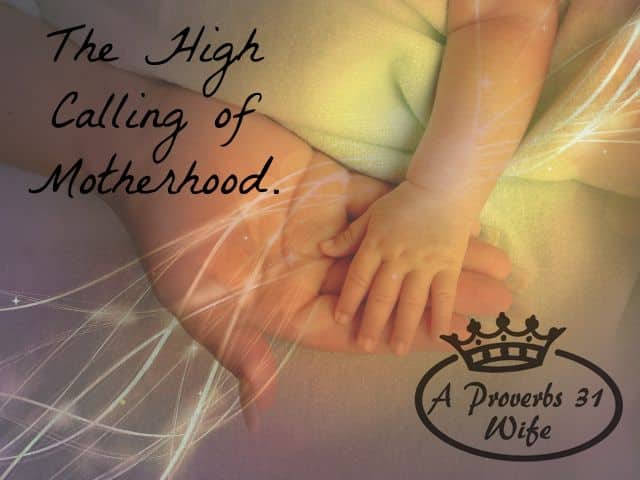 I'm not a mom yet, but I have to admit it looks scary.  I wanted to talk about the high calling of motherhood for a couple of reasons. With Mother's day coming up, and hubby really wanting us to start a family, I just keep coming back to this subject in my mind.
The High Calling of Motherhood:

Being a mom looks scary to me. Not because of stretch marks, wrinkles and grey hairs; I already have a few of those. Not because of the late nights, or no nights; brother number 3 was very colicky and I was his second momma. 🙂  Not because I'm afraid I cannot properly care for a child; besides helping raise my 2 younger bubbies, I've worked in a child-care center for years and now work as a nanny.
No, what scares terrifies me about being a mom, is the high calling of motherhood. These little bundles that get sent to us, are not really ours, they are God's. Our charge is to raise them up for the glory of God. To raise up a generation that will lift up the praise of God.
In this world, that looks hard, very hard. But even worse is the thought "what if I fail?"  What if we bring a child into this world and fail to teach it in God's ways. His word is clear, those who do not call on his name, will not be saved. There is no such thing as God's grandchildren, each generation must come to him on their own.
This high calling of motherhood is what scares me. I have seen teenagers die, and while only God knows for sure the state of their hearts; from all appearances and the way they were living, they died with-out Christ. How do the parents feel, I wonder?
I was talking to a mom in our church, (she's probably my moms age) and I mentioned something to her about my fear. I loved what she told me. She prayed for her children before they were even conceived, and and prayed for them, and with them as they got older. Another thing that really stuck out to me is how they prayed for each child's spouse long before they were of marrying age.
Long before I met him, I prayed for Jason. Why should I not pray, for my yet unborn children and their spouses?
I'm not saying I no longer feel intimidated by the though of being a mother, and to be honest I have some huge trust issues. But at the same time, I am a doer. And just being able to take my fears to the Lord and plead for his guidance even before the children come, helps calm my fears and point my focus towards God, as it should be in the first place.
For you mothers, I pray for you; that the Lord would guide you in bringing up his children. And remember, in God's eyes, and in the eyes of your little blessings, every-day is Mother's day! God bless you as you fulfill the high calling of motherhood.