Hippity Hoppity Easter's Almost Here!
At Simply Real Moms, we've been working hard to get ready for Easter. But the real question is- Are you ready for Easter?
Check out what we have been doing to prepare!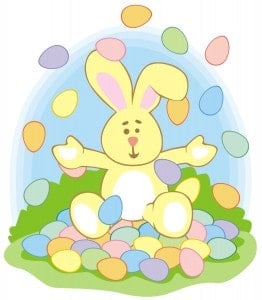 Decorating Eggs:
Make Easter Egg Decorating EGGciting
Kool-Aid Easter Eggs: Alternative to Standard Egg Dye
Preparing the Easter Basket:
Dreaming of a Green Easter Basket
Jelly Bean Bark: Great for Easter Baskets
Easter Recipes:
Easter Appetizer for Kids: Potted Carrots and Dip
Easter Recipe for Kids: Ham and Asparagus Roll Ups
Easter Dessert: Spring Chocolate Nests
Easter Art:
Easter Drinks:
*Please feel free to share with your friends and family on Facebook or Twitter! If you do any of these projects, we would love to see pictures shared on our Facebook and Twitter accounts!