Holiday Food ~ Cheese Ball Recipe
 Holiday food: one thing that comes to mind would be a cheese ball. After all, would it really be a family gathering with out a cheese ball? I don't think so! 🙂
So, when I held my Christmas Open house, the cheese ball certainly made the menu! I promised I would share the recipe, but, I only got one good photo. The cheese ball got dug into before I remembered to take a picture. Oops!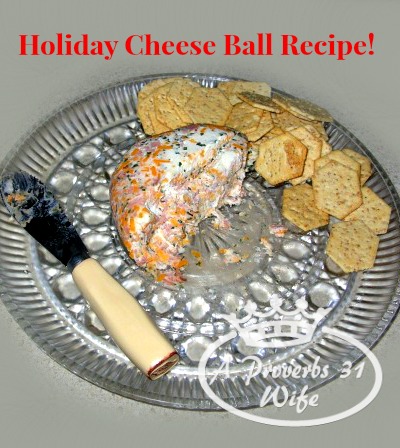 Recipe for Cheese Ball:
1 8oz package of cream cheese
1/2 package dried ham
3/4 c. shredded cheddar cheese
2 teas. parsley
1/2 teas. onion powder
1/4 garlic powder
1/3 teas. salt
Let the cream cheese sit out for 30 minutes to soften. Then mix all ingredients together. Put the mixture on a large piece of plastic wrap and form into a ball. You may want to refrigerate the mixture for a bit and then finish shaping. Chill at least one hour before serving.
I found that using the finely shredded cheese works the best, as the larger shred doesn't allow your ball to mix as well. Also, I didn't have any dried ham on hand, so I finely diced up several slices of hubby's Land 'o Frost black forest ham that he uses for lunch. It worked just as well.
If you make, or take a cheese ball to your family Christmas or any holiday get-together, you can be sure it will disappear!  Crackers that go well with cheese ball;  wheat thins, chicken'n'biscut, pretzel crackers, and any type of herb crackers are likely to be a huge hit!
Regardless of where you are going, or who you are inviting, a cheese ball is a general favorite. And you will be too, if you're the one who made it! 🙂