Homemade Applesauce + Canning!
How are you enjoying those fresh-from-the-tree apples? Oh, we are!
Just yesterday my mom and siblings were up and we all chowed down on gluten-free apple crisp. As well I'm working my way through the apple recipes found in this round-up (#14 is the best!), and of course I've been canning some as well.
I shared my apple pie filling recipe with you earlier, and now it's time to share the recipe I use to make applesauce and how to can it. (super-duper easy!)
Applesauce can be made with any type of apple, but my favorites are the tart apples. Gravensteins, Braeburn, Granny Smith and Jonagolds are great choices.
We like to start with apples picked from the tree at our aunt's house. If Jason is able to properly treat the trees throughout the summer, those apples are large and round with a full on sweet-tart flavor.
This year went a little to the crazy side and he only treated them once. All the same they were nice apples, we just had to cut out the worms 😛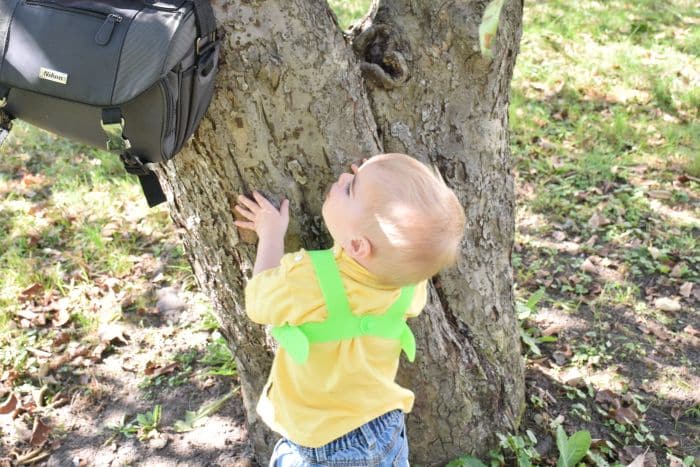 My little helper and I headed off to pick apples on a beautiful fall day. While we couldn't get to the top branches, it wasn't any problem getting plenty from the lower branches.
I picked off the trees, and he picked up off the ground. As you can see, his sippy cup came along too. 🙂 I didn't realize it was there until later when I was looking through the photos.
Next we cut out the stem and blossom ends along with any worms. We aren't too fond of protein in our applesauce!
The old-fashioned term for this task is "snitzing apples". Have you ever heard of that?
Next up is the cooking process and once the apples are soft we then run them through a processor or separator. The separator removes the skins, core and seeds leaving behind the yummy applesauce.
At this point the applesauce can be ate (you better believe I did my fair share of eating!) but if you are going to can it, you will want to add a little lemon juice and possibly sugar before filling your jars.
Homemade Applesauce and Canning
Do you want a more in-depth look at making applesauce and detailed instructions on canning it? Join me at Don't Waste the Crumbs to get all the in-depth details!
Home canned applesauce is a wonderful diy gift to give at Christmas time this year!