Homemade Cleaning Wipes with SCOTT® Paper Towel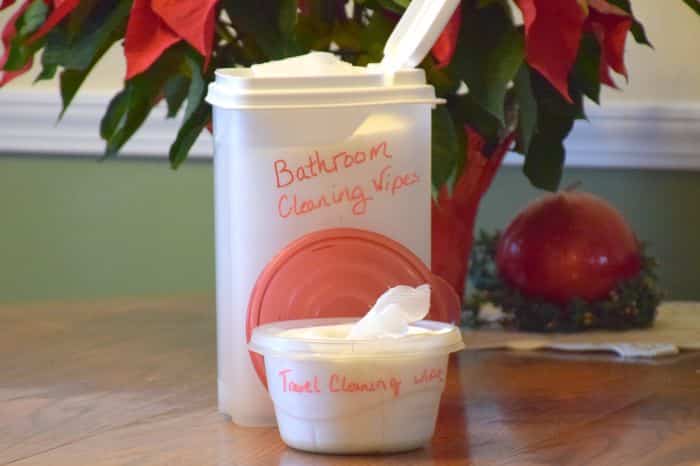 Have you ever made Homemade Cleaning Wipes?
They are easier to make than you may think, and making your own will not only save you money, but it will also save your health and the environment.
Psst! Why don't you make sure to pin this post so you don't forget it!
How? The chemicals commonly found in household cleaning wipes haven't been tested for human safety and many of them are considered poisonous if consumed. What many of us don't realize is they also contribute to issues like asthma and lowered immune systems.
I love my Norwex Cloths for everyday household cleaning, but I cannot bring myself to use them on that toilet! The natural brand of cleaning wipes I use are expensive so I decided to take advantage of sales and digital coupons at Dollar General and attempt making homemade cleaning wipes.
They turned out great! And now I'm going to show you just how easy homemade cleaning wipes are to make!
How to make Homemade Cleaning Wipes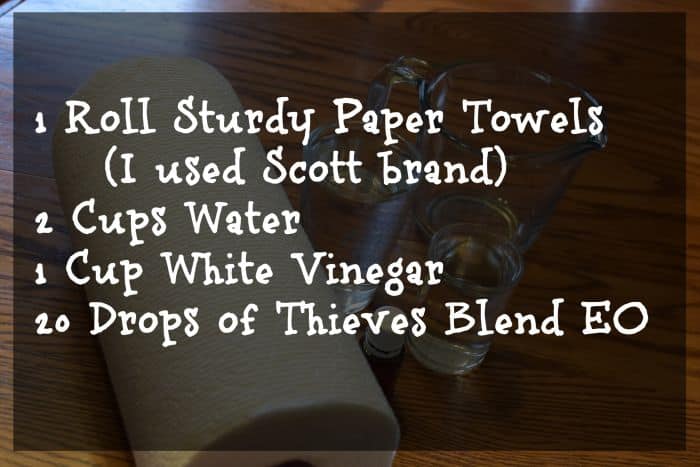 Start out with a roll of select-a-size strong paper towels. Don't buy the cheap store brand for this. You want a towel that will handle getting wet and not turn to mush. Scott® brand is a great one.
Find a tall, or several short containers that your cleaning wipes will fit into. I used a tall(ish) one that about 3/4 the roll would fit into, and a short round one for traveling.
You will likely need to cut the roll like I did. For minimal messes, use a sharp chef's knife rather than a serrated one. I used a small dowel rod to loosen the inner cardboard and remove it, then I cut to size.
Your cleaning mix is
2 cups water
1 cup white vinegar
20 drops Thieves essential oil blend
Mix together and pour into your containers. Since my roll was cut into 1/4 and 3/4, I poured respective amounts of cleaning mix into their containers.
Drop the paper towels in, seal the lid, and flip the containers upside down to get water to all parts of the roll.
Pull a towel from the center and start wiping down that toilet. Since these are chemical free, if little hands want to help you let them do it too!
I'm putting the little container in Kolton's "potty bag" for when we are out and about. Worst thing about potty trained toddlers is having to take them into public restrooms. 🙁
Not only are these saving your health and the environment, but they also save you money. Save even more by getting coupons at DollarGeneral.com!
That big bag below? Full of Scotts toilet paper (our favorite) and Scotts Select Size paper towels, with the total being less than $10 by taking advantage of sales and digital coupons! This is what I call a "score" since that will keep our little family in stock for a month or more!
Click to Tweet! @aproverbs31wife shows how easy it is to make diy cleaning wipes!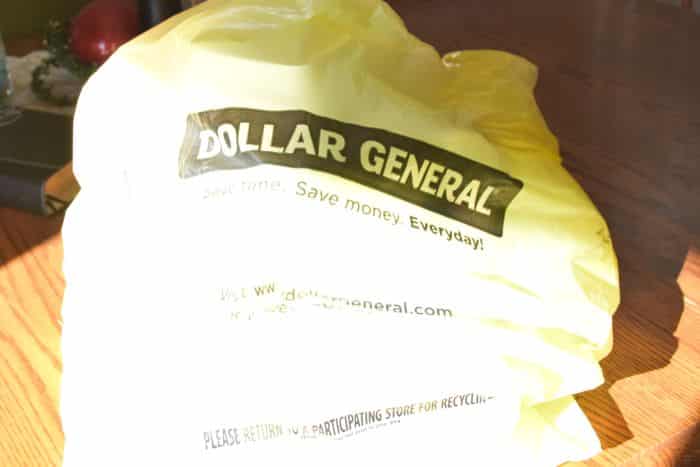 How to find Digital Coupons for Dollar General:
Visit Dollar General here
Create an account (don't worry, it's free) and load the coupons you want
Use the store locator to find your store, then redeem at checkout!
Current savings available on Scott Brand products:
Digital Coupons: Valid – December 6 to December 31
Save $1.00 off any (1) SCOTT® Paper Towels
Save $0.50 off any (1) SCOTT® Extra Soft Bath Tissue
Save $1.00 off any (1) SCOTT® 1000 Bath Tissue
Bonus Packs: Find 3 special SCOTT® Bonus Packs in-store through the end of February 2016. (use your coupons on these for even bigger savings!)
• SCOTT® 1000 Bath Tissue, 16 pack (2 Free Rolls)
• SCOTT® Choose-A-Sheet Paper Towels, Mega Roll 6 Pack (Bonus 15% Sheets)
• SCOTT® Extra Soft Bath Tissue, Double Roll 16 pack (2 Free Rolls)
Get your coupons, and save on the Scott Brand paper towels, then try these homemade cleaning wipes and see what you think!