Homemade Flour Tortilla Recipe
In one of my first blog posts here, I shared my homemade flour tortilla recipe.  Over time I've made a few changes to it, so I wanted to re-post my recipe with all the changes. (and with better photos!)
(Disclaimer: This posts contains affiliate links which helps support this site at no extra cost to you.)
I use a tortilla maker, so I'm also sharing my best frying methods with it.
Homemade Flour Tortilla Recipe:
1 cups unbleached flour
2 cup whole wheat flour
1 teaspoon of salt
1 teaspoon baking powder
1/3 cup coconut oil
1 cup very warm water
Mix flour, salt and baking powder together. Use a fork to mix in the oil. Add water and kneed for 5 minutes. I do this by hand on the counter-top. Dough will be sticky at first, but as you work it, it becomes more elastic and smooth.
Place in bowl, cover with damp cloth and let sit in a warm area for at least an hour. Dough must stay warm for best results.
Divide your dough into 12 balls and let sit for a bit longer. If you are using a tortilla maker, you may want to lightly mist or brush the tops of the dough balls with oil.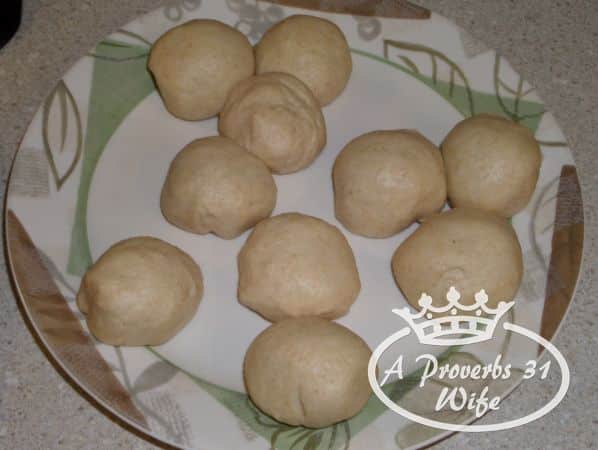 Without a tortilla maker you will want to turn your skillet to med-high and roll out your dough balls one at a time. Place in skillet, let sit for a few seconds and then flip. Once your tortillas puff up (10-20 seconds), flip them one more time, let puff again (another 10-20 seconds) and remove from pan.
With a tortilla maker; Once the maker is hot, place a ball in, press down hard and quickly release. Flip the dough ball and do a quick press and release again. Then leave the lid up and follow the method I gave for using a skillet. Below, you can see how the tortilla will puff up a bit.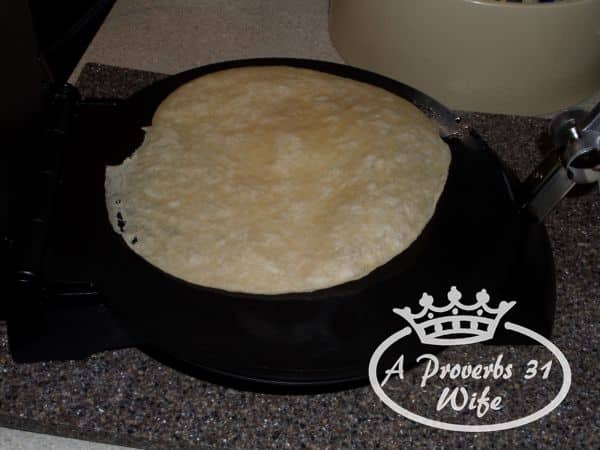 Once the tortillas are cooled, I lightly brush them with flour and put in the fridge in a ziplock bag. The coconut oil will make your tortillas brittle when cold, so we lay them on our glass top stove on high for a few minutes and they taste fresh made. 🙂
While you can make tortillas in a skillet, I have to say how much I love my tortilla maker. The heat makes the dough press out beautifully and then it is so easy to fry the tortilla right there. No moving the dough from press or counter to pan. I can usually make a batch of 24 in about 30 minutes, so it's really fast as well. When I was rolling them out and putting them in a skillet, it took me longer than that, just to make 12.
Now that you have my homemade flour tortilla recipe, I encourage you to try them for yourself. Trust me, you will not want to go back to the store bought stuff!!!
On a side note, I'm working on a corn tortilla recipe, but I keep having problems with it. So if you know of one that works for you, let me know!!!
The tortilla maker I use can be found here on Amazon.