Hope ~30 Days of Thanksgiving day 22
Hope by definition means "to cherish a desire with anticipation".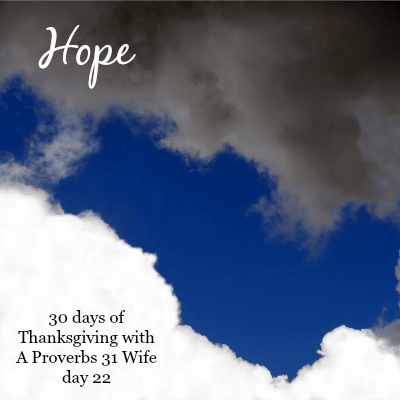 1 Peter 1:3-4 Blessed be the God and Father of our Lord Jesus Christ, which according to his abundant mercy hath begotten us again unto a lively hope by the resurrection of Jesus Christ from the dead, to an inheritance incorruptible, and undefiled, and that fadeth not away, reserved in heaven for you.

We have a lively hope by the resurrection of Jesus Christ.
Because I enjoy looking up root words in the bible concordance, I wanted to share a little of what I learned about the word hope in the bible.
The word hope as found in 1 Peter 1:3 comes from the Greek work Elpis, which is "to anticipate, usually with pleasure". So the verses in Peter basically mean we are happily anticipating our incorruptible inheritance that comes by the resurrection of Jesus Christ.
Romans 8 also speaks on this: vs 24&25 For we are saved by h—: but h— that is seen is not h—: for what a man seeth, why doth he yet hope for? But if we hope for that we see not, then do we with patience wait for it.
The first three times hope is mentioned in the above verses, it is translated from Elpis which is the "happy anticipation" translation. But the last two times hope is mentioned, it has a different Greek root word. This word is elpizo which "to wait for salvation with joy and full confidence". So, we cannot yet see our salvation, but we can wait for it with joy and full confidence.
So according to Romans 8:25 We are in patience waiting for our salvation with joy and in full confidence.
So, here is today's' thankful statement from me: I am thankful for the joy and full confidence in which I await my salvation.
And to clarify the waiting part: Yes, I am saved today; however my full salvation, that which I am still hoping and waiting for, will be received when I am saved from this mortal body and gathered into eternal life. That is my blessed hope!