Hosting a Christmas Party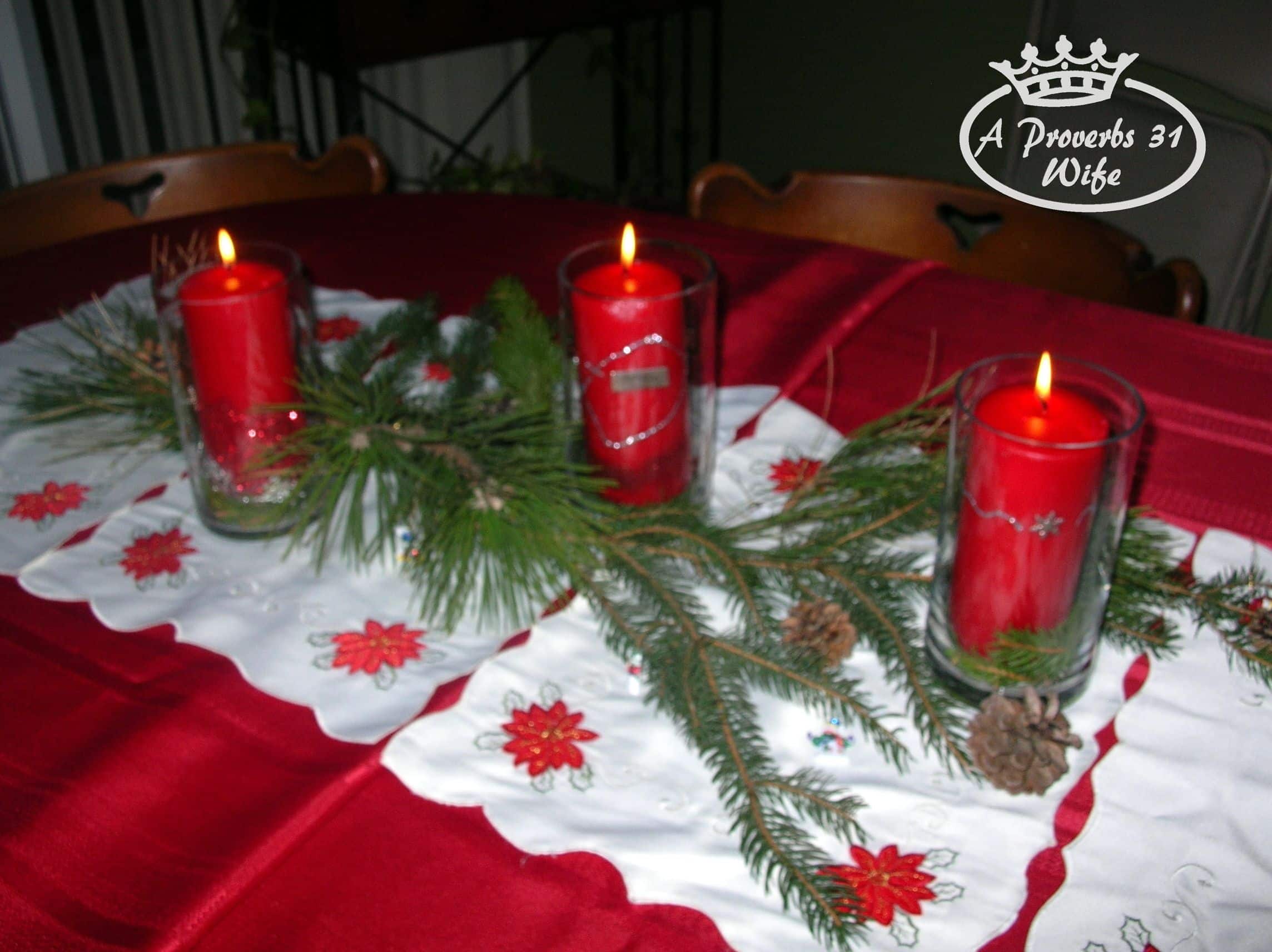 Many of us will be hosting a Christmas party this month. And perhaps some of us want to, but look around our small house and think "how?".  Consider hosting a Christmas Open House!
How is hosting a Christmas open house different than hosting a Christmas Party?
An open house is less formal.
Times can vary a bit.
Less stress on the hostess.
People can come, eat and leave, or they can hang out awhile and play games, or chat.
Let me explain. I love having people over to our house and extending hospitality. But the idea of entertaining a crowd can be overwhelming.  Who says you have to entertain? Who says everything has to be perfect? Magazines, movies, Pinterest, they all make it seem like we have to entertain and things have to be perfect. Well, guess what? They don't.
Hospitality is the simple fact of opening your doors and extending fellowship. Sharing in fun, food and games. 🙂
I did a horrible job of taking photos, and the few I have are rather blurry. 🙁  So we will have to do with out pictures for the most part.
Invites should be sent out about 10 days in advance. I failed big time with this and it was down to day 8, with the weekend coming up before I realized it. Oh well, I sent out the invites by text! Yeah, I know, very lame. 🙂  A few people didn't have texting, so I called them up. If you are really casual, Facebook works for invites as well. But I highly recommend a written posted invite. So much more heart-felt and welcoming.
The Menu:
The key is simplicity. You are inviting your friends over to spend some fun times together. How can you enjoy your company if you are forever having to fuss with the food. I set it all up buffet style and the one hot food item was in a crock pot. Because we invited families, the only drinks served were coffee, hot chocolate and water. If you wish to serve drinks, inexpensive wines like Arbor Mist wines are always a crowd pleaser and still classy.  I will share the menu next week. Simple menu for a Christmas Party.
The Decor:
This is one thing that's really easy. After all, I'm sure your house is already decorated for Christmas, what else do you need?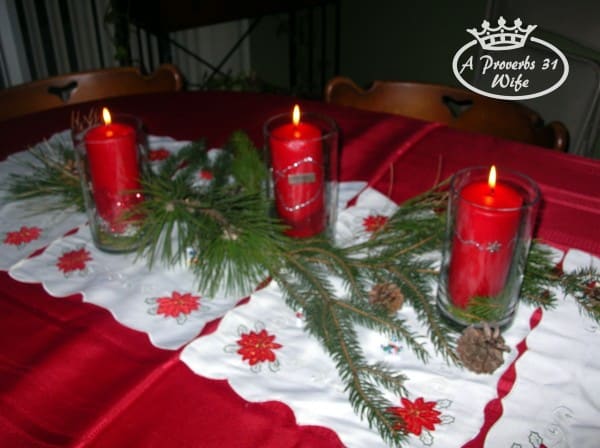 Table decor needs to be simple as well. We played games later and the decor either needed to be easy to move or really simple and low profile. Honestly, I think the best decor is from nature. So there were evergreen branches and pine-cones, with tiny little snowmen hanging from the needles. Courtesy of a clearance sale last year. 🙂
We needed more sitting space so I put the table down in the garage and used it too.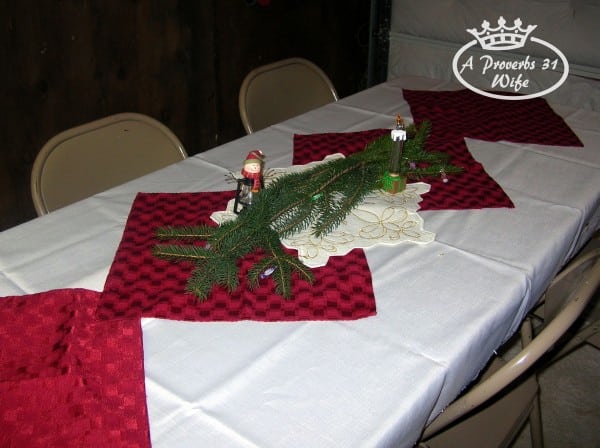 What's really fun about our garage, is we have a piece of carpet that we lay on the floor and last year hubby found some old Christmas lights, got them to work and they are strung around the ceiling. So the garage looked almost better than the kitchen!
The Gift Bags:
Of course you will want a little something to send home with your guests. I did one bag per family and again kept it very simple. I bought little toys for the kids, and created things for the adults. Next week I will share what all went into them, and how. Gift bags for your guests.
A few things I learned from hosting a Christmas Party:
Send out pretty invites ON time. They are just so much more personal, and heart warming.  Remember to properly introduce people. 🙂 I invited a lot of people that I clean or babysit for and they didn't know each other. I had a hard time remembering proper introductions. Make sure you get a little time with each family to chat and thank them for coming. Because of people eating in two rooms, this was a little hard for me.
This can be done on a budget as well. Since you already have the decor, you don't have to worry about that. Keeping your menu simple, cuts cost as well. Think ahead and buy napkins, plates, and cups on clearance after Christmas.  The gifts were something I would've given any way, so again no huge expense there. In fact, I made most of the gifts.
The last one is really big. Hubby and I make a great team. While I was in the kitchen chatting, he was in the garage. That way, hopefully our guests didn't feel abandoned by us. 🙂 Which reminds me, I need to thank hubby for that.  He enjoys being with people, but hosting something is a bit of a strain on him. Yet he is so sweet and supportive of all my crazy ideas.
Anyway, I feel that our Christmas Open House was a success and it was awesome to spend a little time with our friends this way.