San Francisco's Hotel Vertigo: Equilibrium is Overrated
I am always on the lookout for the perfect boutique hotel when staying in San Francisco. There's something special about staying in a smaller, more intimate hotel versus a huge chain hotel. First the customer service is always better; second the hotel is usually filled with a lot of charm.
When we decided to head to San Francisco for the Fourth of July weekend I knew I wanted a hotel that was not in your typical touristy area. I wanted to stay in an area that had a lot of great restaurants and was a quick Lyft ride to the Embarcadero. That way we could get the best of both worlds.
I had never heard of Hotel Vertigo, but after looking into it I realized it was in my ideal location. Located in San Francisco's Nob Hill, Hotel Vertigo was the perfect boutique hotel for our weekend away. If you are not familiar with San Francisco, Nob Hill is a short walk from Union Square where all the shopping happens! I will admit that the Tenderloin is nearby which is not the safest at night. However, all the locals will tell you that you will find the BEST restaurants in the Tenderloin (it's true). Plus, you can avoid walking through this area at night if wanting to explore at night time while staying at Hotel Vertigo.
Checking into the Hotel Vertigo is like stepping into a Hitchcock movie – literally. Back when it was the Empire, the hotel played a cameo role in Alfred Hitchcock's classic 1956 thriller "Vertigo."
The modern and vibrant lobby welcomes you in. I could seriously spend hours in the Lobby alone. Even the staff was incredibly friendly during our stay. During the weekdays the lobby offers guests a nice complementary wine reception in the evenings— a perfect end to your long day, or great start to your fun night.
Besides the fact this hotel was a cameo in the film "Vertigo," there is more to the name Vertigo. A fun staircase awaits you no matter which floor you get off on the elevator. By the end of your trip you may ditch the elevator just so you can go down a flight of these unique stairs.
The hotel room was the typical size of a true boutique hotel room. Not too big, yet not too small. The warm tangerine glow trickling through the sheer orange curtains is inviting and gives off a nice ambiance.
The bed was unbelievably comfortable and once the black out curtains are pulled you'll have no problem sleeping in. In fact, I can never sleep in, no matter where I am at and I slept until 9am while I was at the Hotel Vertigo.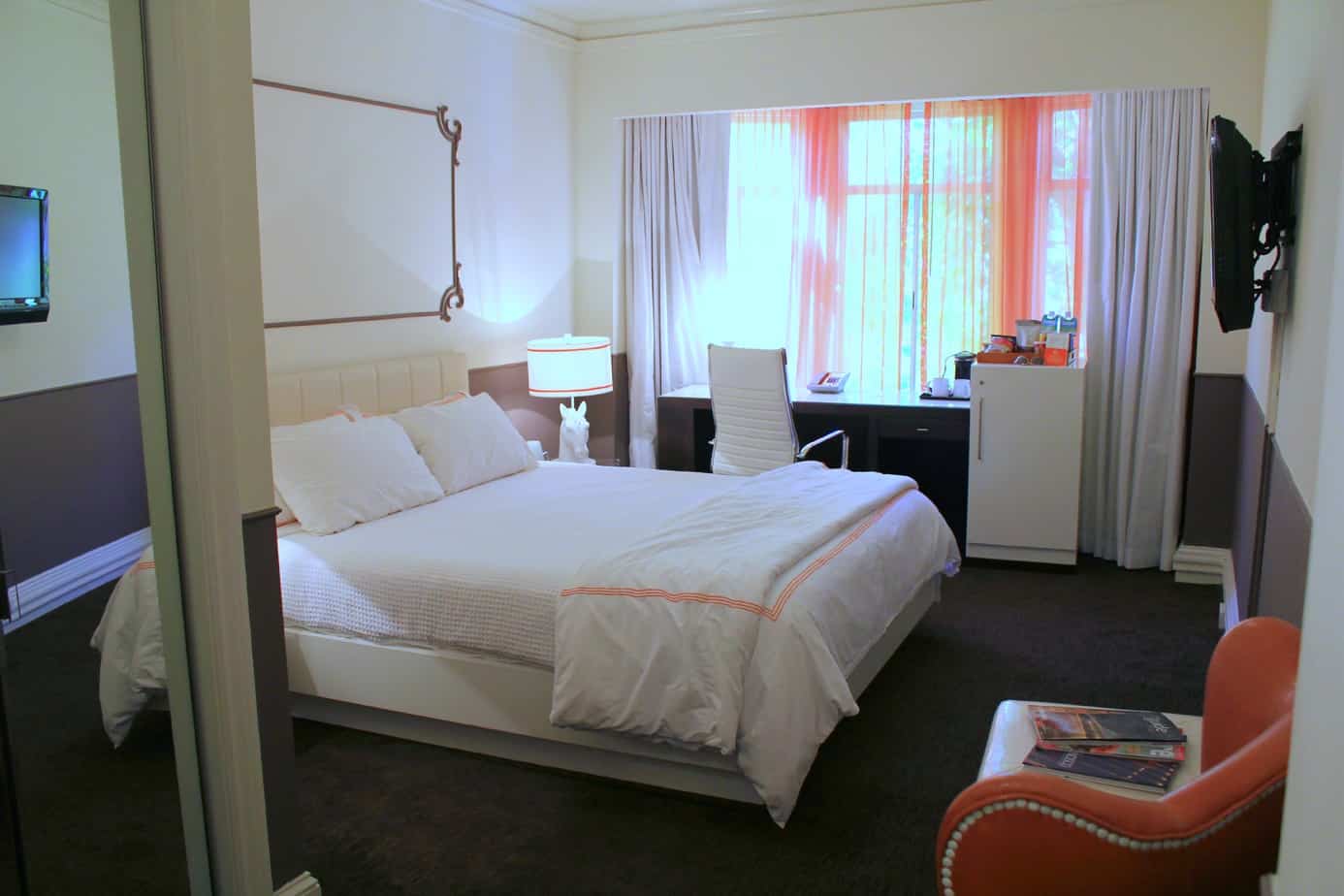 The bathroom is what you would expect in standard room in a boutique hotel. I loved the white and modern look to the bathroom as it really opened up the small space. The waterfall shower head was refreshing and I thoroughly enjoyed the hot showers before our day started. The only downfall to a smaller bathroom is the lack of counter space, there is virtually none. Luckily I made it work by placing my hair products on the little glass shelf under the mirror.
What really made me fall in love with this boutique hotel was the little details. They made this room unique and unlike any hotel room I have ever stayed at. Details like the horse head lamp shades, personalized orange chair, and vertigo themed wall mirror. We couldn't get over the horse head lamp shades and wanted to take them home with us. Seriously, how cool are those?
If you are looking for a true getaway in the heart of San Francisco I recommend looking into the Hotel Vertigo. From its charm to its history really makes this a wonderful boutique hotel experience.
Need a closer look? Check out our video on the Hotel Vertigo!
Right now Hotel Vertigo has a fun package deal called the "Escape…To The Vertigo!". The package includes:
Deluxe accommodations for two people
Two tickets for a double-decker bus tour of San Francisco
A DVD of Alfred Hitchcock's film "Vertigo"
A bottle of champagne
Ghirardelli chocolate
A Haiyi Hotels' souvenir canvas tote
Complimentary overnight valet parking for one vehicle
Late check out
Specials and packages are always changing and you can view their current ones HERE.
To book your next stay or for more information, please visit: www.haiyi-hotels.com/hotelvertigosf/
* I received a complementary stay to facilitate my review. All opinions are my own.