How I Track My Spending ~ A Keeping of Accounts
As a Good Steward I need to track my spending. But how do I do it?
As a teen I remember how thrilled I was when I was given my first real spending money. I was 15 and mom started paying me a little each week for helping out around the house. (As the oldest of 6 in a farming, homeschooling family, you better believe I earned it!)  I was thrilled to have money to spend on myself. But I also knew that $10 wouldn't last long.  So I found a nice tablet and I drew some columns in it. At the top of the page were these categories: Store. Item. Spent. Using that little method I meticulously tracked every single penny I spent. Woe was me when that ledger was a few cents off!
Sometime within that next year, my mother realized what I was doing and offered me a computer program. Quicken. Set up to help you track all of your personal finances, the money that you earn and the money that you spend.
To this day, I still use this program. We don't have a real budget in place, although we probably should and could benefit from it. Today, I thought I would share with you how simple it is to track your spending and saving.
How I Track My Spending ~ A Keeping of Accounts
Quicken software is the program I have used for years and it is very simple to learn.  You can connect it to all of your online accounts. However I do not recommend this, because if someone gets that password, they now have your virtual wallet. I keep my program offline and backed up. As should you with any program you use.
Here is my main page in Quicken.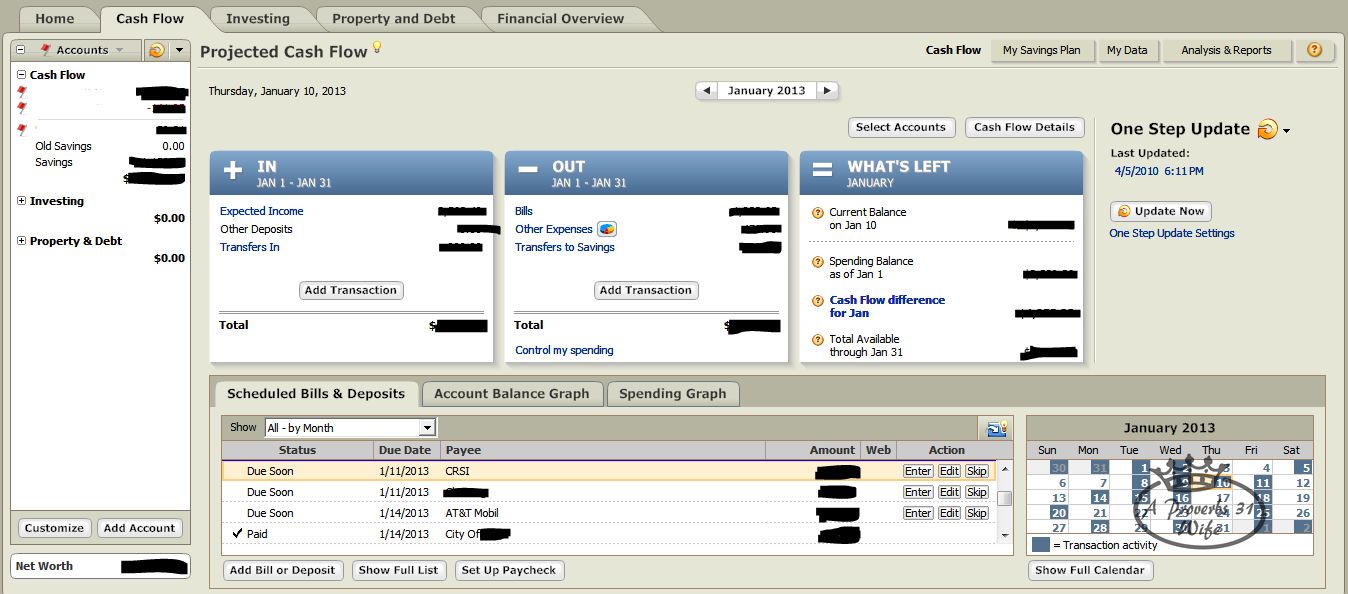 In the left hand column, you can list your accounts. I actually list our credit card as a debit card, that way it shows negative numbers. You can add any other debt accounts you wish under the property and debt, as well as any investments. I do not have any of those listed because my main purpose is to track my every day spending. In the center is the Projected Cash Flow. This section pulls together all my bills, paychecks and transfers.  You can see what's supposed to come in, and go out, and you can see what's left. Can you save extra this month or do you need to tighten your belt?
At the bottom is a list of your scheduled bills and deposits. These can take a little time to set up, but then it's a very simple matter to enter them into your register when you've made a payment.  I also have scheduled transfers listed there. Transfer to savings, transfer (payment) to credit card, and stuff like that.
Each account has this register.
  The date of each transaction is listed as well as who you paid/received payment from, a memo. And most importantly below each payee is listed a category. The categories show you where your money is going. My categories include: Gifts, Clothing, Household, Home Repairs, Crafting, Groceries, Dining and, well you get the idea. 🙂 Utilizing a program such as Quicken will help you in remembering where your money is being spent.
  Why are the categories important to me? Because of this little number here.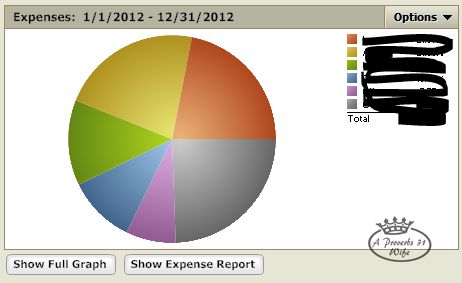 This pie chart shows me where my money is going. I can exclude certain accounts if I wish or include them all. I can also track my spending and saving side by side. The grey area includes the remaining categories that couldn't all be fit on, and I can click on it to see them.
  So when I go through my finances at the end of the month, I can see how much we spent, where, and what we spent it on.   It takes about 20 minutes each week to enter all our receipts into the registers, but it's so nice to pull it up and see where we are saving and where we could be saving. Now, to cut back on eating out….. lol
  I know you can still buy this program at any office store. I'm not sure of the going rate though. I paid $50 for mine 5 years ago. Most likely it will be set up a little different as well.  Regardless of what program you use, having a way to track the money that flows through your hands is very important. We are called to be good stewards after all. 🙂
Well, what do you know? They still carry the old version! Now I wonder if the new version is much different. 🙂
This is not a sponsored post, nor did I receive any compensation for it. However there is an affiliate link listed.