How Learning Through Experience Can Set Your Child Up For Success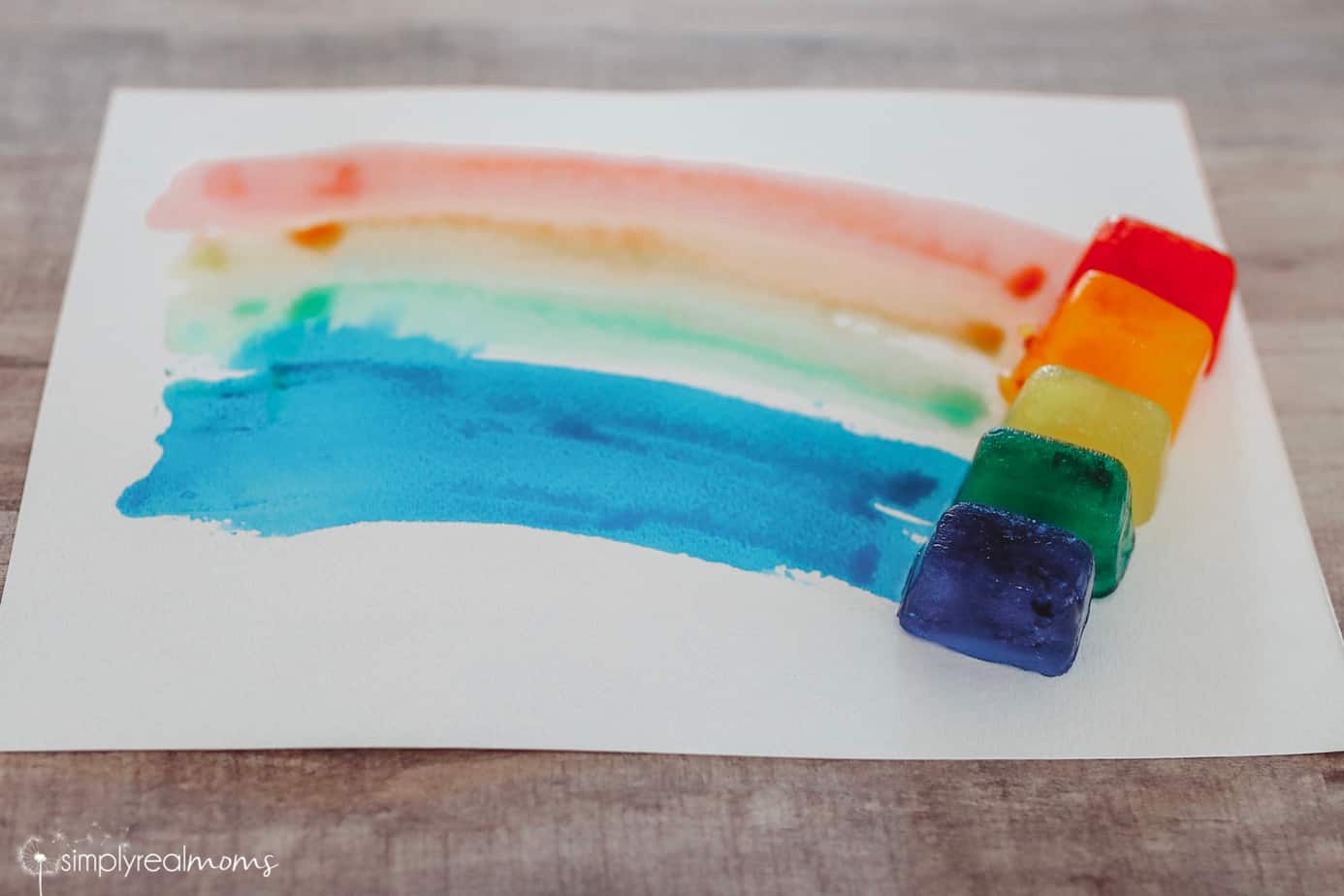 Have you ever wondered how you could encourage your child's learning? Simple ways to help set the stepping-stones for a successful education? There are so many tools out there but one of my favorites is through hands-on, interactive play.
By creating activities that are both hands-on and interactive, you can help young children develop executive function in their early developmental stages. Executive function is often defined as a core set of skills that include confidence building, working memory, and more. This influences how children learn something new, and can also affect social-emotional skills, such as delaying gratification and handling frustrations. A lack of executive function can have an effect on learning-related social behaviors, such as listening to and following directions, staying on task and problem solving.
Because this method is important, not only do we use it in my home, but my children have developed a love for learning! Incorporating play with learning will not only get children excited, but it'll help them to retain what they are being taught. This gives them a positive influence in their early years and beyond.
A great activity to build their executive function that we personally like to do is all about colors!
I've been working with my younger children on blending colors. Learning their primary colors, blending them and having fun learning that when you mix certain colors, they can create another color of the rainbow. To do this, we make rainbow-colored ice cubes. This is just one activity you can use rainbow ice cubes for, however, there are so many more like matching, watercolor paint projects, and problem-solving with addition and subtraction. The options are truly endless.
To get started with color blending, you will need to make the ice cubes ahead of time. I personally chose to do it by myself this time, however, you can easily have your children help you and turn it into a fun science project. I added 2 drops of food coloring per cube space (except yellow, I only used one drop per cube space) and then added in the water before freezing.
Once frozen, it was time to play! I made several cups of water and then added food coloring to each cup. When doing this activity, make sure to make a few cups of each color.
Before we dove deep into all the fun, we talked about what we THOUGHT was going to happen before mixing the colors. Then my children got to choose the colors they wanted to try to blend.
They took a colored ice cube and placed it into one of the cups of colored water and watched what happened.
The blue cube into the yellow water surprised the kids when they saw it turn to the color green! They were also really amused when they mixed blue and red and saw it turn purple. My youngest son wanted to see what happened when he put an orange cube into the orange water. He guessed it would make red, but when that didn't change, it was the perfect opportunity to talk and incorporate a lesson on matching.
We had a great time with this fun learning activity, keeping the kids engaged and learning hands-on, all essential tools in working on the core set of  executive function skills.
This is just one way to help build their executive function at home, other great ways include playing board games, encouraging exercise through play, and singing together.
While keeping education fun at home is important, children can also immensely benefit from going to an early childhood education facility, like The Goddard School®.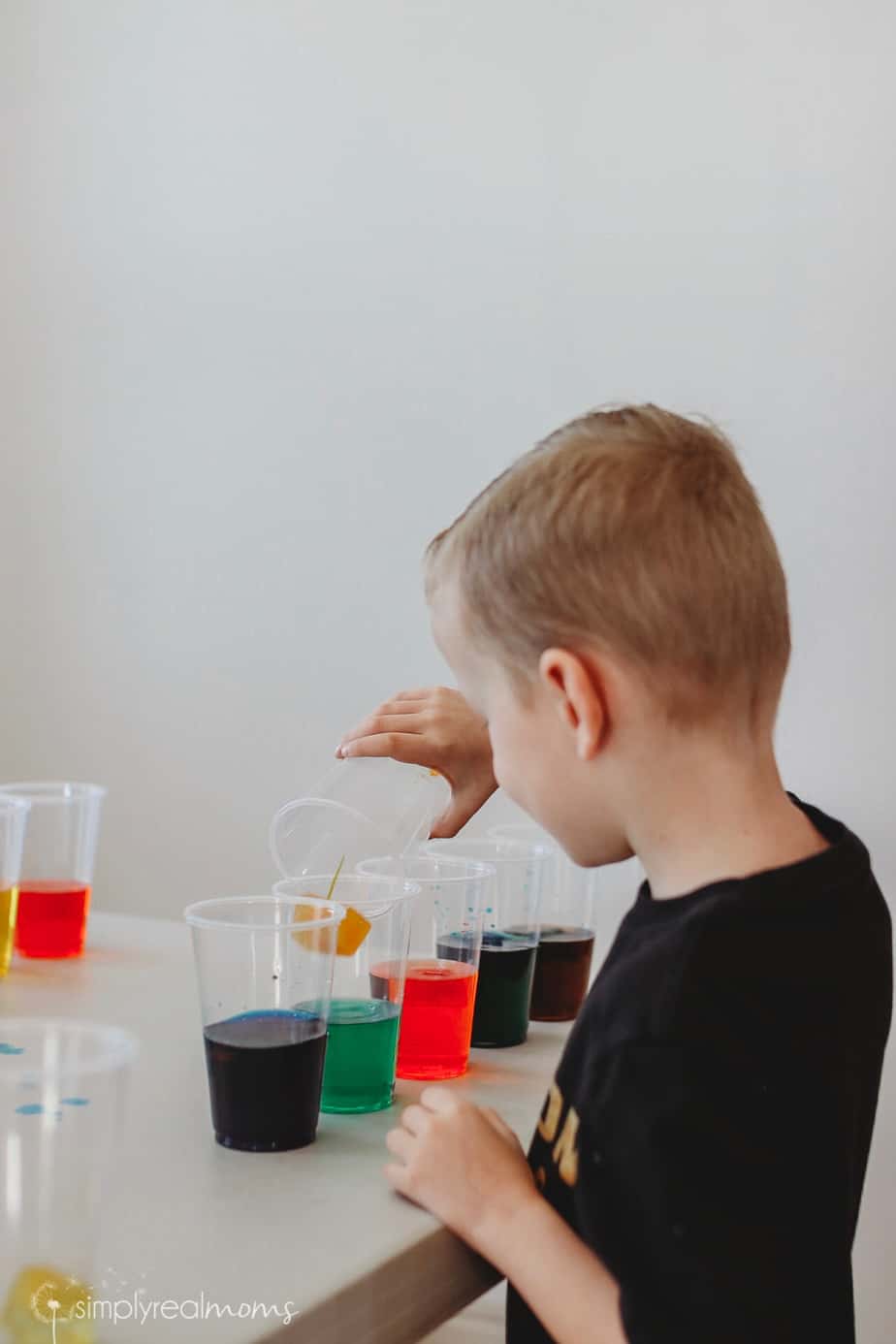 Children learn best through experience and The Goddard School® embraces this philosophy by helping
children explore and discover their interests through play, so they become school-ready, career-ready and life-ready. They provide ample opportunities for fun learning experiences in the classroom and in outdoor learning spaces, promoting a lifelong love of learning in literacy, science, technology, engineering, arts, and mathematics. A small fraction of the amazing programs they offer are baby sign language, yoga, music, drama, art, chess, and foreign languages.
They also have a play-based F.L.EX. ® Learning Program (Fun Learning Experience) that is grounded in research on how children learn best, through fun!
According to The Goddard School®, F.L.EX is designed around the following core values:
Play and Exploration: Children learn best by doing, which includes
playing, working on projects and experiencing the everyday challenges
of life.
Diverse Programming: Their curriculum balances educational content
with free play, life skills, and an introduction to diverse practices,
jobs, sports, and hobbies.
Student Empowerment: The teachers encourage children to make their own choices, to explore their own passions and interests and to bounce back from failure, which is essential to developing integrity of character, executive function and social-emotional intelligence.
21st Century Skills: They emphasize both academics and the development of cognitive skills, including communication, critical thinking, collaboration, creativity, and the executive functions, to help children learn to succeed in diverse environments.
STEAM and Literacy: Teachers introduce science, technology, engineering, arts, mathematics and literacy skills so that children become familiar with and passionate about them.
Quality Questions and Encouragement: The teachers encourage children to explore their environment autonomously and challenge children through open-ended questions.
Individualization: The teachers meet each child's individual needs by modifying the curriculum to the developmental level of each child.
Safety and Security: They provide a safe, nurturing environment so that children feel comfortable.
Research: Their programs align with cutting-edge learning research and are modified based on program reviews and student assessments.
Outdoor Time: By balancing classroom lessons with outdoor activities, the students enjoy the benefits of exploring nature.
Risk and Failure: They allow children to face risk and overcome failure to develop confidence, resilience, determination, and self-awareness.
The Goddard School® takes children right from their infant stage and goes until their preschool years, creating customized programs for your child's progress, needs, and age. To learn more, please visit: GoddardSchool.com.
*This post is sponsored by Goddard School, however all opinions are my own