How Much Is A "Mom Salary"?
Moms work so hard! Whether you stay at home, work at home or you have an outside job, you are a busy lady!
Ever wonder how much moms would be paid if we earned what we were worth?
Every year, salary.com conducts a survey of moms who work and stay at home to find out just how many hours they put in as a mom, then they break it down into categories, figure out how much each category should be worth, then calculate what a mom's annual salary would be if she was paid.
Can you believe it is SIX FIGURES?! I can! We mamas work so hard!
They broke it down into the job titles of CEO, Laundry Machine Operator, Psychologist, Janitor, Driver, Computer Operator, Facilities Manager, Day Care Teacher, Cook, and Housekeeper.
Total it all up, and working moms should earn an extra $66,000+/year, and stay-at-home moms should be earning a whopping $112,000+/year!
I'll take that in small bills, thank you.
A fun, spirited survey, it's a great outlook on the hard work ALL moms put in with their families and homes. They even have a Salary Wizard where you can find out what YOUR mom salary is! Neat, huh? Apparently, I should earn an extra $80,000! Yes, PLEASE!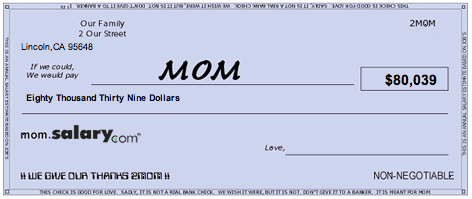 What is your mom salary?
Do you want a check for what a typical stay-at-home mom is worth? Enter HERE to win a check for  $112,962 from salary.com and The Today Show!
I was not compensated for this post. Just wanted to share a fun survey with you all!