How To Choose Outfits For Family Pictures
Images used in this article are owned by Stephanie Dandini Photography and Emily Stone Photography and used with permission for this article. Use of these images without permission is strictly prohibited.
It's the time of year that everyone is scheduling their family portrait sessions, gearing up to send holiday cards out and taking advantage of the gorgeous colors that fall and the beginning of winter offer. I love family pictures. LOVE. My family invests in yearly (or more often sometimes!) sessions because I value the moments that we can capture and have forever in print and digital form.
I not only have my own family photographed, I also take portraits for other families and over they years I have been asked many questions about planning and executing a successful family session, the top being how to plan the outfits.
Planning the look and style for your family pictures is going to vary each and every time you have them done. Styles change over the years, the session "theme" will change year to year and location change factors in as well. It's impossible for me to tell any one family how they should dress BUT I have nailed down my own process, which can hopefully help you as well.
Start with a "Theme"
This may seem like a silly way to name the feel of your session but you really have to decide going in how you want the overall look of your pictures to be. Will you be using these photos for framed or canvas prints in your home? Then you may want to stick with a look that accents the colors/design of your decor. Are these strictly for holiday cards? Go all out with plaid or Christmas jammies!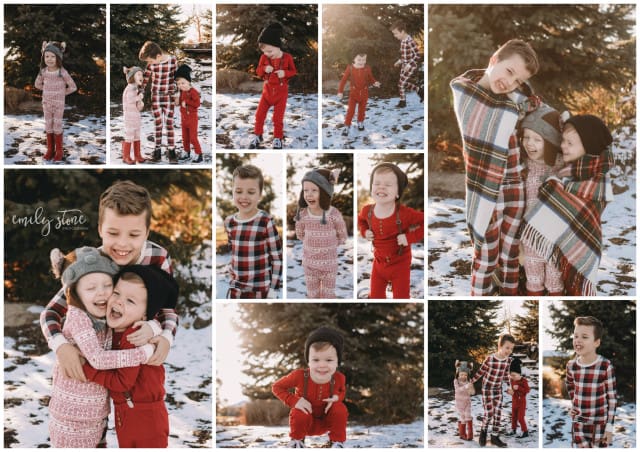 Just for social media? Then you do you, boo boo…I mean dress as you do everyday, that's simple enough, right? Once you decide what the images will be used for and how you want the overall style to look, you can jump into the next step.
Choose a Location
Based off of the theme for your session, work with your photographer to choose a location that is perfect for your photos. I have done family sessions in places like the beach, the woods, in a field, on college campuses and in people's homes.
When we decided to do a styled session of our boys with our photographer in a "Lost Boys" theme at the same time as our family photos, we chose a location on the river that would work for both!
When we were planning our 10 year Anniversary family session, I wanted to sneak in some intimate romantic photos on the beach and I chose my favorite beach for that.
Choose Colors
Colors and location can absolutely be switched up, depending on which is more important to you but I tend to choose colors after location. I personally start with what I want to wear (because I'm the only one who cares) and base the colors off of what I chose. I choose something that compliments the location we chose and then I figure out colors that go well with what I chose. I also love searching color palettes on Pinterest. I literally type "color palette" into the search bar and tons of gorgeous groups of colors jump out at me, giving me simple inspiration to choose from. You can also search "Family Photos" if you need to see it more in context with people actually wearing the colors. I personally tend to lean towards very neutral colors in my own family photos but I LOVE when a family shows up in bright and colorful looks as well, it's whatever works for your style! Just remember that neon colors and busy patterns are hard to photograph and may not end up looking the way you hope. Talk to your photographer if you have any concerns, they should be able to guide you.
Search Your Closets
Once I decide on colors, I go through the clothes my family already has. I tend to try and find at least one piece of clothing per person that goes with the color scheme. Once you've picked from what you already have, keep your eyes out each time you're in a store. I always have colors in my mind when I am at stores like Target, H&M, TJ Maxx and Old Navy. I shop sales and watch for items I love in the colors we're using. I tend to start searching at least a month before, which seems to be ample time to find a whole family's outfits in different stores.
Pro Tip: coordinate and compliment your colors, don't match! The look of everyone in jeans and white t-shirts has passed. Different shades of the same color is ok and different patterns and textures are great too. It adds to the natural feel!
I broke my own "no matching" rule in my latest family photos but I had good reason. We had planned a 10th anniversary family session on the beach and my thought was an elegant session that almost mimicked a wedding. Because of that, I chose to dress all three of my boys in the same outfit.
I felt that it added to the wedding feel and they all felt like they had the chance to be a part of our special day. We didn't match their shoes-those we took out of their closets.
Pinterest is a great source of inspiration if you're at all unsure of how to dress your family so take advantage of the great content out there with ideas and your photographer should be a great help with ideas if needed as well. Remember that photos can be totally formal but they can also be dressed down and casual everyday looks, documenting real life. Be inspired by what fits your family and have fun. It can be extremely stressful on family picture day but just remember that even through the chaos, with the right photographer, you'll end up with the most beautiful memories!
Our personal photographer is Stephanie Dandini, based out of the Sacramento, California area. Most images above are taken by her and used with permission for this article. You can find her:
ONLINE
FACEBOOK