How to Freezer Cook with Your Favorite Recipes!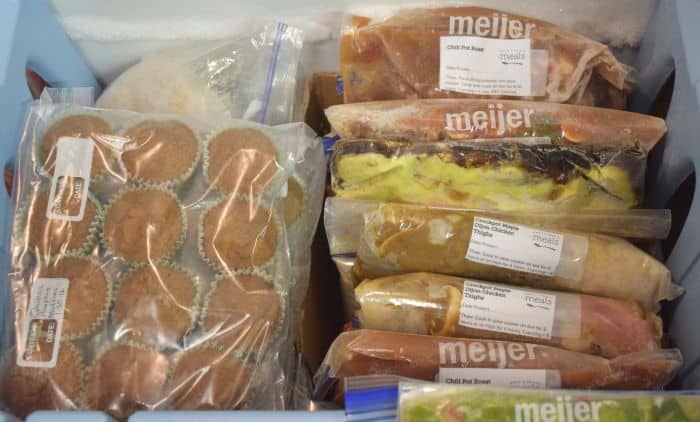 I've never really freezer-cooked before, most plans didn't suit me and it looked huge. Then I found OAMM. Today I'm sharing how to freezer cook with your favorite recipes and how I did it in just a day.
Most of the freezer meals I see on Pinterest aren't allergy friendly or just contain ingredients I don't use. I've also felt they were quite confusing and it just didn't make a lot of sense.
Often I would stick to making large batches of meatballs and freeze the extra, but that's just not really enough when you are preparing for a new little tot.
Because I love to crowdsource, I asked my FB friends how to freezer cook with your favorite recipes and I got a few good ideas, however the best idea came from friends who recommended Once A Month Meals.
Meal planning software that puts you in charge!

How to Freezer Cook with Your Own Recipes
I signed up at Once a Month Meals with a Pro Membership.
Pro membership is $16 a month and I figured Pro would be my best bet since it gives me access to all menus ever created and most importantly allows me to switch out recipes to best suit our family.
A monthly membership suits me perfectly because I don't plan to freezer cook on a monthly basis. Instead I will pay for the month I need it and cancel it until I'm ready to freezer cook again. A friend mentioned that she does this about every 3 months and that sounds about right for me too.
Basic memberships cost less and both are available on a yearly membership for less than the monthly.
Step 1. Sign up and Choose your plan
Step 2. Choose your Menu
You have 9 different options to choose from:
Traditional

Recipes that replicate your mom's home cooking and can include classic casseroles, popular sweets and homemade eats.

Whole Foods

Recipes based on made-from-scratch, unprocessed ingredients, seasonal fruits and vegetables, whole grains and dairy products, local meats, and natural sweeteners.

Paleo

Recipes based mainly on meat, fish, vegetables, and fruit, and excluding dairy or grain products, as well as processed food, with nutritional and zone information.

Diet

Recipes that are lower in calories and sugar, lighter and healthier, with smaller portion sizes, with nutritional weight watchers information.

Vegetarian

Recipes that are completely meatless and include no animal products, aside from eggs and dairy products, and may include some meat replacements.

Gluten Free Dairy Free

Recipes that have no gluten or dairy in their ingredients list, but can include other gluten or dairy substitutions for preparing similar recipes and meals.

Allergen

Recipes are specific to varying allergies, including Low FODMAP, Low Histamine, Auto Immune Protocol (AIP), GAPS, Egg free and Nut free. We rotate these allergen menus throughout the year

Mini

Recipes from all our main menus, but designed to be shorter and simpler in ingredients and cooking instructions. Also include many quick seasonal favorites. (sign up for a free trial with a mini menu!)

Kids

Recipes are made up of softened and/or easily consumed healthy, whole foods that are simple and kid friendly.
I choose the Gluten and Dairy free menu keeping my tot's wheat allergy in mind. I did switch out a few recipes to include dairy as well though.
Once I set my serving size and made sure all the recipes were something we would like I printed out a shopping list.  This list is very organized and lists EVERYTHING you will need. I didn't need to buy any of the spices and some of the other dried goods so I checked them off before heading to the store.
It took me the better part of 2.5 hours to go to 2 different groceries and buy what I needed. While my total was shockingly high; I took into account that I was buying 30, 4 serving meals and paying less than $2.25 per person for each meal!
After that killer shopping trip I needed a rest! I put the perishables in a certain area of my fridge (which I had cleaned out the night before) and everything else on top of my dryer.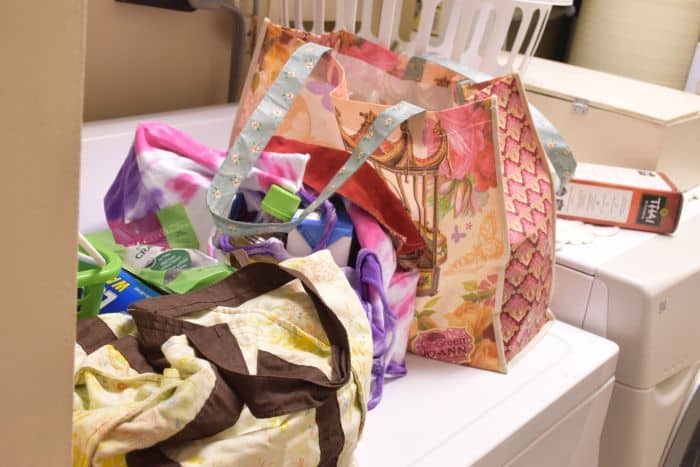 Because freezer cooking allows you to work in bulk, OAMM has a "prep day" list of instructions. This allows you to cut/peel/dice/slice/whatever the produce you will need for the next day.
Since a few of my meals included smoothies, I made the smoothies the night before my big freezer day and did all my prep work at the same time. Whew! Now my fridge really looked full. Jason complained that he couldn't even find his lunch in there. 🙂
How to Freezer Cook… pregnant and with a toddler?!?
Hahaha!!! I gave it my best shot and it didn't go too badly! If I could do it 8 month preggers with a 19mo old running around, pretty sure anyone could manage (unless you are 9 months preggers and/or have several toddlers, then you may need to enlist help!)
The idea is to put 30 meals in your freezer. You have 15 recipes which you double (really simplifies things) and OAMM again lays out the best way to assemble your meals, one recipe at a time.  I made 2 recipes (4 meals) the night before and had 13 recipes to go.
Using their suggestions, I taped my recipes, and instructions to the cupboards.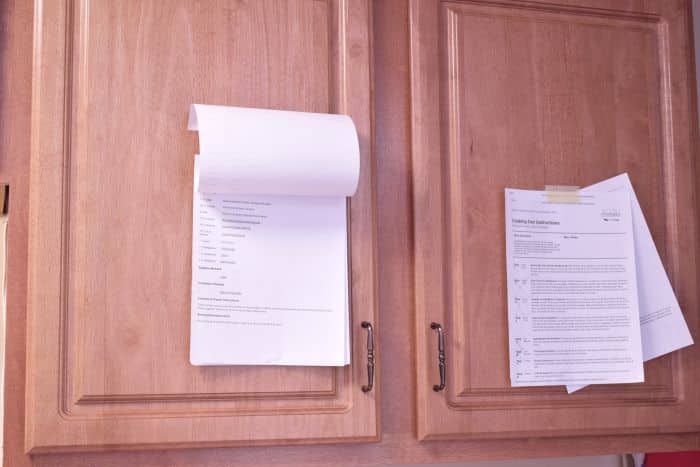 And went to work. By noon I had 4 recipes assembled and consequently 8 meals in the freezer. I also had a pretty big mess which I cleaned up after feeding my toddler lunch.
The afternoon went fast but I accomplished more because of my toddler's naptime. However… at recipe number 12 and 5pm I was dragging. I took one of the meals that should've been put in the freezer and tossed it in the oven for dinner and cleaned up my mess. I would finish another day.
I made 20 meals in one day and that was huge! The next week I finished up the 3 remaining recipes and added them to my freezer totalling 30 meals.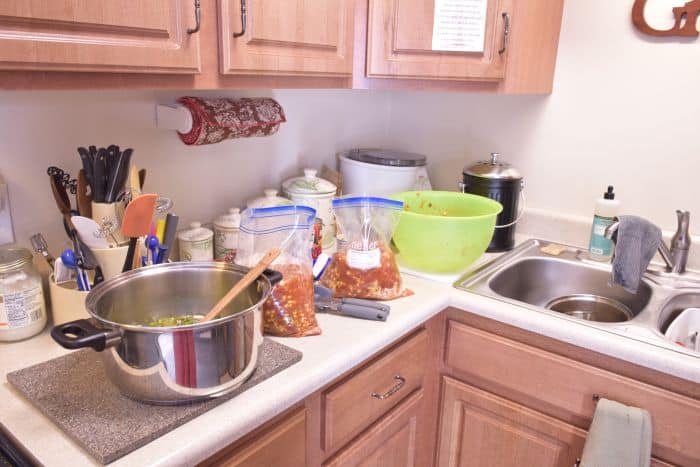 I have to say, there is no way I could've ever done this on my own. If I would've tried to make out my menus and recipes and shopping lists and everything else I would've been at it for days! The menu building software that OAMM uses is incredible and totally worth the price.
It was a lot of work, but the workflow was so streamlined that I didn't need to waste time trying to figure out the next step, it was all laid out for me in very simple directions. Even better? The recipes are amazing and since I have pro, I am able to save my favorite recipes for another time. 🙂

I am an affiliate of this program, however I did indeed pay for my membership and only signed up as an affiliate after I realized how well it worked for me. If you are wondering how to freezer cook or just want to get started, I honestly cannot recommend this program enough!
If you sign up, I would love to hear what you think of it and how your experience has been. 🙂
Posts You May Enjoy after Reading How To Freezer Cook