How to Make a Sun Catcher ~ Guest Post by We Three Crabs
Today I'm giving the blog over to Erica of We Three Crabs.  She is going to share how to make a sun catcher!

How to Make a Sun Catcher
Today I made a sun catcher by melting pony beads. This project is inexpensive and easy. I bought a small bag of Pony beads from the craft isle at Wal-Mart for $2.50.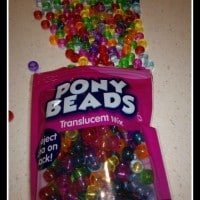 I preheated my oven to 425 degrees. I got my muffin tin out and an aluminum pan that had a pot pie in it at one time. These were the sizes I wanted to start with. I was a little nervous to use my muffin tin, but as the sun catchers cool they release themselves. I spread out the beads and used colors that I liked together.
In the muffin tin I experimented a little and just put a handful of beads in. The only trick is to make sure it is only one layer edge to edge. They don't have to be laying all the same way, they don't have to be in any fantastic design and they don't have to be neatly put together.
Once you get your beads in a single layer, put them in the oven for 20 minutes. I took mine outside to my deck to cool when they were done. As they were cooling I heard them pop. I realized they were releasing from the pans. They came right out.
I used a drill to drill a couple of holes. I then used dental floss to tie them together. I have these hanging by my back door. They would look cute on your front porch or in your garden.
So for under $3 this is how to make sun catchers, and I have a new decoration! What a fun thing to do with the kids. Just be careful with the hot oven.
Erica is the mom to a toddler boy and a wife of an Alaskan fisherman. She blogs about Life, Love and adventure over at We Three Crabs.