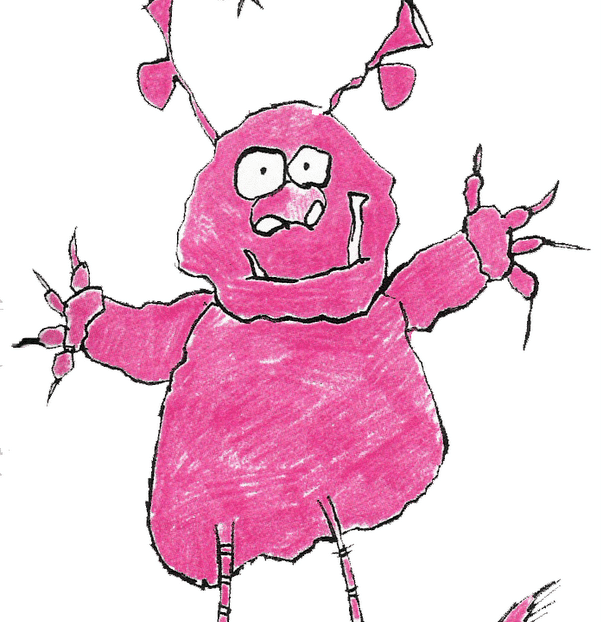 The monsters in our lives; are they real, or imagined?
Source
The little girl I babysit was playing happily on the floor. Suddenly she cries and runs to me. I pick her up and ask what's wrong. She tells me there is a monster, and that she's scared.
To her the terror is real. To me, nothing has changed in the room, the lighting is still the same, the weather outside is still the same, but she is scared.
So I ask her where the monster is. She thinks about it for a minute and then points to a small crack in the ceiling. Hmmm, So then I ask her what the monster is doing. She thinks again and tells me it is looking at the curtains.
 I ask her if the monster is happy, or mad, or sad. She smiles at me, "I think it's happy". I tell her to wave at the monster, she does. "Did the monster wave back?" She nods and smiles, "Good! Do you know what that means?" She looks at me and shakes her head. "If the monster waves back, it means it is a friendly monster and wants to play."
She giggles and lays her head on my chest, "Are you ready to get down now?" She looks at me with big eyes "Monster?"
"It's a friendly monster, remember? Why don't you go tell it hi?" She goes over, pretends to talk and runs back to me giggling. By handling her fear, whether real or imagined, she is able to play and be happy again.
What if the little girl hadn't run to me? What if she had sat there in fear? She wouldn't have wanted to play by herself anymore, she would've not looked up for fear of seeing the monster. She would have been miserable. But she ran to me for protection and once we talked, the monster didn't seem scary any more.
It got me thinking though. How many times do we see a monster in our lives? We are going along happily and suddenly, there it is!
We now have two options. We can pretend the monster is not there and be miserable and fearful over everything, or we can run to our protector and talk.
And when we talk, He can calm our fears.
When we say "I'm scared"  He says:
The Lord is your light and salvation, whom shall ye fear? Psalms 27:1
Be strong, fear not: behold your God will come… Isaiah 35:4
Fear not I am with thee: be thou not dismayed, for I am thy God… Isaiah 41:10
There is no fear in love: but perfect love casteth out all fear. 1John 4:18
When we say "I'm to weak, I can't do it" He says:
I will strengthen thee, yea, I will uphold thee by my strong right hand Isaiah 41:10
I can do all things through Christ which strengtheneth me. Philippians 4:13
The Lord is my strength and my song, and he is become my salvation… Exodus 15:2
He giveth power to the faint and to them that have no might, he increaseth strength. Isaiah 40:29
                                                           When we worry, He says:
Take no thought for your life…. behold the fowls of the air…your heavenly father doth feed them, Are ye not much better than they? Matt. 6:25-26
Why take ye thought for raiment? Consider the lilies, how they grow…Solomon and all his glory was not arrayed like one of these. Matt. 6:28-29
Therefore, take no thought, saying, What shall we eat? or, What shall we drink? or, Wherewithal shall we be clothed?  …For your heavenly father knoweth that ye have need of all these things.
I could keep going, Gods promises to us are unfathomable and so many times we forget them. So the next time you find a "monster" in your life. Run to the Lord and listen to what he has to say.  Many times those monsters can turn into a thing of beauty when you sit back and watch the Lord work.
Can I pray for you? Jesus can overcome the monsters in our lives, whether they are real or imagined, He can overcome all.
Other Lessons from Little Ones you may enjoy reading.