Juice Fast, Week 2 ~Down 9 Pounds!
I've now been on this juice fast for 14 days, two weeks! My original plan was only 15 days, but since I still have weight to lose, I'm keeping on.
The gal who first inspired me to try juicing had done a juice fast for 60 days! I told myself 60 days wasn't possible but I wanted to learn more. I'm glad I looked into it a little better. 15 days didn't seem bad and it wasn't. In fact, if that's what it takes, 30 days don't seem that bad. Still, don't think I want to go for 60 days though.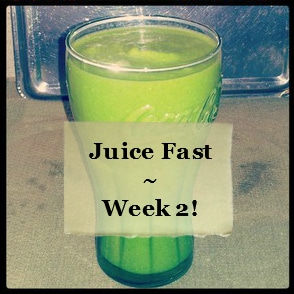 I've managed to discover which fruits and veggies work for me and which ones don't. Everyone is different, what bothers one person is fine for another. I love onions and garlic any way you can eat them, or so I thought. I found out that juiced, onions and garlic make me nauseous. Oh well. 🙂
I don't feel hungry much anymore. The juice has enabled my stomach to shrink and so between juice and water, I feel full most of the time.
Thursday, this was not the case. Every-other Thursday I leave the house at 5:15 am and don't get home till close to 8 pm. Wednesday night I tried to make juice for the whole day on Thursday.
But between hubby and Grandpa trying to figure out what was wrong with our dishwasher, and fixing dinner for them (I invited Grandpa's to stay for dinner) plus I was fixing juice for that night and the entire next day. Long story short (is it too late for that?) I didn't end up with enough juice for Thursday.
Oh, and it gets better. 🙂 Not only did I not have enough juice for the whole day, but I also didn't get home until 10 that night. The motherboard was fried on our dishwasher (obviously NOT something hubby and gramps could fix) so after we finished cleaning we went and bought a new dishwasher.
Aaaaand, when we got home at 10 pm we still had to take the trash out and I still had to make juice for Friday's breakfast and lunch! But I learned my lesson. I would be gone all day on Saturday, so Friday night I made certain sure I had enough juice for the next day.
I store my juice in mason jars, with a lid tightly on in the fridge. It's recommended that you drink your juice within 24 hours of making it, for the highest nutrients. I have kept mine a little longer than that a few times. What can I say? I lead a busy life.
I have noticed a few things, my face is definitely clearing up, (yay!) and the winter blahs that get me every winter are gone, completely gone. Pretty sure it's because of the juice fast.
I've also lost another 4 pounds, bringing my total weight loss to 9 pounds gone! So happy to see the weight go bye-bye…. 🙂
Want to know what juicer I am using? You can (ad) find it on Amazon.
Disclaimer: You are responsible for your own health choices, and this is not recommended for pregnant or nursing women.