Jungle Themed Party- DIY Cupcake Wrappers & Cupcake Stand
.
Items needed:
Color copier paper. (I used Wausau paper that I got from Staples. I would recommend using at least  24 lb. cardstock and nothing lighter.)
Hot glue gun
Glue stick
Sheets of animal patterns. I printed my patterns onto plain white paper and used that. You can also buy animal patterned scrapbook paper.
Ruler
Scissors
..
. .
Step 1: Start cutting the primary colored paper into strips that are 2″ wide. I didn't measure my length, just kept it at the 11″.  Next cut the patterned paper into strips that are 1″ wide. How many you cut will depend on how many cupcakes you make.
.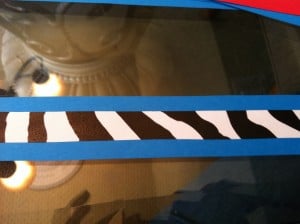 Step 2: Take your glue stick and glue the pattern print strips onto your solid strips.
.
Step 3: After your cupcakes have cooled down, start assembling your wrappers. I left the cupcakes in the baking liners and covered them with my jungle themed wrappers. To do this step, I wrapped my paper strip around the cupcake and glued the ends of my jungle wrapper together.
.
Step 4: Frost and decorate your cupcake and they are ready to be put on display.
.
.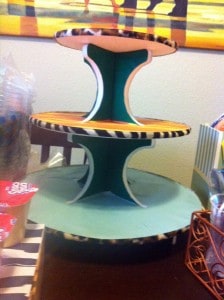 Decorating your cupcake stand: We had a boring white styrofoam cupcake stand that we had used for a few parties. I looked around online to see if I could find one that would fit with the jungle themed party but could't find anything. So I decided to get creative. I disassembled the cupcake stand, grabbed 3 pieces of scrapbook paper and started tracing the plates of the stand, making sure I traced where the actual stand part itself goes through the plates. I cut out my patterns and glued them to the plates. Taking the actual stand, I did the same thing as the plates, I traced, cut and glued until I had a green stand. I had purchased animal print ribbon and decided to glue them onto the rim of the plates. On the day of the party, I placed the cupcakes on and we were ready to go!
I can imagine if you were to buy a cardboard cupcake stand, you can eliminate most of these steps and just paint directly onto the stand. Party City sells cupcake stands for $5.99.
This tutorial is a part of a Jungle Themed Party, check out the rest of the tutorials here: Jungle Theme Party