Jungle Themed Party- Tissue Pom Balls
Items you need:
Tissue- 10 sheets per pom ball
Scissors
Craft/Floral wire
Ribbon
.
Before I begin I will have to warn you. My son's birthday was back in August and I could have sworn I documented every step, but sadly I did not. So I have recreated the steps that I missed which is why you will see steps with different colored images. I assure you the end result will be one that you will be satisfied with.
I have tried many tutorials out there and some I have been really disappointed with, so this tutorial is my tried and tested results!
.
.


Step 1:
Stack 10 sheets of tissue. Make 1 1/2-inch-wide accordion folds, creasing with each fold. (As if you were folding to make a fan)
.
After you fold your stack together, it should look similar to this.
.
Step 2: Cut the ends off to form a half circle. You can play around with this. I have seen all different style pom balls. To get a spikier effect, cut tips into a triangle.
.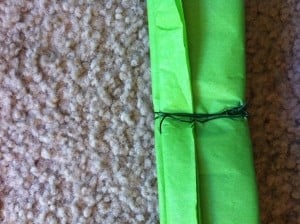 Step 3: Tie your craft wire around the center of the tissue. Twist until secured.
.
.
Step 4: Spread out your tissue to make sure the wire is secured as well as your accordion folds.
.
.
Step 5: Tie ribbon in center. Make sure the ribbon is long enough, you can always shorten the length before hanging up. Make sure to do this step before separating the layers.
.
.
Step 6: Fan out your folded tissue stack and start separating each layer, by pulling up and towards the center.
.
Step 7: Continue doing this until all layers have been separated and your tissue now looks like a pom ball. Fluff until you have desired ball shape.
..
Your tissue pom ball is now ready to be hung and adored!
This tutorial is a part of a Jungle Themed Party, check out the rest of the tutorials here: Jungle Theme Party