Keeping Dry With Good Nites In Bed!
This shop is part of a social shopper marketing insight campaign with Pollinate Media Group™ and GoodNites, but all my opinions are my own. #pmedia #BetterNights  http://cmp.ly/3/8vNxcO.
My son is potty trained during the day, but nights and nap times are another story. We have been struggling with wet diapers and a wet bed for the last year as we have tried different techniques. Wet diapers aren't as much a hassle as much as a crutch, but a wet bed makes for a miserable night for my son and for my husband and I. Getting up to change sheets in the middle of the night is no fun.
When we were asked to test out Target's Good Nites Bed Mats, I jumped at the opportunity to try yet another approach to night time training.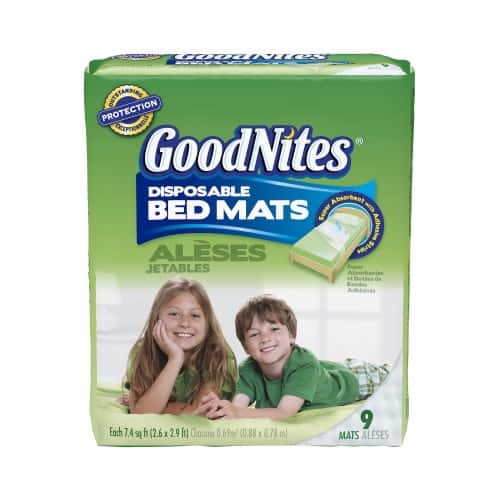 We started our adventure of night time training by limiting liquids after dinner time, and making sure to take my son to the bathroom just before bed. Then we purchased our first package of Good Nites Bed Mats at Target with this awesome $1.50 off coupon!
We took our package home and talked with my son about what the bed mats were, and he was excited about his new "white blankets".
I love a lot about these bed mats…
They have four sticky squares on the back of them to help stick to your child's sheets (and the adhesive doesn't ruin the sheets or leave behind a residue!) to help keep it in place, perfect for my crazy three year old who moves all over the bed when he sleeps!
These bed mats aren't crinkly or loud as I was first worried about. My son doesn't seem to notice anything extra on his bed-and he's a very picky sleeper. He liked them, actually!
Best of all, they caught every little drip when my son had accidents! No wetness left on his bed . A little on his sheets, but it is easier to grab an extra sheet to put on the bed at 2AM than it is to change all of the sheets!
I am not a huge fan of training diapers, and I believe in training with regular underwear and letting the child feel the accident. Using these disposable bed mats helps us keep with using that method, yet not having a complete mess in his bed! I love it.
I am really impressed with these bed mats, and my son is waking up to tell us he needs to go more often rather than just wetting his bed, so I think we are on a roll! Still have a ways to go with training at night, but we are well on our way without a crabby mom having to change the bed multiple times per night!
Find your coupon here to purchase either Good Nites Bed Mats OR Good Nights Bedtime Underwear