Keeping it all Together. My Life as Mommy, Wife, Nanny and Blogger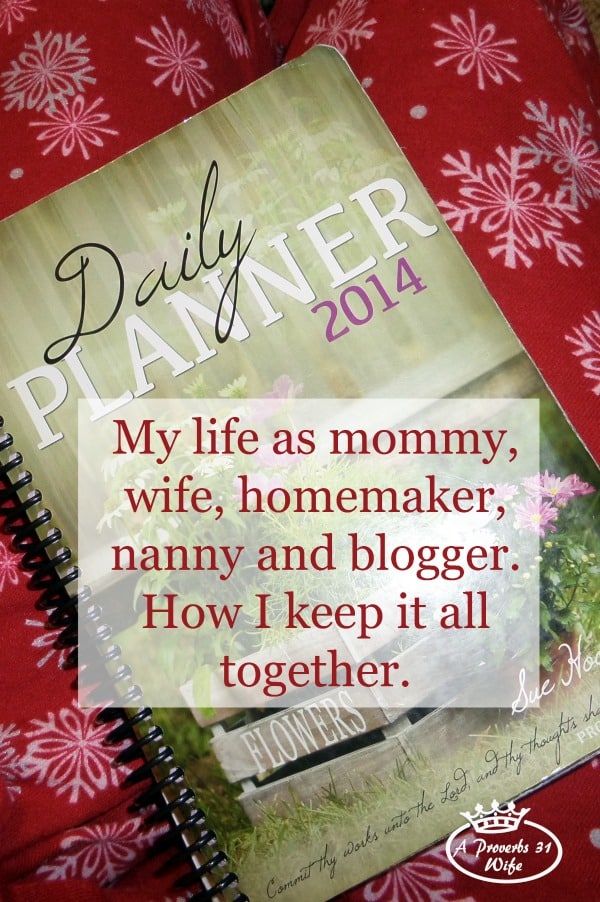 Keeping it all together…. Most days I feel like I am running around like a chicken with my head cut off.  Not a pretty picture for sure!
I really don't know how mom's who work full time manage to do it all. I'm guessing they're a bit like me and they don't, some things just have to give. 🙂
I've considered giving up blogging but there are two reasons I don't, actually there are a lot more than that, but anyway. The first reason is the simple fact that I love writing, but that isn't enough to make me keep going. The second reason is my goal to be a stay at home/work at home mom, and blogging is getting me closer to that goal.
As well, I cannot quit working as a nanny, even if I wanted to. So, how do I stay organized and semi on top of it all?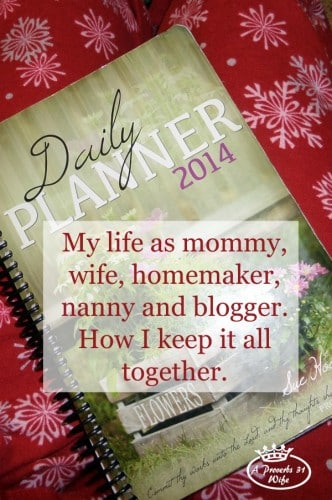 A planner. Anyone who has found a favorite planner can tell you it's their life-saver, the only way they don't forget everything. I am the same way. I've found a planner that I love, and use it to stay organized.
Keeping it all Together with the Homemaker's Friend:
This planner is called The Homemaker's Friend and is designed especially for the housewife. Regardless of who it was designed for, I use it a lot for blogging too.
I was sent a new planner for 2015 in exchange for a review (just so you know), however I'm going to show you my 2014 one that I've used all year. They are the same layout, and this way you can see just how well it works when it comes to keeping it all together. 🙂
First off, thumb tabs make it incredibly easy to find what section I need at a glance. There are sections for year, months, weeks, tasks, projects, info and shopping.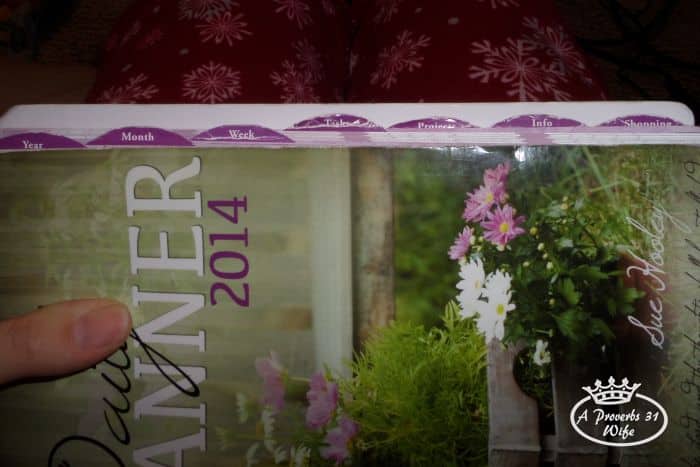 The months section is an easy way to quickly see what's going on. I use mine almost exclusively for blogging. Here you get a sneak peak at the agenda for next month. 🙂
This is the weekly planner. Hands down my favorite part. The tasks section is a great place to make note of things that need done that week. The daily sections are where I list appointments, blog posts, and where I'm cleaning that week (I still have two outside cleaning jobs).  There are also sections each day where you can meal plan (I am horrible at meal planning and almost never use them, however I like the idea.
Other things I like are the dog-ear marks in the top right corner, folding down each week when it's through is a great way to easily find the right week. The calendar view of the week and weekly scripture verses also make up this page.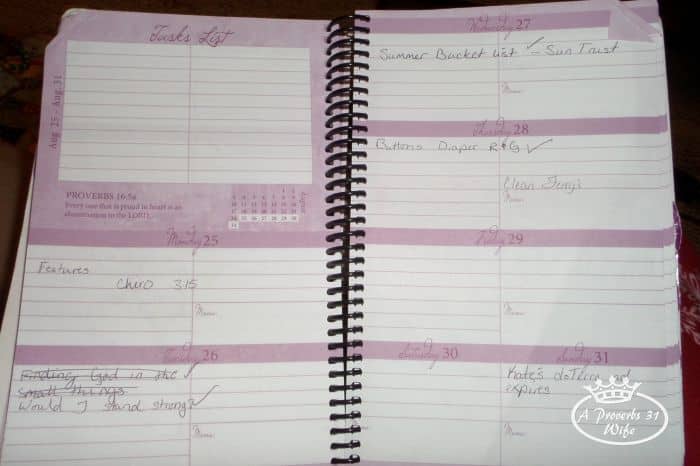 The shopping section is comprised of perforated shopping lists that are well… amazing!
In the back of the planner you find a page with pockets. Perfect for keeping notes and stuff that would otherwise get lost in one's purse.
2 years ago, I was contacted by the creator of this planner and asked to publish a review. I responded by saying I didn't think I was a good person to review the planner because I had tried using planners in the past and didn't like them. However she believed enough in her planner to encourage me to try it.
I'm so glad I did! My mom also uses this planner and loves it. I'm sure you will love it too!  The Homemaker's Friend sells for $13.99, however readers of A Proverbs 31 Wife can get it for $12.99 when you visit the Homemaker's Friend here.
Now… Who wants a giveaway?! Enter below and good luck!