How To Teach Your Kids the Easter Story With Resurrection Eggs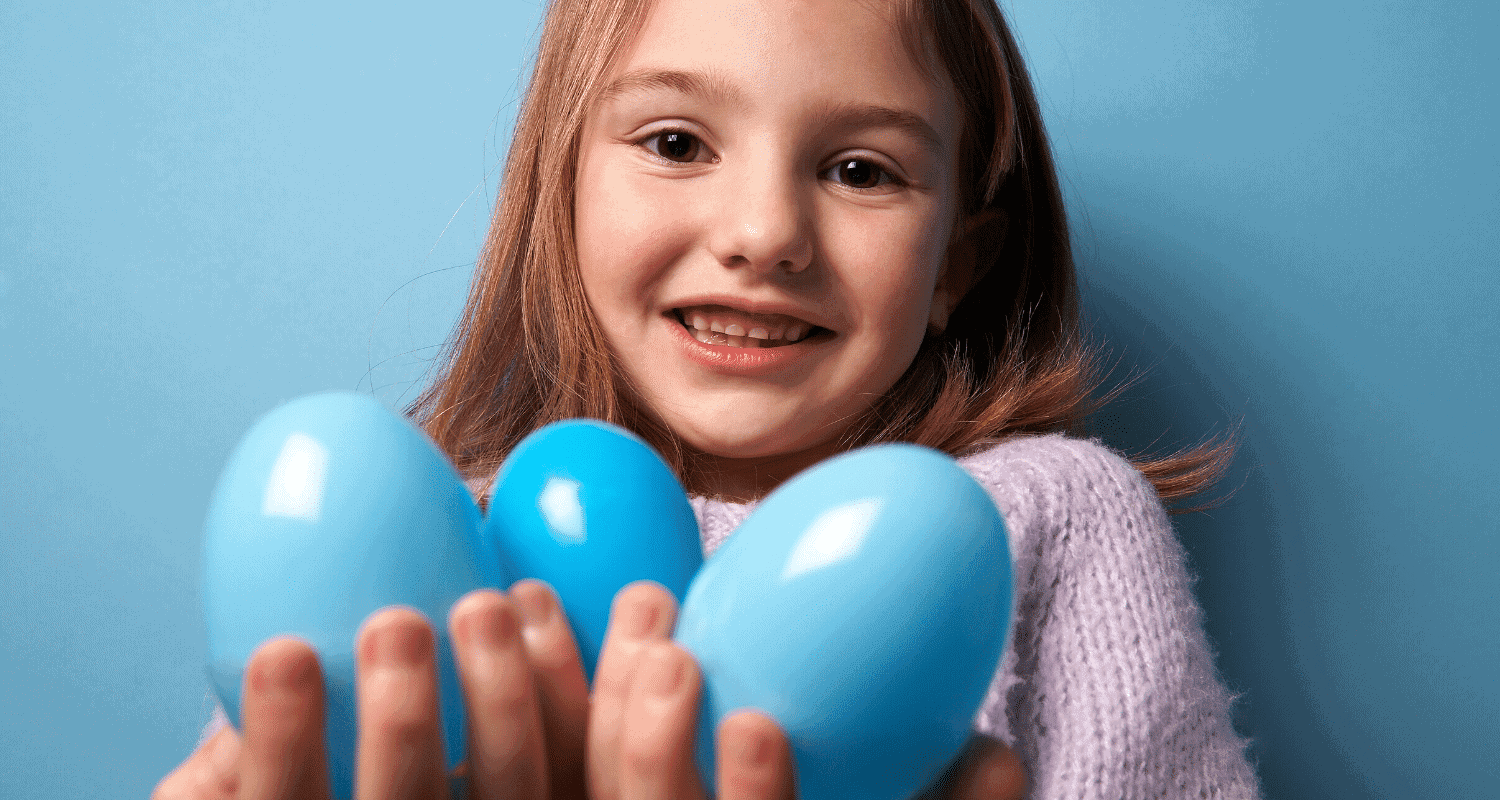 One of the easiest and most memorable ways to teach your kids the story of Easter is with Resurrection Eggs. These eggs make the story of Jesus' death and resurrection both easy for kids to understand and interactive. Plus, they'll love the suspense of guessing what's inside each egg. With a simple set of plastic Easter eggs, an egg carton and symbols from the Easter story, your DIY resurrection eggs will come to life.
How To Make Your Own Resurrection Eggs
Here's a breakdown of what the twelve eggs represent from a biblical context and the supplies you'll need to create them.
Supplies you'll need:
Empty egg carton
Stickers or markers to decorate
12 plastic eggs
Permanent marker
11 items to go inside the eggs
First, clean out your egg carton to make sure there's no egg or shell residue. Let the kids decorate the carton and eggs with markers or stickers! Label the plastic eggs from 1 to 12. Gather all the supplies to put inside the eggs.
What goes inside of the eggs:
1. A small piece of grass
What it represents: The palm branches that were laid down when Jesus rode into Jerusalem on a donkey.
Bible verse: Matthew 21:8-9
8 A very large crowd spread their cloaks on the road, while others cut branches from the trees and spread them on the road. 9 The crowds that went ahead of him and those that followed shouted, "Hosanna[b] to the Son of David!" "Blessed is he who comes in the name of the Lord!" "Hosanna[d] in the highest heaven!"
2. A piece of cracker
What it represents: Jesus' last supper with the disciples.
Bible verse: Matthew 26:26
26 While they were eating, Jesus took bread, and when he had given thanks, he broke it and gave it to his disciples, saying, "Take and eat; this is my body."
3. Three silver coins (quarters, dimes or nickels)
What it represents: The thirty pieces of silver given to Judas Iscariot when he betrayed Jesus.
Bible verse: Matthew 27:3
3 When Judas, who had betrayed him, saw that Jesus was condemned, he was seized with remorse and returned the thirty pieces of silver to the chief priests and the elders.
4. Piece of leather, rope or yarn
What it represents: The soldiers whipping Jesus before he was crucified.
Bible verse: Mark 15:15
15 Wanting to satisfy the crowd, Pilate released Barabbas to them. He had Jesus flogged, and handed him over to be crucified.
5. A tiny crown made of pipe cleaners or plastic
What it represents: A crown of thorns placed on Jesus' head.
Bible verse: John 19:2
2 The soldiers twisted together a crown of thorns and put it on his head.
6. A cross made of toothpicks
What it represents: Jesus died on a cross for our sins.
Bible verse: John 19:17
17 Carrying his own cross, he went out to the place of the Skull (which in Aramaic is called Golgotha).
7. Three nails
What it represents: Jesus was nailed to the cross to be crucified.
Bible verse: John 19:18
18 There they crucified him, and with him two others—one on each side and Jesus in the middle.
8. Pair of dice
What it represents: Soldiers casting lots for Jesus' clothing.
Bible verse: Mark 15:24
24 And they crucified him. Dividing up his clothes, they cast lots to see what each would get.
9. A piece of a sponge
What it represents: Jesus was given a sponge soaked with vinegar to drink.
Bible verse: John 19:29
29 A jar of wine vinegar was there, so they soaked a sponge in it, put the sponge on a stalk of the hyssop plant, and lifted it to Jesus' lips.
10. A thin piece of cloth or fabric
What it represents: Jesus' body being wrapped in clean linen cloth.
Bible verse: John 19:40
40 Taking Jesus' body, the two of them wrapped it, with the spices, in strips of linen. This was in accordance with Jewish burial customs.
11. A rock or stone
What it represents: The stone that closed the tomb with Jesus' body inside was rolled away.
Bible verse: John 20:1
1 Early on the first day of the week, while it was still dark, Mary Magdalene went to the tomb and saw that the stone had been removed from the entrance.
12. An empty egg
What it represents: The empty tomb after Jesus had risen.
Bible verse: Luke 24:6-7
6 He is not here; he has risen! Remember how he told you, while he was still with you in Galilee: 7 'The Son of Man must be delivered over to the hands of sinners, be crucified and on the third day be raised again.'
If you're not feeling crafty or want a done-for-you kit, here are a few of our favorite resurrection egg kits and activities you can buy.
Resurrection Eggs To Buy
Family Life Resurrection Eggs – This is your traditional resurrection egg kit and includes the eggs, egg carton, figurines, stickers and booklet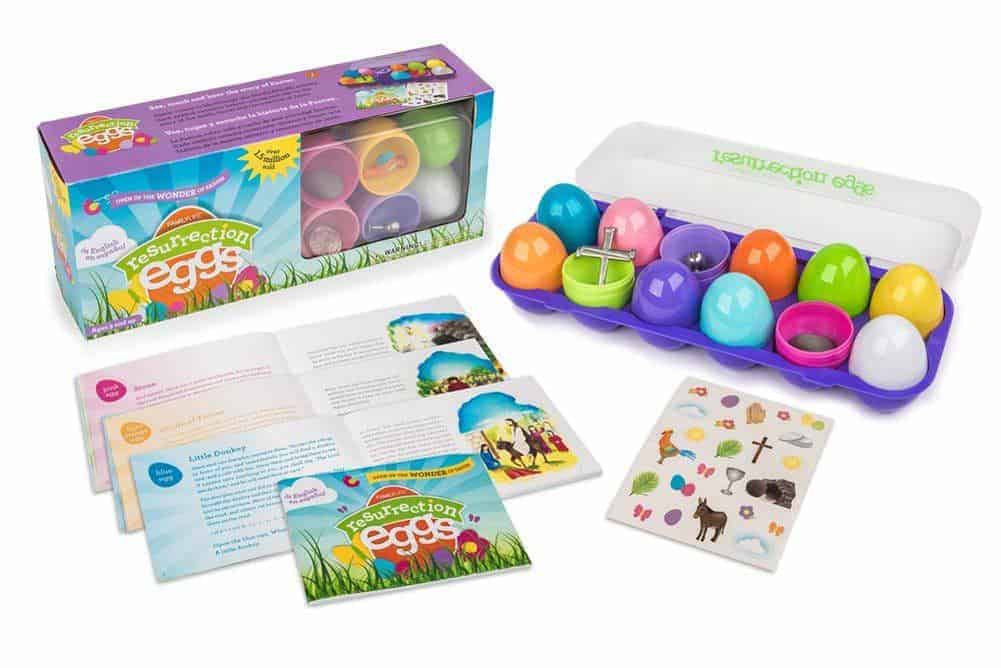 Easter – He Is Risen – Egg/Puzzle Hunt Activity Set – This is similar to the resurrection egg kit but uses puzzle pieces with clues to help your children "piece" the Easter story together.
Your Turn
Since the resurrection egg activity is suitable for all ages, you can make this an annual family tradition teaching your kids the gospel and raising godly kids.