Krusteaz Virtual Holiday Baking Party
I love to bake, especially fun treats for my Family! We love baking together and we make the best memories doing it!
To get all you home bakers in the holiday spirit, Krusteaz is hosting a Virtual Holiday Baking Event on Saturday, December 14.  Weelicious blogger and cookbook author, Catherine McCord, will be baking her favorite Krusteaz creations live from her kitchen, sharing recipes, tips and holiday gifting ideas featuring homemade goodies. Tune in and watch with us, won't you??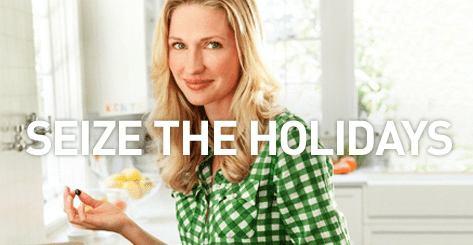 Recently, we were asked to help participate in Krusteaz's Virtual Holiday Baking Party and got to test out a few of their baking mixes, let me tell you about our favorites!
Family breakfasts are a weekly tradition in our home, and Krusteaz makes a deicious Buttermilk Pancake mix! We used the mix to make some very fluffy pancakes for breakfast recently, and we scarfed down the entire batch I made! A little secret I learned from my mother in law is to use vegetable oil on your skillet when you cook the pancakes-I thought it was crazy because butter is my obvious first choice, but vegetable oil just gives them the most perfect crisp outside, leaving them soft and fluffy inside! Krusteaz also suggests you use very cold water to mix into your batter to make your pancakes fluffier!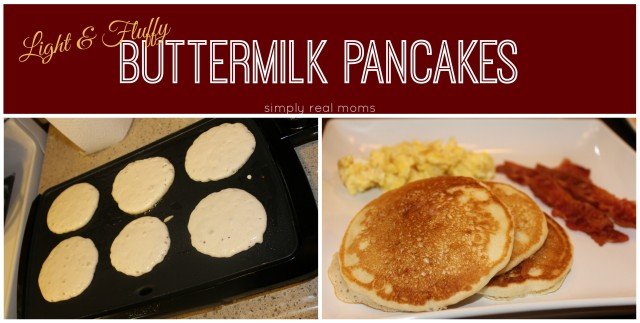 Give the gift of Christmas Breakfast!!
While you have some pancake mix in the house, make a fun gift for family, friends, teachers or neighbors by layering pancake mix and a fun mix-in in a mason jar, wrap it in a ribbon and add a tag with instructions to mix and make it!!
We used two cups of the mix and 1/2-1 cup of crushed candy cane bits, but you can also use dried fruit, nuts or chocolate chips too! The tag instructed my recipient to add 1 1/3 cup of cold water to the mix, then cook pancakes on a griddle!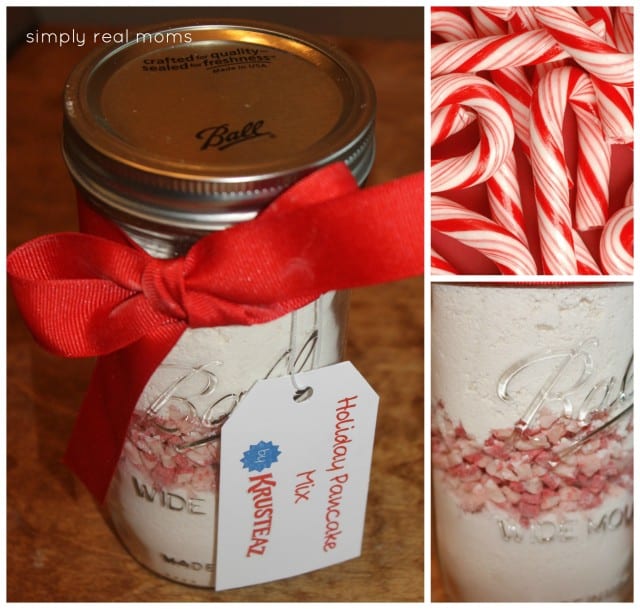 Their Honey Cornbread mix is probably the best cornbread mix I've had. I love a good homemade cornbread, but I am just not very good at making it myself! This is a great substitute for homemade, especially for bakers like me who need a little help making baked goods taste good!! YUM. It was the perfect side to some Chicken Stew, and we ate some for breakfast as well with butter and homemade jam!!
By far our favorite is the new Molten Deep Dish Sugar Cookie mix!! A delicious deep dish sugar cookie, filled with a molten chocolate center! My husband who isn't really a sweets guy (I know…crazy, right?!) loved these, and that's saying a lot. He typically doesn't love cookies! These were a hit with everyone in my house, and a must try for everyone.
During the virtual baking party, Catherine will answer your questions while she demonstrates easy and delicious recipe and tip ideas for the Holidays. This will be a fun event,  you can go out and get yourself a few baking mixes and bake along with Catherine!
Go to the Krusteaz Virtual Holiday Baking Party Site on December 14th (register at that same link today to be reminded about the event!) and as you watch you can submit questions for Catherine to answer!!
You can also follow live through Twitter using the hashtag #KrusteazHolidays. Click HERE to follow that hashtag!
In the mean time, or if you aren't able to show up for the Virtual Party make sure not to miss their Virtual Bake Off Competition!! Go to their Facebook Page and come up with a fun recipe using one of their delicious baking mixes and three add ins, and you could enter to win an amazing oven makeover or tasty Krusteaz products! Below is the recipe I submitted- a spin off of my homemade Peppermint Bark Cookies! Once you enter, you can print a coupon exclusively from Krusteaz!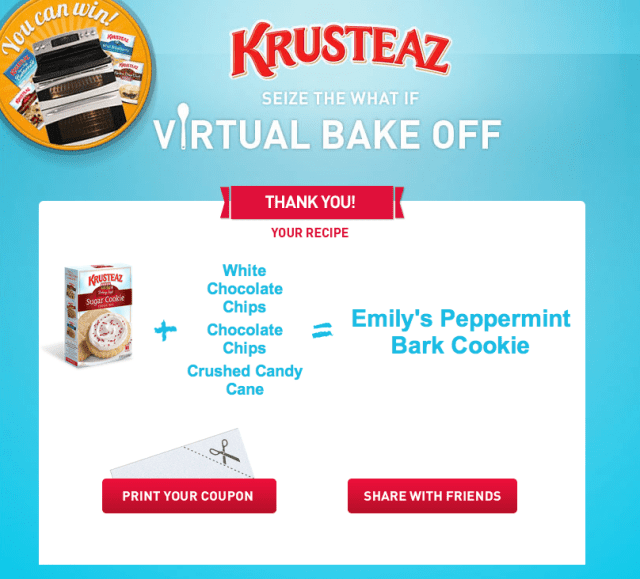 So Join us on December 14th as we tune in for the Virtual Baking Event, and make sure to enter your recipe submission to Krusteaz's Bake Off Competition!
*We received product from Krusteaz, but all opinions are my own.