Landscaping Before and After Photos
A week or so ago, I promised you our landscaping before and after photos.
Mind you, our landscaping has been in progress for the past 3 summers. I do think we are finally finished though. 🙂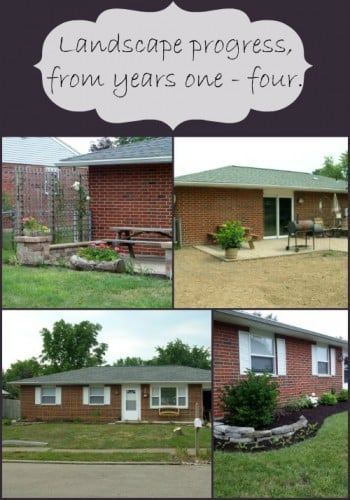 I love that Jason is a landscaper by trade.  He knows how to do so much when it comes to making the out-side of our place look pretty!
Not to mention the perks are pretty good as well.  I know the first year we did work out there, that had it been done by a contractor we could've spent upwards of 7 or 8k. We spent way less than that because he did the work and got the supplies highly discounted.
I think my favorite part of all of this now, is the fact that with the exception of the one new bed we added this year; all our flower beds are well established and look amazing.
Another landscaper perk. People are all the time getting rid of plants when they have their landscaping re-d0ne, most of the plants we have were salvaged by dear hubby from the trash!
Landscaping Before and After Photos:
To my great annoyance and disappointment, I discovered that we didn't take any photos of the back yard, or the front yard when we moved in. I guess no one want to take pictures of ugly!  I did find one photo where you can kind of see what the back looked like before. A 10′ by 10′ slab for a patio, and the thing was cracked in half with one half sitting 2″ lower than the rest. (my family was visiting and we were blowing up balloons for the little boys.)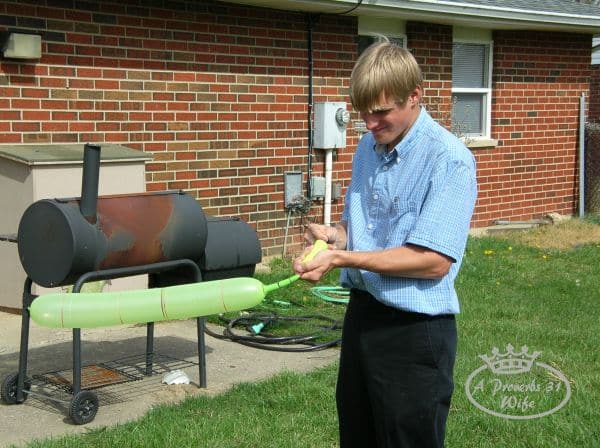 That first summer, we put in the patio. Using pavers that had been removed from a job, we cleaned them up and used them. We had to use two different kinds to get enough, but they work.  We also put in one wall and a column on the east side. Our plan was to add 2 more walls and columns to the other end and front of the patio in a couple years.
This was the first wall and column that we did.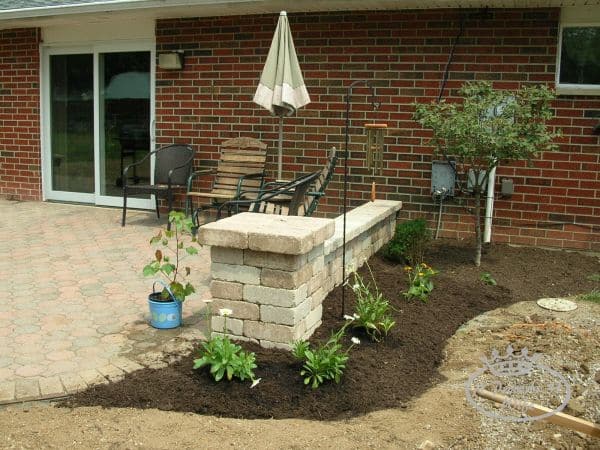 We "finished" that first part in a way that in a couple years, walls and columns could be added to this end as well, leaving only the half circle open to the yard.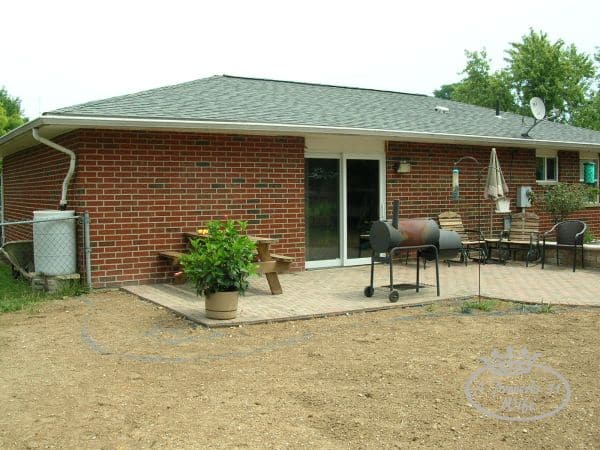 On the west end, looking east.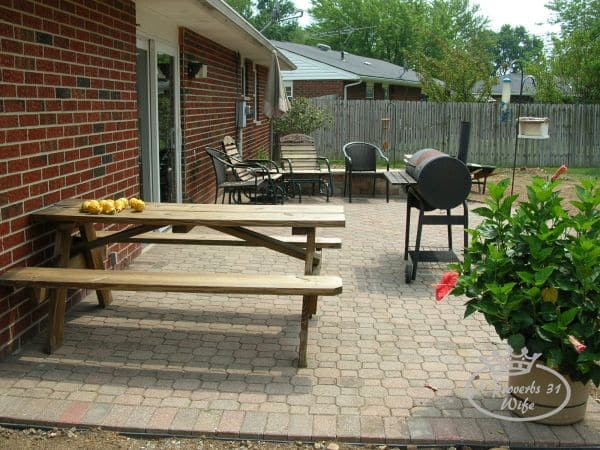 The next summer Jason brought a huge pile of cedar strips home. They were left over from a job and had been put in the trash. He decided we could use them for something. I promptly began nagging begging him to make me a rose trellis.
Again, I didn't really get a good photo of just the trellis, but you can see it pretty well in this photo where Jason is making my log planter. You can also see how the weeds were coming up through the pavers. We used cheap sand the first time and it didn't work. And those pallets…. don't ask! 🙂
So this summer, we decided to completely finish our landscape project. We blew out the old sand, and put Gator-Grit in, so the weeds will not come up any-more. We added one wall and both columns, having decided that two walls would close in the patio too much; besides, I wanted my log planter in there instead of the wall.
Here we are in progress. (Meaning in the middle of a huge mess that lasted 3 months.)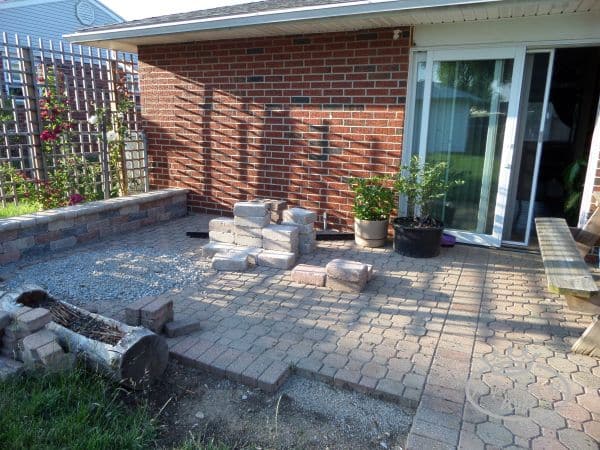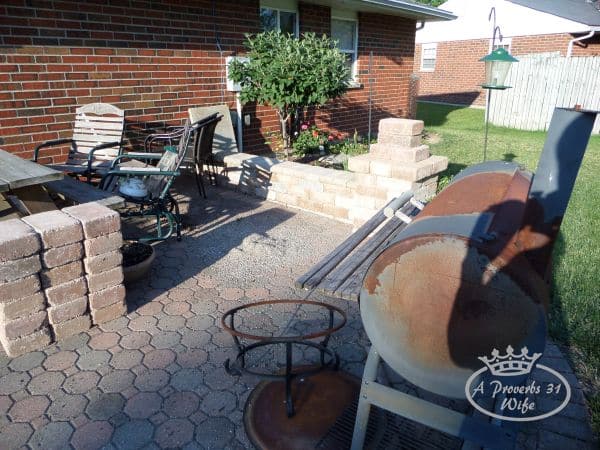 I am definitely loving the finished product! You can really see the trellis well in the second photo, oh how I love those pretty roses!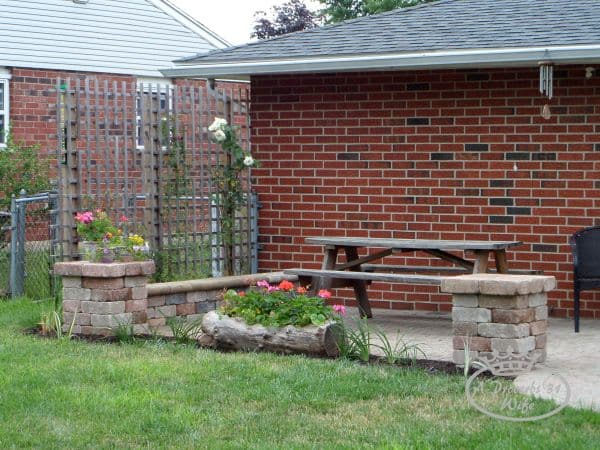 The front was a straight edged, boring flowerbed when we bought the place. That first year, we made it larger and gave it curves and stepping stones from the front walk. Here is when we finished it the first summer. We had cut down the rotten ash (that stump) and put a few  plants from the store in it.
Here it is 3 years later with more plants (free ones that Jason brought home), and there is a tree that he started from a seedling growing in the yard as well.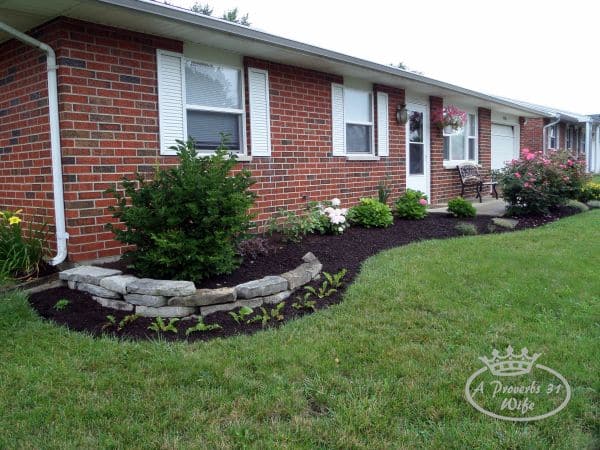 I really love how well the plants have grown and filled out the beds. In fact, those roses have grown so well, that we are going to really trim them back this fall. And the Coreopsis (top right) grew out so much that I dug up a bunch and gave them to our neighbor, along with a bunch of Shasta daises from the back.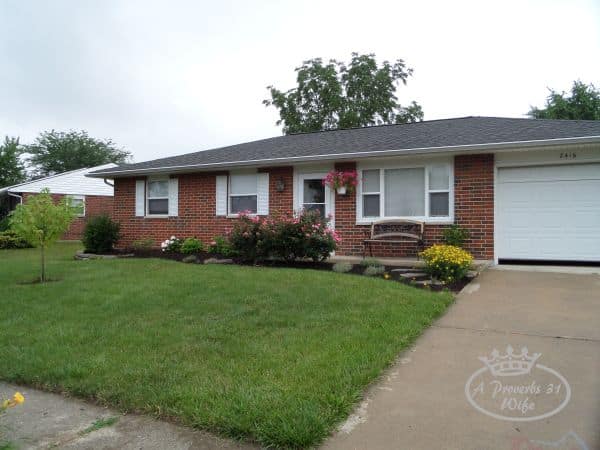 So what do you think? Is my husband in the right field of work for his skill? 🙂