Life ~30 Days of Thankfulness day 28
I was given life on this earth for a reason; that I may obtain eternal life through Christ Jesus and share him with others.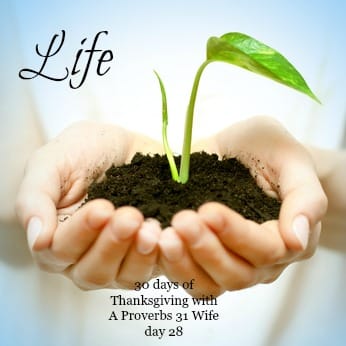 John 10:10 The thief cometh not, but for to steal, and to kill, and to destroy: I am come that they might have life, and that they might have it more abundantly.
The life have been given here on earth is good. I've been blessed with grandparents, parents, siblings, a wonderful husband, a sweet baby, a home, food, and so much more. In all reality, a person could look at the life I've been blessed with and say "she has it all" (whether or not I have it all together is a different story!)
But here's the thing, this life, as good as it is for me right now, is mortal. This life will fade and pass away. Someday if time permits, my mortal life will be nothing more than a name on a stone. My body will be dust and my possessions gone.
That doesn't have to be the end though…. God wants so much more for his children. He wants to bless us far beyond belief, far beyond what the world says; he wants to bless us in a way that's simply "out of this world"!
So he sent his son. His son came as both the shepherd and the sheep. Our high priest and our sacrifice. Our sovereign God, and our brother. He came to give his life, that we may obtain eternal life, and that's what I'm thankful for today.
I'm thankful for a heavenly father who didn't write us off as soon as we sinned; but instead made a way for us. I'm thankful that while my body is turning back to dust; my soul will be living forever in heaven with Christ Jesus, and all those who have called on his name.