Little Black Dress Vodka: Designed by Women, For Women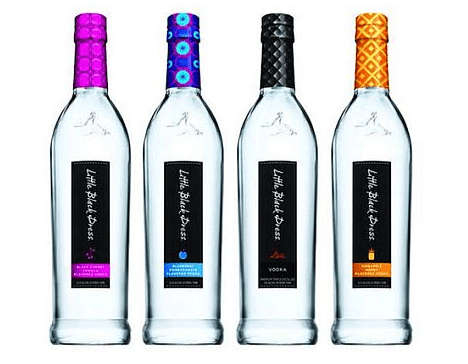 Little Black Dress Wines recently introduced Little Black Dress Vodka and I am just so excited!
Little Black Dress Vodka is designed for women by women because no one understands your taste more than someone in the same shoes. Our distinct flavors can be dressed up or down to be the perfect fit for any occasion. Raise a glass and give us a taste of your flavor.
This collection comes in four different flavors: Classic, Black-Cherry Vanilla, Blueberry Pomegranate and Pineapple Honey. These naturally flavored vodkas can easily be paired up with a mixer or two for a fun cocktail. Not only are the flavors delicious, but they are low calorie and contain less than 100 calories per 1.5 oz serving.
.
♥   Classic– Unflavored, timeless, confident.
♥   Pineapple Honey– Flirty, Sassy pinapple, brown sugar, honey and carmel.
♥   Black Cherry Vanilla– Savvy and sophisticated flavors of chocolate-covered cherry, vanilla and black cherry.
♥   Blueberry Pomegranate– Charismatic, ripe blueberry, pomegranate, yumberry, vanilla, honey and subtle floral notes.
.

.
"Too many women are intimidated by complicated cocktail recipes and ingredients. When developing our cocktails, I wanted to use mixers that are easy to use and accessible. Each mixer is the perfect complement to the natural flavors of our vodkas, just like the little black dress which is so easily accessorized." –  Shari Klose
And that statement couldn't be more true. With each flavor, so many wonderful cocktails come to mind. In fact, keep your eye on our site for the next few weeks. I will be posting a cocktail recipe each week for 4 weeks.
.
Little Black Dress Vodka loves to give back and take part in charity events. One of them including Dress for Success.
.
.
Little Black Dress Vodka is a proud partner of Dress for Success to help women take charge of their lives with confidence. Little Black Dress Vodka will kick-­‐off its charitable partnership with Dress for Success Worldwide in celebration of the charity's 15th anniversary with 15 parties in 15 cities nationwide called "Don and Donate." The events invite women to celebrate, bringing along a nearly-­‐new but much needed career appropriate handbag to donate to Dress for Success and donate $15 to their local Dress for Success affiliate. For women not in one of the 15 select cities, Little Black Dress Vodka e-­‐vites women to host their own "don and donate" parties -­‐ donning their LBDs at Little Black Dress Vodka handbag-­‐swap cocktail parties. In return, Little Black Dress Vodka will donate $5 for every guest e-­‐vited to a "don and donate" party to Dress for Success Worldwide, up to $35,000, with a guaranteed minimum donation of $25,000.
To learn more about how Little Black Dress gives back, please see HERE.
You can also visit their website at www.lbdvodka.com and like them on Facebook.
I received bottles to review, but the opinions above are strictly my own.