Love ~30 Days of Thankfulness day 19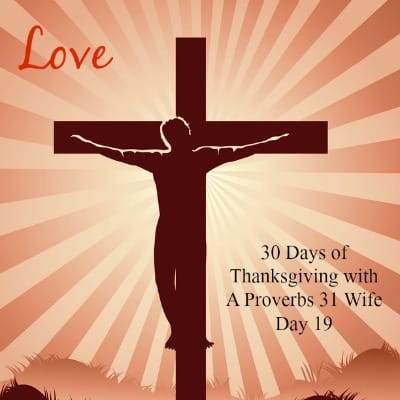 Where would we be without love?
Matthew 22:37-39 Jesus said unto him, Thou shalt love the Lord thy God with all thy heart, and with all thy soul, and with all thy mind. This is the first and great commandment. And the second is like unto it, Thou shalt love thy neighbour as thyself.
Love can be conditional or unconditional. As a child, our love is conditional. We respond in kind to those who love us. It's easy after all to respond to the one who cares for us and meets our needs. But God's love is unconditional.
Romans 5:8 says this: "But God commendeth his love toward us, in that, while we were yet sinners, Christ died for us." His love is unconditional. He loved us while we were yet sinners and made a way for us.
The love we have towards our children is also unconditional. (or it should be) Even if they dissapoint us over and over, which they will. Even when we are up all night with them, when they make mistakes, when they get a bad grade, whatever it is; we will always care for our children.
This is how God feels towards us. Sometimes I wonder how in the world God could possibly even stand me, much less love me; after all, so many times I'm just one big screw-up! But when I realize just how much I care about my son, I realize God loves me even more, and I am amazed!
As a child of God, I know that he also wants me to love others unconditionally. Matthew 5:44 But I say unto you, Love your enemies, bless them that curse you, do good to them that hate you, and pray for them which despitefully use you, and persecute you.
We are known by the love that we show each other, and not just to our brothers and sisters in Christ, but also to those who deserve to be loved the least; because they need it the most.
I am most thankful that God loves me unconditionally. I didn't have to do anything to earn it, but I love him because he first loved me.