Love Language Gifts to Really Make their Day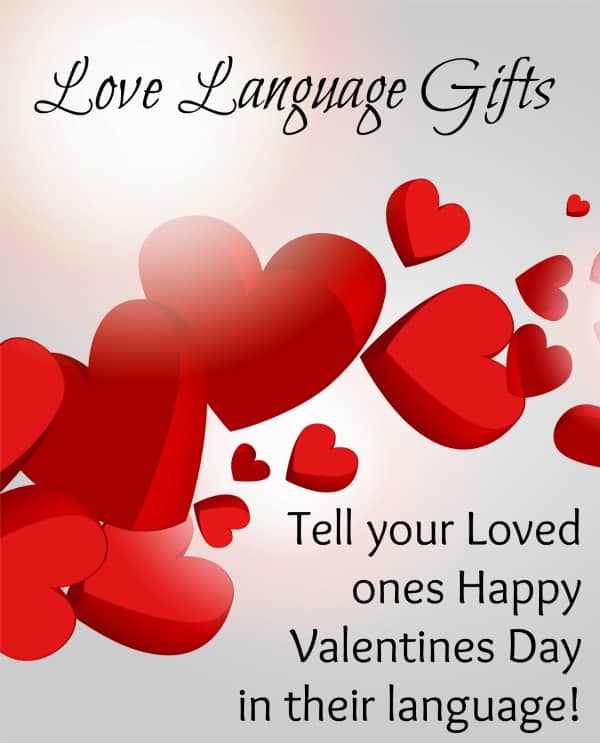 If you are going to give a Valentines gift this year, why not make them Love Language Gifts?
I'm sure many most of you have read The Five Love Languages. A great book that helps make sense out of a lot of marriage problems/questions.  I remember the first time I read it, and the shock I received, as so many questions were suddenly cleared up. Rarely do spouses have the same love language, so we tell them we love them in our language, and they don't understand.
This year for Valentines, I want to give love language gifts. I want to tell him that I love him in his own special love language. I put a call out on Facebook for each love language, and once again, my fans didn't disappoint!
Because I only speak one or two of the love languages naturally, it was nice to get input from those who did speak a different love language. 🙂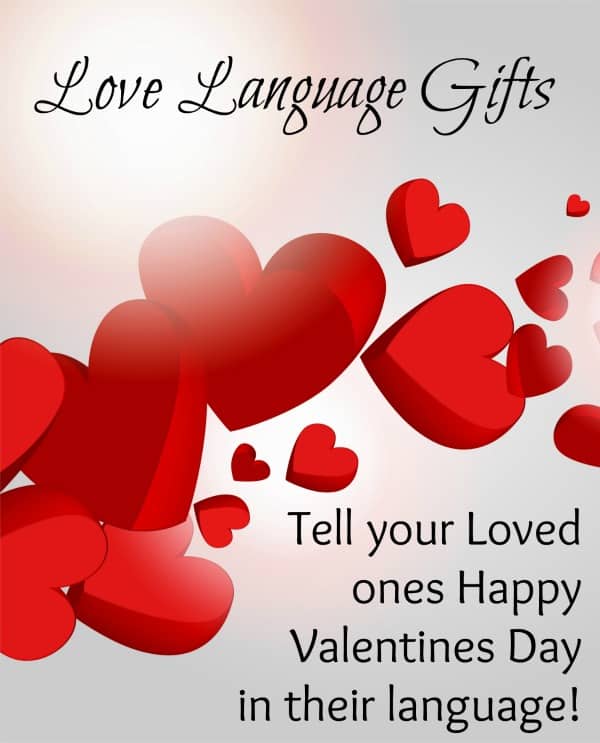 Love Language Gifts, by language.
For the person who's love language is Acts of Service:
Clean the car or house
Wash that pile of dirty dishes
Laundry folded and put away
Watch the kids, so they can do shopping, run errands, ect
Make a Full Meal
Wash windows
Make something especially for them
For the person who's love language is Physical Touch:
A massage. (if it's for your spouse, the massage needs to come from you)
Snuggle under a blanket together and watch a move
A massage, facial, mani/pedi, full day at the spa
Snuggle close together and play with his/her hair while talking
Slow dance to their favorite song
Make a coupon book with coupons for kisses, snuggles, back-rubs and other "fun stuff"!
For the person who's love language is Quality Time:
Have a fun day. No electronics or chores allowed, just do stuff you both enjoy together
Date night, even if it's just a walk to the ice cream shop together
Camping, fishing, hiking, boat ride.
Dinner out without cell phones
Weekend get-a-way
Picnic
Date night in. If money is an issue, why not get creative and do something at home?
For the person who's love language is Words of Affirmation:
A handwritten love letter
Word Cloud (a group of single words that describe how you feel about the person)
A 365 day jar: A jar full of love notes, one for each day for a year
52 reasons deck of cards (a deck of cards with 52 reasons you love them)
For the person who's love language is Gifts:
A small gift basket of their favorite things.
Since their love language though is gifts; the main thing to keep in mind is them. Put some thought into what the person likes and go from there.
When choosing a gift, consider their hobby(s)
I hope these love language gifts, can give you ideas on how to really tell that special someone you love them. And if you are looking for more ideas on valentines gifts for the loved ones in your life, I wrote a post last year too. 🙂