Make Easter Egg Decorating Eggciting!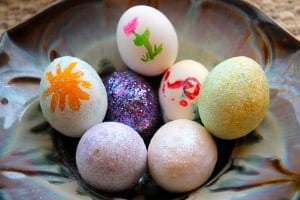 In the post Dreaming of a Green Easter, I mentioned blowing out eggs to decorate them for Easter. This is a fun way to make egg decorations that can be saved for years to come. I first did this with my daughter when she was four years old and still have a few eggs from that Easter—seven years later! Blowing out an egg was something that took a lot of practice for me. I can't even begin to tell you how many eggs I have broken from clenching too hard while trying to blow out the egg white and yolk! Want to give it a try? Here's how to get your eggs ready for decorating.
Materials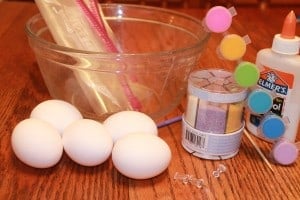 Eggs
Thumb tack/needle
Toothpick/wooden skewer
Large bowl
Water
Paints, glitter, glue, Ziploc bag (depending on how you want to decorate your eggs)
How to "Blow Out" an Egg
Take a room-temperature egg and use a thicker needle or thumb tack to poke a hole in both ends of the egg. Make one hole slightly larger than the other. Then insert a toothpick into this hole to break up the yolk. This will make it easier to blow the insides out.
Blow the insides out. I like to make the holes small, so I simply use my mouth to blow the insides out. However, if you make the holes a little bit larger, you can use a coffee stirrer to blow through or a syringe to push air or water through. I haven't tried those methods, but I've read about them—I'd love to hear about it if you try!

Rinse the egg out by running a slow trickle of water from the faucet or pouring a glass of water through the hole.

Let your egg drain/dry out. You can do this by popping it in the microwave for about 10 seconds or letting it sit out for a day or two.
Decorating Your Egg
How you choose to decorate your egg will probably depend a lot on your child's age. My favorite way to decorate blown-out eggs is with glitter—especially fine glitter. Simply coat the egg in glue and shake it in a Ziploc bag with the glitter inside. My daughter also likes to paint the eggs with tempera paint.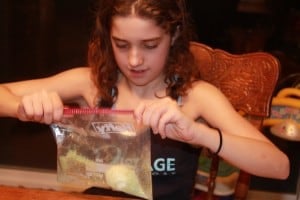 Brid really enjoyed using glitter and glue when she was younger. Shaking the eggs in glitter bags can even be tried with toddlers! If you don't mind a little mess (and what parent isn't used to a little mess), let your preschoolers paint the eggs. Children and adults of all ages can enjoy this activity. I hope your eggs turn out eggstraordinary!
Check out other alternatives to traditional egg dying:
Looking for more Easter activities? Try Easter Egg Gardening!