Make Traveling Fun with SeatPets!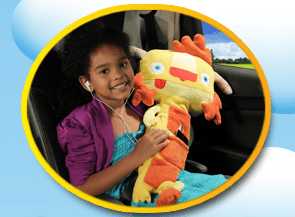 Buckle up and snuggle up with a SeatPet! SeatPets are the perfect travel companion for your little one. They are designed to fit over seat belts, acting as a soft pillow to rest your child's head. But, better than just an adorable pillow, the SeatPet also has compartments for storing things—two zipper pockets and three extra pouches on the belly of the SeatPet.
SeatPet is the winner of toy industry awards:
Dr. Toy Winner
Creative Child Magazine Product of the Year Award
The national Parenting Center Seal of Approval
"A simple concept, fitted fabric covers for vehicle seat belts, goes five steps further and provides an incentive for kids to buckle up . Not only do they offer a soft resting place but are designed with three pockets and two zippered compartments to store their car ride stuff. Moms no longer have to stop or reach around to offer a snack, juice box, toy or ear buds because they are already stowed in their SeatPets. The brand new plush travel toy is available in three monster styles—Whish, Awty (Are We There Yet) and Airheart."
My son has the Airheart SeatPet and we couldn't be happier with it! He is still in a 5-point-harness seat, so I don't connect it to a seat belt–yet! However, it still makes the perfect place for Christopher to rest his head on our trips and store snacks and toys. The little pockets on the front of the SeatPet are perfect for dinosaur figures! Also, he is always asking for snacks or dropping items. Having the SeatPet makes all his things easily accessible so I don't keep having to reach to the backseat at red lights, trying to help him.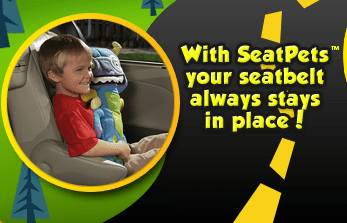 I love the SeatPet for everyday trips around town, but more so for trips out of town. We are getting ready for a six-hour drive and I am going to put the SeatPet away for a few days, so the excitement of having it again will make the trip all the better. I recommend the SeatPet for anyone who has to travel with young children, especially if the trips are long enough that your child will sleep in the car.
You can follow SeatPets on Facebook and Twitter. Purchase directly from their website!
I received the SeatPet to review, but all opinions in this article are strictly my own.